In this post, Top 10 About is going to share an updated list of 10 best money transfer apps in India. These are best mobile wallets in India to transfer money online anywhere in India.
Why people are using money transfer apps?
Those were past days in India when people used to go banks and agents for money transfer and payments. It was quite time consuming and some time irritating also to wait in the line. But now the time has changed, you don't need to go anywhere to transfer money anywhere in India.
There are so many online money transfer apps in India which has made everything easier and faster. Meanwhile, by using these money apps you can easily send money online, make payments of mobile bills, electricity bill, shopping bills etc. anytime, anyplace. Although you will also have chances to get cashback, rewards and offers in making payments via these app senders. That's why now days these money sender apps are count among the most important android phone apps.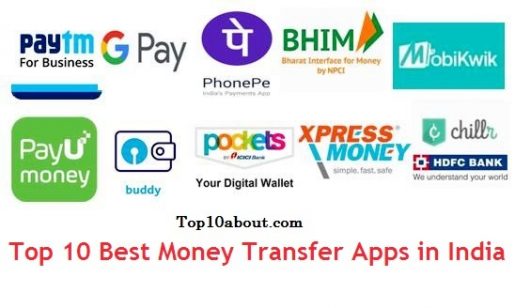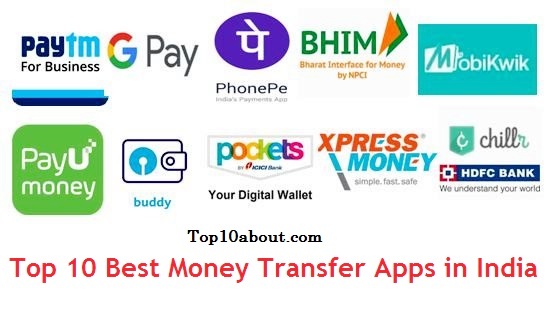 After reading all these advantages, you must want to know some of most popular money transfer apps in India. For that reason, we have decided to introduce here best money transfer apps in India of present time. Get ready to go through with this post and choose as per your match.
Top 10 Best Money Transfer Apps in India 
10. HDFC Chillr
HDFC Chillr is an instant money transfer application in India created by HDFC to simplify money transfer and payment process for the customers. It is another best money transfer app to send money anywhere in India. Using this mobile payment app, anybody can transfer money to anybody in their bank account, thereby cutting out on the hassles of adding a beneficiary. It is presently available only for HDFC Bank customers. By using this app HDFC customers can transfer money, recharge, pay bills, request funds or transfer and will soon be able to pay at online & offline stores.
Read here- Top 10 Best Mobile Apps for Students
9. Xpress Money
Xpress money transfer is a best money transfer apps in India. It is a global money transfer brand which allows instant money transfer through its 2,00,000 agent locations worldwide, across 165 countries. It works towards the ambition of 'Bringing Home Closer' for millions of peoples who live away from home.
Xpress Money is one of the fastest growing money transfer apps in the world with a presence across 5 continents. It was established in 1999 which make sure 100% secure payments with with world class protection system. It has also automatic refund policies if in case money deducted but translation failed. Thus if someone wants to know cheapest way to send money, you can suggest this choice also.
Read here- Top 10 Best Women Safety Apps of All Time
8. ICICI Pockets
This app is initiated by ICICI bank to transfer and receive the payments online at easiest way. The best part of this money transfer app is that you can send money not only to bank a/c, mobile number, Whatsapp contacts, Fb id, email id but even hit and pay your friends. It makes easy and instant payment anytime, anywhere in India with many awesome deals.
It also ensure 100% secure payments and automatic refund policy if payment deducted but transaction not done successfully. There is also support team available 24*7 hours for helping out on any trouble.
Read here- Top 10 Free Download Best Beauty Apps of All Time
7. State Bank Buddy
State Bank Buddy is a best money transfer app in India powered by state bank of India but it doesn't mean the money receiving person should have SBI account. You can transfer money to India anyone in your contacts even though they don't have any SBI account. The app sender is available in 13 most used languages of India which make it comprehensible for all.
If you have done KYC, in that case your per month transaction limit will be 1,00,000 INR. Besides money transfer services in India you can also do online shopping, bill payment, ticket booking, recharge etc. Therefore if you are a SBI account holder, don't forget to try out this online money transfer app powered by SBI. This app sender is available in both Google Play store and apple app store, go as per your match.
Read here- Top 10 Apps to Hide Videos and Pictures
6. PayUMoney
PayUMoney is another money transfer app to send money anywhere in India. It is a Gurgaon-based company that provides online payment solutions such as money transfer, UPI payments, book movie tickets, flight tickets, travel, hotel bookings, shopping, prepaid mobile recharges, etc.
PayUMoney is a most popular Indian payment gateway that enables you to accept credit card donations via an easy and secure offsite payment process. PayUMoney has been adopted by many businesses such as Make My Trip, Jabong, Book My Show, YEP ME, Travelyaari, Zomato, Amity University, etc. It has also partnered up with various major banks like HDFC, ICICI, Induslnd, Citibank, and many more. This makes it a safe and truthful source of making and receiving payments for both individuals and businesses.
Read here- Top 10 Most Helpful Apps for Students
5. Mobikwik
MobiKwik is also one of the best money transfer apps in India. It is an independent mobile payment application that apparently connects approx 25 million users with 50,000 retailers.
This money transfer mobile app lets its users send money by using credit card, debit card, or add money in MobiKwik wallet by using credit card, debit card, net banking along with doorstep cash collection service, which can in turn be used to pay utility bills, recharge and shop at marketplaces.
It becomes the 2nd largest digital wallet as well as money transfer app by its shear strength of user-experience and online merchant integrations. MobiKwik has also recently tied up with large and small time grocery, restaurants and other offline merchants. Their UI is extremely clean and very interactive. They keep growing and give a strong competition to India's most popular money transfer app PayTM.
4. Bhim
Bhim is an initiative of National Payments Corporation of India (NPCI) to make India cashless. The Bhim is Bharat Interface for Money which was launched on 30 December 2016. The purpose to develop this money transfer app was to send and receive money just from mobile phone or UPI id.
The best part of this app is that it makes simple and secure transactions anywhere in India. If you are new user, you will also get 51 INR cashback on your first payment done with Bhim. How you can use it, first register and set a UPI PIN for your bank account, your cell number is your payment address. Thereafter you can simply start transacting.
Now days, Bhim is one of the most popular money transfer apps in India, you can try out this. There are some essential things that need to ensure before register on this app such as need to have Valid Debit Card, mobile number should be connected to bank and that should be in the same device in which app is installed.
3. PhonePe
PhonePe is another all in one app which having multi services such as money transfer, online bill payments, mobile payments, UPI payments, recharges etc. The best part of this money transfer app is that it offers instant refunds and cashbacks from their associate merchants into the wallet of PhonePe. And that wallet balance can be withdrawn to bank account easily.
It has money transfer limit up to Rs.1 lakh per transaction for 24*7 hour. Somehow PhonePe is one of the best ways to send and request money in India from your contacts anytime, anyplace. For that reason this is better than the internet banking. It also awards so many exciting offers on payments done and with 100% secure payments.
The app is available on Google Play store to download for android users and also available in apple store. It has more than 1 million downloads on Google Play store with star rating of 4.5. Overall, if you are search one of the best money transfer apps in India, PhonePe is one of them that really worth using.
2. Google Pay (
Tez)
Tez is now Google Pay after August 28, 2018. It is one of the best money apps to send or receive payments in India. The best part of this money transfer app is that whatever rewards you earn on your payments will directly go on your linked bank account. It comprise only 3 steps to use, download from Google Play store, set screen lock and link with your bank a/c.
It guards your money with a high class protection system that helps identify fraud and prevents hacking. Besides that it also protects your bank a/c with your screen lock like fingerprint. For assistance, phone and chat support is also available for 24*7 hour. If money deducted from your account but payment not done successfully, in that case your money will return back automatically in your account.
I have been personally used this app to send and receive money to friends or relatives. It has made so easier and faster to transfer money. Furthermore, you can also earn scratch cards on every payment.
1. PayTm
Paytm is India's most popular and biggest e-commerce payment app which was launched on 2010 and founded by Vijay Shekhar Sharma. Every payment facility avails in this app with great cashback and offers such as ticket booking, online shopping, money transfer, bill payment, recharge etc.
The best part of this money sender app is that you will get your money back automatically in your account within 2 working days if money deducted but payment not done successfully. I have experienced this issue practically, 2-3 times money deducted from account but transaction failed, thereafter within 2 days I got money back automatically in my a/c.
It has also world class security system for protecting your money from any fraud and hack. That's why Paytm is one of the most trusted online money transfer apps in India of current time.
Other searches related to money transfer apps in India
Money transfer app India
Free money transfer app India
Mobile Wallets in India
What is the best money transfer app in India?
Best UPI apps in India
Digital Wallets in India
Money transfer app download
Best payment app in India