Are you searching for some best Android mobile apps? If yes, check out this list of the top 10 most important Android phone apps.
The android operating system grants a user-friendly interface and carries varied useful applications which make Android phones prevalent among people. Applications are the foremost attribute that makes smartphones truly engaging and compelling. Without Apps, the android phone is worthless. So, after starting a new phone, the first thing that people do is downloading and installation of all the important android apps that they know. However, a large group of people remains confused about the selection of apps. So, if you are also one of them, you are at the right place.
We have prepared a list of the top 10 most important android phone apps. You can easily download and install these apps on your Smartphone. Now let's have a look at this list of best mobile phone apps.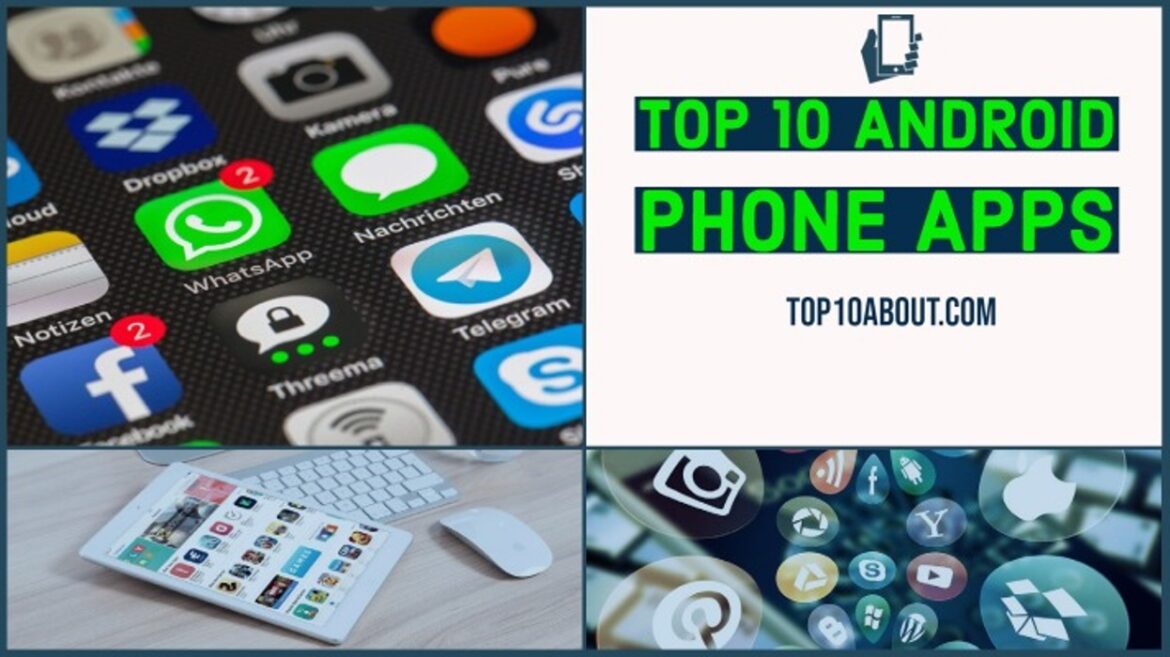 Top 10 Most Important Android Phone Apps
Google Drive is another must-have Smartphone app for officials in the current time. This application offers a free cloud storage facility to the user. You can easily store and sync your required files with the help of this amazing application. Multiple people can edit and update the same file stored in the drive. This is one of the most powerful applications for office use and also one of the best apps for android phones. You can also get some additional storage facility by paying some extra amount in the case of the Google drive application.
See also– Top 10 Latest Productivity Apps for iPhone 2021
Most people use the same password for their different accounts, which is always wrong and not secure. We people are very bad to remember the password, but it's quite necessary to have a strong password for various security purposes. In such a case, a password manager like the Last Pass application plays a rather vital role. This is a special kind of password manager that always fills correct password and keeps your password secret. This application also stores your private information securely. You can additionally immediately sync your password whenever you want.
True Caller is another most downloaded android apps which are very prominent among people. Most of the time you must crave to know the true identity of any anonymous mobile number. Truecaller makes that possible. It is such an android app that is very useful and can inform you regarding the true location and proper identification of any unknown number. This is indeed an essential app for android phones and you can easily get the detailed information of any unknown number with a single click. This application deserves to be mention in all lists of must-have Android apps.
MX player is another one of the recommended apps for android phones. This is an excellent media player in which you can play any video format file easily. Besides that, you can watch online movies, web series, songs, serials, and can also hear mp3 songs. This application is very user-friendly and comes with many features like subtitles, aspect ratio adjustment, volume controller, and brightness adjustment. This application bestows an excellent video viewing experience to the user and no doubt this application deserves in our list of top 10 best android phone apps.   

Imo is a special kind of messenger application which has achieved too much popularity around the world within a quick time. This is an excellent application and comes with many outstanding features like messaging, video calls, and voice calls. Although, this app is widely famous for high-quality video calling. You can easily connect with your friends with the help of this famous application. This is one of the most popular Smartphone phone apps best for high-quality video calling. 
An important app for direction and location guidance. Google Maps application is extremely helpful, always guides you in any unknown place. If you are visiting any unknown place then this application can guide you as a road map and show you the perfect way to reach your destination easily. You can easily find any particular location with the help of this application, it will guide you with showing proper direction. You can check out traffic on routes and expected time to reach the destination that saves your time.
A browser application is considerably valuable for an android Smartphone. UC browser is one of the popular apps for android phones because this application comes with many features like a speed surfing facility, user-friendly, download facilities, and many more. You can also get extra boosting of download speed with this amazing application. So this application always deserves placement in the list of most important apps for android phones. 
Nowadays most people look for easy entertainment and there is nothing better than the YouTube application. This is the best video application by which you can easily access billions of videos uploaded from every corner of the world. All kinds of videos available there on YouTube such as songs, movies, trailers, technical, and tips. People upload different sorts of videos in which they are experts or even not as YouTube also gives the opportunity to make money online. No doubt this is one of the most popular android phone apps.
Nowadays no one has time to wait for anything but data transfer is always annoying as big files normally take too much time to transfer from one mobile device to another through blue tooth and infrared. In such a case, the share it application work in an effective way. This is one of the amazing free android apps which can easily transfer big files from one android device to another within few minutes. The transfer speed of this software is just unbelievable and no doubt this is one of the most important apps for any android device.
Avast mobile antivirus application is one of the world's most trusted free antivirus app for security against viruses, malware, and phishing attacks. This app has over 100 million downloads that speak about its universality. It comes with many features including App Lock, Anti-Theft, Photo Vault, VPN, RAM Boost, Junk Cleaner, Wi-Fi Security, Virus Cleaner, etc. Some premium features also available like Camera Trap, Last Known Location, Remove Ads, and many more. This application offers 100% effective and full security to your Android Smartphone and it comes at 2nd spot in the list of 10 most important apps for android phones.
Go back up is the most useful mobile app for android mobile phone users. Sometimes accidentally people lose their phone contacts, call logs, messages which are always annoying for any user. But a good backup application like Go Backup is always very helpful in making your important things back up. You can simply restore your important texts, contacts, and call logs on your SD card with the help of this useful application. This application works manually so it's easy to use.