For any actress, whether she is from America or India has to look hot, beautiful and attracting. It is quite necessary for them to maintain their reputation by giving their best performance in the movies in terms of awesome acting and dancing.
Starting Rekha to Alia Bhatt, Bollywood has no short of hot and beautiful actresses. Nowadays, instead of having great talent the Bollywood actress need to seem hot as well as get involved in hot on-screen chemistry to secure their career in the film industry.
Many times the actress need to give some hot and bold scenes like bed sex scenes and kisses on the screen to complete the demand of script. For example you can check out here top 10 most sexiest Bollywood movies of all time.  This is the reason why you can find kissing scene in almost all the movies coming now days. It is almost impossible to list here all the Bollywood kisses thus, we decided to shortlist top 10 first time onscreen hot kisses of Bollywood actresses. So let's check out top hot kisses of Bollywood actresses first time on the big screen.

Top 10 First Time Onscreen Hot Kisses of Bollywood Actresses
1. Kangana Ranaut 
Kangana Ranaut has been a great and famous Bollywood actress as well as successful fashion model. She directly jumped into the kissing scene from her debut" Gangster". This Bollywood kissing scene was filmed among serial kisser Bollywood actor Emraan Hashmi. There is no any need to say that this onscreen kiss has been one of the most talked about kissing scene ever in Bollywood. It was the first time for Kangana to give a kissing scene on the screen and however it was consider among the top hot kisses of Bollywood.
2. Bipasha Basu
Bipasha Basu, a hot beauty of Bollywood. She has been known for her talent, hotness as well as bold acting style in Bollywood. This bold attractiveness has maintained her appeal as well as attraction by kissing a number of actors. The first film she kissed a hero was 'Jism'. Bipasha did it in an incredibly natural style opposite of John Abraham. Both of these Bollywood stars have dated each other many years after that movie.
3. Priyanka Chopra
It is quite complicated to count on the total number of movies of this hot, sexy as well as adorable actress. Priyanka Chopra is one of the most popular Bollywood actresses of current time. She had two movies in her bold style with Akshay Kumar. For 'Andaaz', she received a Film fare Best Debut award. Yes, this was the Bollywood movie in which Priyanka locked her lips as well as gave tight kiss to most talented actor Akshay Kumar. This created a mysterious moment in 2004 film industry and that kissing scene became among the famous hot kisses of Bollywood.
4. Katrina Kaif
Here comes the Barbie doll of Bollywood—Katrina Kaif. She truly looks hot, sweet, as well as gorgeous both onscreen furthermore off-screen. This sexy beauty of Bollywood locked her lips for the first time with the most talented and bad Man of Bollywood, Gulshan Grover in 'Boom' Film. This was her first appearance, so Katrina did her best to be as hot & romantic and seem natural in this movie.
5. Kareena Kapoor
Our hot as well as adorable Kareena Kapoor did her first onscreen kiss after fourteen movies. She locked her lips in Bollywood Movie 'Dev' with Fardeen Khan. Accurately, this has been one of the most romantic as well as hot kissing scene in Bollywood history. For this movie, Kareena Kapoor had received Film fare Critics Award for "Best Actress".
6. Deepika Padukone
Like Bipasha Basu, Deepika Padukone moreover did her first onscreen kiss with her real-life boyfriend , Ranbir Kapoor in Bollywood movie 'Bachna Ae Haseeno'. As far as the fiction is anxious, both created an appealing as well as seductive environment in this Bollywood movie. Their off-screen romance also continued for a few months later than this film's release, although now there is an undeviating breakup.
7. Parineeti Chopra
Parineeti Chopra is a new face of Bolllywood. She is enormously energetic as well as looks hot in almost all of her Bollywood movie. Her debut 'Ladies vs. Ricky Behl' made her predictable in this industry. However it was in 'Ishaqzaade' that she brought her reputation to the heights of success. Parineeti Chopra's onscreen chemistry with Arjun Kapoor has been enormous, as well as the way she locked her lips with this actor is worth see. And that's why she get listed in this list of top ten first time onscreen Hot kisses of bollywood actresses.
8. Anushka Sharma
Anushka Sharma comes into view in Bollywood movie'Badmaash Company' with Shahid Kapoor. Yes, this was her first onscreen hot kiss. The way Anushka Sharma locked her lips with our cute actor has been incredible. In a car, in the rain, with 'Tip Tip Barsa Paani' playing on the stereo—the scene created a rational atmosphere as well as sensual flavor.
9. Vidya Balan
Vidya Balan is one of the most talented as well as successful actresses of Bollywood. After her first steamy scene with most talented actor Saif Ali khan in Debut "Parineeta", Vidya Balan gave her very first real onscreen kiss in Bollywood movie "Guru". In this movie this actress was in supporting character, but her lip-lock with R. Madhavan created a hot as well as amazing environment in that rain's scene.
10. Sonam Kapoor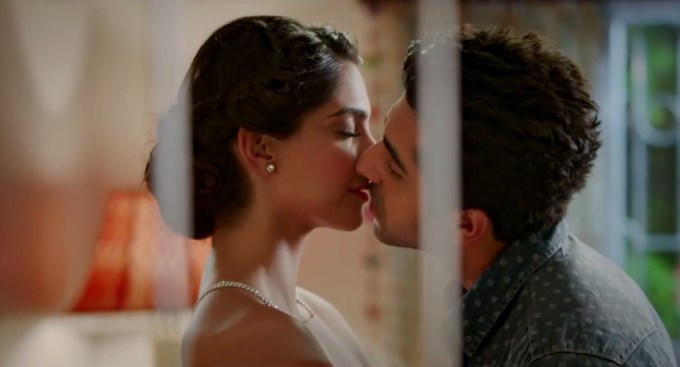 Anil Kapoor's daughter Sonam Kapoor isn't shy at all as she may appear to be too many of us. Sonam Kapoor, in fact, has done her onscreen kiss for the first time in Bollywood Movie 'Bewakoofiyaan' with Bollywood actor Ayushmann Khurrana. Yes, you are right; both seem really cute mutually in this movie. Seeing Sonam kissing an actor that way has been a incredible experience.