If you're searching for the best PDF to Word converter apps, follow this list of the top 10 PDF to Word converter apps for android 2023.
Are you trying to convert the portable document format file on Android? However, you are probably knowing the fact that converting the pdf to word document files is impossible without converting tools. There are different options of the web services for conversion but it can't necessarily happen locally except for maybe one application. Well, you don't need to give up hope yet, as you have a variety of options for free pdf converters over to word in the snap of your finger.
All you need to do is to download & install the android application on your smartphone to convert portable document files for a range of reasons. One of them can help you to turn PDF documents into a format that can be easily editable, so you don't need to spend money to buy expensive PDF editing applications.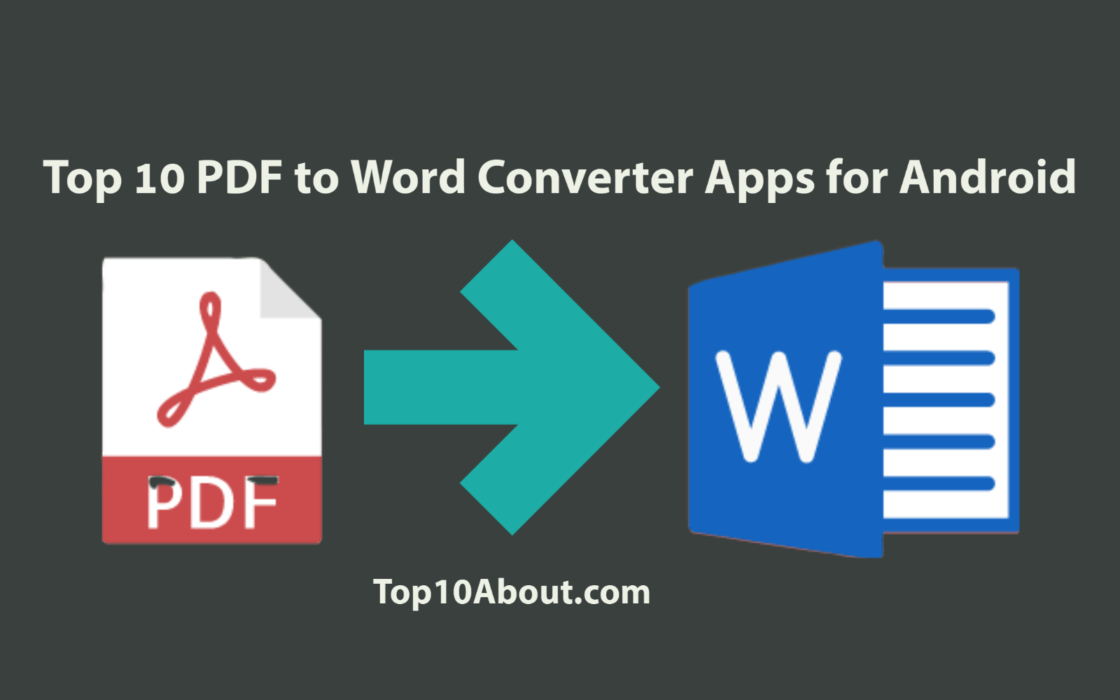 Below is a list of the best PDF Converters that you can consider for your portable document format file conversions.
Top 10 PDF to Word Converter Apps for Android 2023
This is a very famous website service that also provides its application variant for Android users. With this application, you can make multiple manipulations with your pdf files. converting PDF files to Word is very easy with this converter. This is because of the clean and straightforward interface of the application. One should know that Soda pdf can work for free but within some restrictions, if you want to enjoy the full-fledged services of the app then you might have to get along with a paid package!
See also– Top 10 Data Recovery Software to Retrieve Lost Files
The PDF to Word application by Cometodocs is best for both personal and commercial users. It is an a-rated application that provides you with easy and reliable conversion services without any restrictions. The pdf to word converter can easily help you in changing the pdf files to word that are not only in your local drive but also in google drive and dropbox. This application is easy to use and works perfectly fine on all versions of android. For more details about the features of this app, you should surely get it from Google play!
Adobe Acrobat is another application that can help you in changing a pdf file to MS word or any other format. It is the platform that initially came up with the idea of the pdf format and so it is obvious that you would get the best conversion services from its interface. The pdf converter tool by Adobe is easy to use and can be utilized on all sorts of devices!
See also– Top 10 Lock Apps for Android Smartphones
Easy PDF as the name tells us is an easy-to-use application that can help even a layperson in converting his office files to pdf and vice versa. One should know that this online pdf converter app is best for manipulating PDF files into Word without affecting their quality and format. Easy PDF also has the capability of changing PDF files into image formats without any hassle. You just have to register an account with this application to enjoy its free services!
WPS is a great PDF converting tool and gains huge popularity in a very less time. This amazing tool is available for free that can convert batches of portable document format files quickly. You can use this free tool on your desktop browser and download it on your android mobile phone. The reason behind the popularity of the tool is that it keeps its initial text formatting. You can install the app to convert the files on mobile or you can use a free pdf converter online.
If you are interested in a program that is capable of performing subsidiary tasks like creating, editing and signing PDFs then, this free PDf converter is the best for you. Also, it is compatible with both Mac and Windows operating systems and it boasts a word processor resembling Microsoft Word. It supports the conversion of text and image files. It made it possible to add comments to any section of your document and you can also share your projects with your other team members as well. You can download the app for any device that supports the Android and iOS operating systems.
On this fourth number, we would like to recommend PDF Conversion Suit, which is a free PDF converter app. It offers users to convert the PDF to word file to word and vice versa within a couple of seconds. This is the best option for teachers, students, and businessmen to convert files into their desired formats. You can run this pdf converter on devices that are running on OS version 4.1 or later.
OfficeSuite is labeled as a free PDF converter to the Excel Android application, but it also supports file conversion from PDF to Word. To enjoy the advanced features you need to upgrade to the paid version of this PDF converter. OfficeSuite supports multiple file formats such as Microsoft Word, ePub, and excel. The amazing feature of the app is that it has the ability to view, create, and edit complex word, excel, and PPT files. The app is not only used to convert pdf word documents, but you can also edit the local files and email attachments.
Able2Extract PDF Converter is a free and easy-to-use application because of its friendly interface. Search for the file you want to convert and select that file and open the file by using the android application. After selecting the file, you need to choose the output format for the file and tap convert to start the converting process. The best thing about this free pdf convert is that there is no limit to the file size.  It supports multiple file formats and does not only convert the portable document format file to editable MS documents such as Excel, and Word but it also converts the Word and Excel files into PDF format.
1. PDF to Word Converter FREE
If you are looking for a free pdf converter then, you are at the right place. You can convert all your desired portable document format files with the ease of PDF to Word Converter free android application. You can convert the files easily into an editable format or vice versa without any hassle. This free pdf converter app comes with multiple options to choose from. If you want to convert a file from your smartphone, all you have to do is to choose the Gallery from the menu of the PDF converter and search for the file. After selecting the file you wished to export, wait for the pdf conversions. The free converter app offers you to convert files in various formats such as PDF, JPEG, Zip, PPT, etc.
Conclusion
In the article, we have enumerated the features and details of all PDF converters that we mentioned above. Almost all PDF converters are free to use but some of them come with a premium subscription for the advanced features of file converting. So, you need to pay a specific amount to enjoy the premium features. For more details about these apps, we would suggest you download them from the store!