Are you looking for the best app lockers for smartphones? If yes, follow this list of top the 10 lock apps for Android Smartphones in 2023.
Now you don't need to worry about your mobile phone privacy and protection. Meanwhile, nobody like your friends, wife, or parents can see your private & confidential pictures, videos, SMS, and contact numbers exist on your phone in your absence.
But How……..?
The answer is Mobile and Screen Lock Apps.
Like apps to hide pictures and videos, there are some apps to lock mobile phones. You can lock your Android phone through a fingerprint, pattern, password, and face-detection locking system. Once you will set any of these lock systems on your phone, nobody can see any private thing about your phone. It can be only accessed by the correct and fixed unlocking method. That's why now, app lock apps have been one of the most important Android phone apps.
In many Android Smartphones, the feature of the smart lock comes inbuilt. But if there is no inbuilt feature to lock your mobile phone, you don't need to worry. Because nowadays, the most popular way of phone locking is external screen lock applications.
There are many free apps for mobile lock and some other privacy features. We are sharing here the top 10 best lock apps for Android Smartphones that you can download free of cost.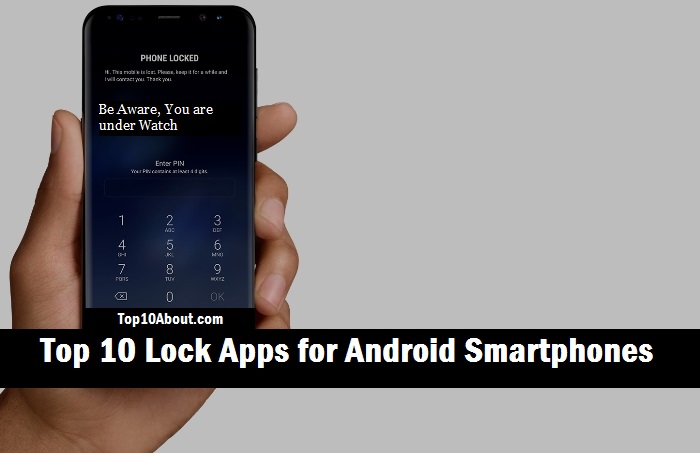 Top 10 Lock Apps for Android Smartphones 2023
10. Lock Screen & AppLock Security
With more than 2 Crore downloads and a 4.5-star rating, Lock Screen & AppLock Security is one of the best lock apps for Android Smartphones. This mobile lock app is available on Google Play that you can download for free and keep the secure privacy of your phone. You will get a DIY lock screen editor, good designed wallpaper themes as well as a great app lock security. It is developed by Fotoable Inc.
9. AppLock (Smart AppLock)
With more than 10 million downloads and a 4.4-star rating, AppLock is another best lock apps for the Android Smartphones. This app identifies and takes a picture of the Intruder who is trying to break into your app. So, this proffers you the extra protection as a photo will capture any person who will try to unlock your mobile phone. There are many other features like Protecting any app using password or pattern and fingerprint support etc.
8. CM Security AppLock AntiVirus
CM Security AppLock is one of the most famous apps used to lock apps and your Smartphone. Moreover, it also secures your mobile from viruses and malware. It is one of the best Lock apps for Android Device. It has a 4.7-star rating and more than 100 million downloads in the Google Play Store. Besides that, it has many upgraded features as of 2023 like Intelligent Diagnosis, SafeConnect VPN, Wi-Fi security, Anti-Theft Alarm, Message Security, Applock, and Intruder Selfie. These advanced features help to protect your device at best.
7. AppLock
AppLock is the most downloaded App Lock apps for Android smartphones with features like Photo Vault, Video Vault, app vault, etc. It is available in 50 different countries with the support of 45 different languages. It has a 4.5-star rating on the Google Play Store and 400 million users worldwide.
This is one of the most downloaded app lock apps on the Google Play Store. It provides you with many upgraded and advanced features to protect your privacy on your mobile phone. Hiding pictures, videos, and locking apps, contacts, Gmail, settings, and incoming calls are the main functions of this app.
6. Fireflies Lock Screen
This is another best mobile phone lock apps for Android smartphones to keep the privacy of your phone. It is available on the Google Play store for free download. It is a highly protective locked screen with the Fireflies Live Wallpaper Theme. This is not only an app lock application but also a screen lock app. So, it will work as an allrounder for you to keep your mobile phone safe and private.
5. Pattern Lock Screen
A cool and Secure Screen Lock app for Android phones is Pattern Lock Screen. This pattern lock app is easy to use and has some good features like Beautiful Wallpaper with Live effects and DIY Locker. It will prevent anyone to unlock and see your private stuff on your mobile phone. However, it will not easy for anyone to break this locking system in any way.
4. LOCX App Lock Photo Safe Vault
LOCX app locks photo-safe vault another best and most downloaded lock app for Android smartphones and suggested by top Gadget sites. It has a 4.5-star rating and has more than 5 million times download in Google play store.  By using this app you can lock everything in your phone. It protects private apps, hides pictures and videos, and locks all your phone privacy at the best level.
3. Zipper Lock Screen Yellow
Lock your Smartphone screen with a yellow delightful zipper. We highly suggest that you should use it once without any wait. The zipper is smooth and you can turn it on and off this feature anytime when you want. It is the best lock screen app in this list of top 10 Lock Apps for Android Smartphones in 2023.
2. Vault-Hide SMS, Pics & Videos
This app is developed by NQ Mobile Security. It has been downloaded more than 100 million times in the Google play store. This makes this Android app one of the most downloaded app lock apps of the current time. It is a very helpful and effective app to lock games, apps, videos, photos, and messages. Besides that, it also protects and hides your call logs and contacts with cloud backup and many other features.
1. Wave to Unlock and Lock
This is also the best lock app for Android smartphones available on Google Play. When you have this app on your Android Smartphone, you can unlock a phone screen by just waving your hand in front of your Smartphone. It supports multiple languages and is very responsive. Nothing to worry about with it, highly secure and protective Android apps.