If you are finding for the best data recovery software, mark this list of top 10 data recovery software to retrieve permanently deleted data.
The problem of data loss events boomed due to system crash, software corruption, memory failure, etc. Also, data formation, accidental removal of files, and operating system failure can also turn to be the reasons for data loss. Business organizations are the most affected by this situation. This is all because when the business of organizations grew larger they are usually get on the radar of the cruel world. They try to imbalance and rob their data to ruin them.
It was truly a headache for users and organizations but since the development of technology and revolution in IT, these situations are now resolved. The time has changed now and technologies are getting advance and it's easy to implement recovery data with the help of bundles of software that do not need a consultant or professional technician. You just need to understand the data recovery software tools.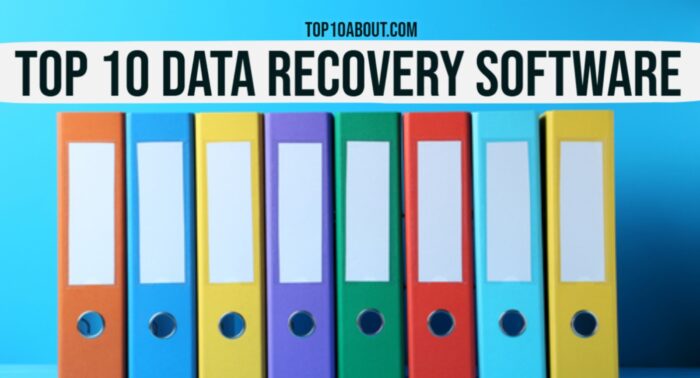 Top 10 Data Recovery Software to Retrieve Lost Files 
Lot's of free and paid data recovery software out there on the internet but the most prominent data recovery tools to retrieve permanently deleted files are listed and described below.
10. Power Data Recovery
Power Data Recovery software is effective in external storage device recovery. It repairs damaged partitions of devices like cell phones, iPods, etc.
This file recovery software is easy to use and free to download. If you lost or deleted some files even accidentally, you can easily recover those lost files. You don't need to do the recovery process continuously, you can even pause and resume the process of recovery.
See also– Top 10 Best Tricks to Unlock Android Phones
9. Undelete 360
If you have lost your files due to any reason such as virus, accidental deleting, software or computer failures, etc., this is one of the best data recovery software for it.
This is simply a free data recovery windows operated software that can easily recover files from storage media like memory sticks, pen drives, hard drives, etc.
It can recuperate files lost from computer HD(hard drives), USB/thumb drives and memory sticks, cameras and, smart phone's memory cards, pen drives, etc. The best part of this file recovery tool is that it supports both file recovery and folder recovery.
8. Cisdem Data Recovery
Cisdem data recovery tool is the Mac OS supported professional recovery wizard that provides a free trial and a lifetime license for just $50.
It allows users to safely recover images, files, videos, etc. from any storage media and offers two modes of scanning that is quick and deep scan to make the perfect recovery. So, it's never been a bad choice while selecting the best data recovery tools.
See also– Top 10 Best Money Transfer Apps in India
7. Recover my files
This software contains the same features as a good recovery software should contain. It gives a good visual preview of what should a user pick from the deleted file to recover first. It has a customization interface that allows finding lost images easier.
The only lacking in this software is it does not include a bootable disk for searching files on an unbootable device.
6. Disk Drill
Disk Drill is also among the best recovery software in terms of a business point of view. It offers a free trial and pro paid version and supports all operating systems whether windows or Mac OS. It helps in the recovery of more than 200 file types. Besides that, it does not only provides effective data recovery but also enables us to backup periodically.
The free version allows only to retrieve 500 MB of data which is very less for even home user but its pro version charges $89. The flaw of this software even in the pro version is that it does not give free upgrade service.
5. Data Rescue Mac
Data rescue Mac has many updates and the most current version is Data Rescue 4 Mac. It is simple and highly effective for Mac systems. The best thing about this data recovery tool is that it gives a business an effective wide variety of characteristics. The easiness makes this software user-friendly even in Mac OS and from cradle to grave (installation to recovery) it walks with you.
4. R-Studio Windows
This software is available in both pro and basic features of data recovery and recovers almost every file type. It performs data recovery from unintentional deletion to complete system and drive failure.
This software is very good from the business point of view as it provides customer support in various languages like English, German, French, etc. The problem of this software is its complexity of use and requires extensive professional knowledge to perform recovery services.
3. PC Inspector File Recovery Software
It is the free data recovery software that is accessible in all Microsoft OS supports FAT and NTFS file systems. PC inspector retrieves files and saves them to network drives. It has the only drawback of limited devices recovery. However, this is also another software you could try to recover your lost, hack, deleted, or damaged files.
2. Stellar Phoenix 5
This can perform complex recovery of files and data in an uncomplicated way. Files of more than 150 file formats can be retrieved by stellar phoenix. Most of the recovery software provides a pro version to recover a large amount of data and stellar phoenix is offering the same. It has worldwide customer support but the only drawback is that it fails to provide advanced features for their home use products.
1. EaseUS Data Recovery Software
It is the most popular and widely used recovery wizard that is able to recover every format of file lost from the computer and removable disks in no time with ease.
This software only provides 2 GB of data recovery in the free version, but it has an ultimate recovery skill in the pro version or paid version. The main disadvantage of this software is that it does not provide technical support otherwise it is perfect.