If you're searching for high-quality & popular brands of jeans, follow this list of the top 10 best and popular jeans brands in the world.
Jeans are the most common type of pants that most people wear around the world. All people from kids to youths, and men to women love to wear jeans. That's why jeans are always in high interest among people in the world.
If your choice always falls among brand products, this post will help you perceive the best brands of jeans in the world. We have shortlisted here the top 10 world's most popular and best-selling jeans brands as of 2021. Let's have a look at the list and tell us your favorite brand of jeans in the comment section.
Top 10 Best and Popular Jeans Brands in the World
10. Versace Jeans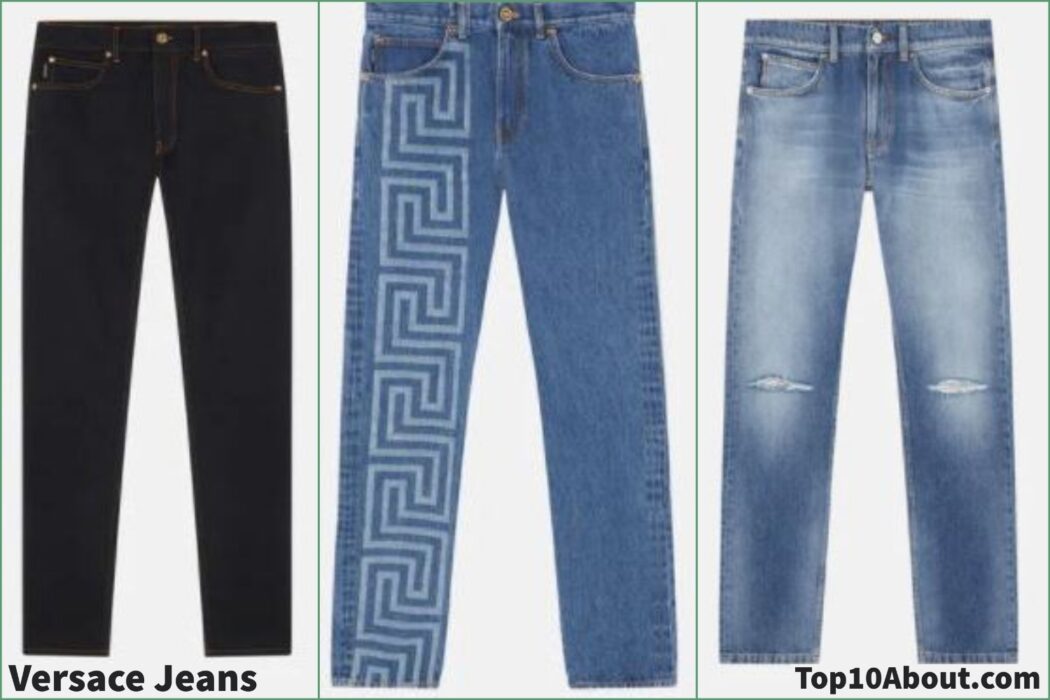 Versace is a brand product of an Italian fashion house of designer Gianni Versace. It is one of the renowned brands that make leather jackets, bags, apparel, footwear, etc. Since 1978 they are bringing specially crafted accessories and wearable bulk. Denim is launched via Versace jeans couture, a new clothing line. Undoubtedly, Versace is among the top brands of jeans in the world.
Versace boasts of introducing high-end denim to their customers. 'Him' collection of jeans focus on the younger generation. These are moderately priced as compared to their other products. For casual and refined staple jeans this is the right spot. Nine shades with waist reaching 52 inches are available at Versace denim collection.
See also– Top 10 Best Leather Shoes Brands In World
9. Pepe Jeans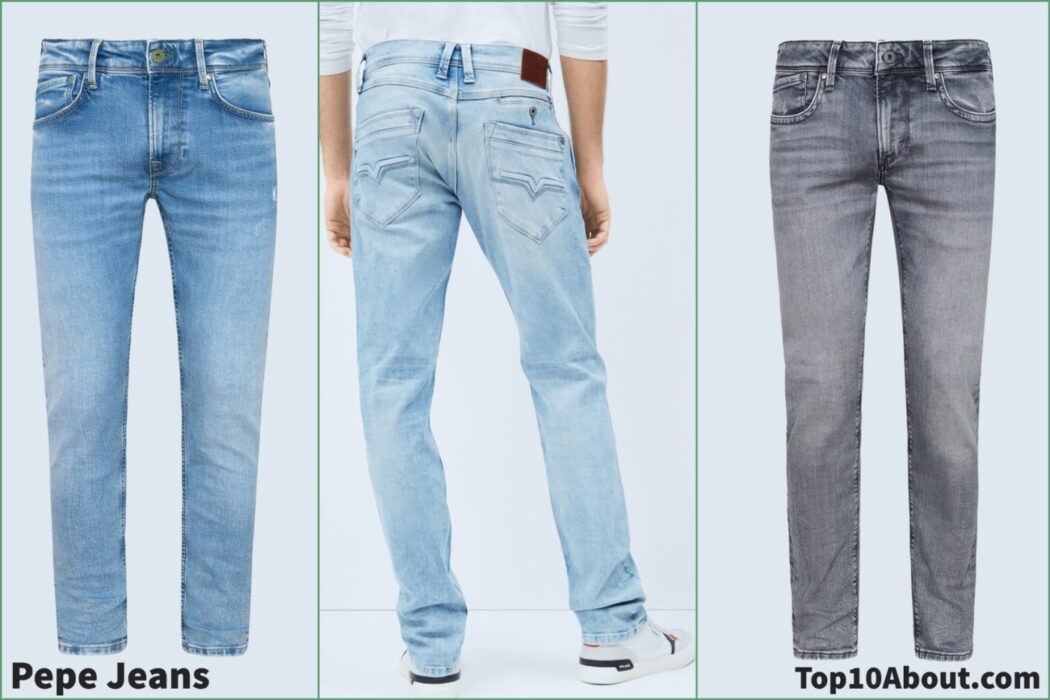 Pepe, another deserving name among the top 10 best jeans brands in the world. These denim pairs will cost you expensive but definitely deluxe-quality products. Spain-based Pepe jeans brand has a reputation for launching fashionable jeans.
Its popularity among buyers owes to awesome fitting and affordability. The global brand ambassador of Pepe jeans is a pop star, Dua Lipa. Their signature fits for males include skinny, slim, regular, relax and taper. Skinny, slim, straight, flare, and trend are in the female kitty. The lighter fabric preferred to carve the notable styles. The tailormade jeans have a special emphasis on zippers, pockets, and its stylish logo. The reversible jeans culture was launched by Pepe jeans only.
8. Killer Jeans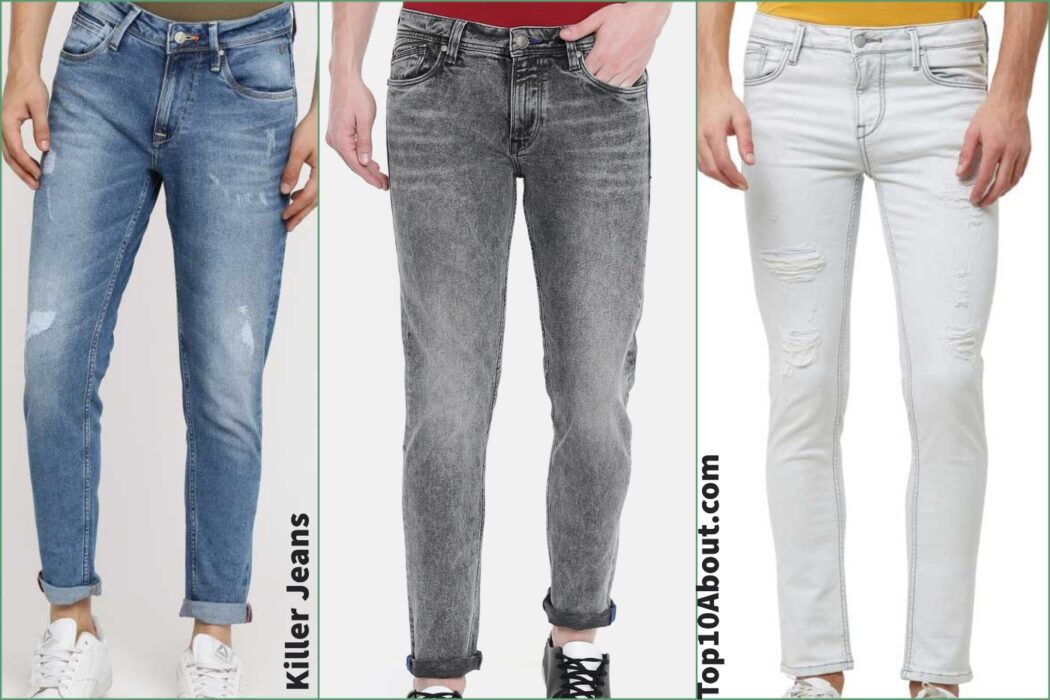 Fashion-conscious youngsters are the target customers of this brand. That's why this brand has become one of the most popular brands of jeans as of 2021. This brand was launched in 1989 by a garment businessman Kewalchand Jain, based in Mumbai. It stood in the global market due to its sincere quality and style delivery in denim. Low rise and shred jeans culture were planted by them in India.
They accustomed youths with ripped, torn, brushed, and bleached patterns of denim. Their jeans are versatile, trendy, and zestful defining today's youth. Brand name killer itself defines the rebellious attitude of today's youngsters. The affordable price tag of this wardrobe must by Killer fetched its huge clientele.
See also– Top 10 Fashion Trends for Spring-Summer 2021
7. Gucci Jeans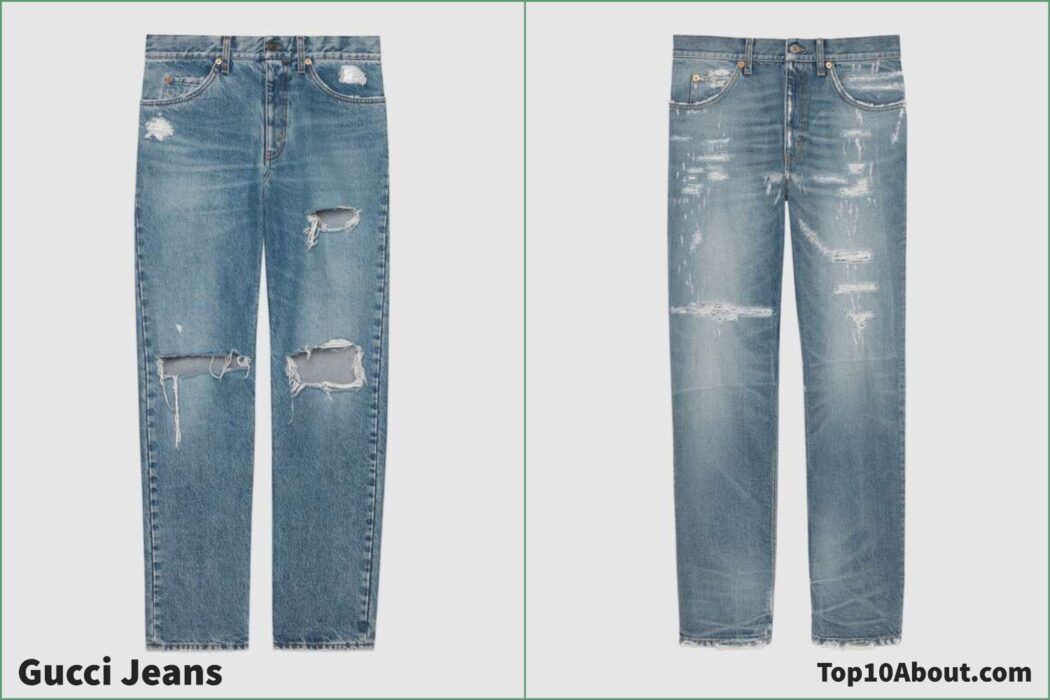 The idea of Gucci was conceived by an Italian fashion designer Guccio Gucci in 1921. It is one of the most popular and expensive clothing brands in the world. Their reputation stood the same in the case of denim too and noted as most selling jeans brands around the world.
In the denim section of Gucci, one can choose from around 50 designs. Gucci denim is high on the range but the quality is promising. Carrying their logo is a sign of prestige. Prices begin or begin from 36 dollars. It has been placed in the Guinness Book of World Record as the World's most expensive jeans. They cover styles from being elegant to urban look.
6. Wrangler Jeans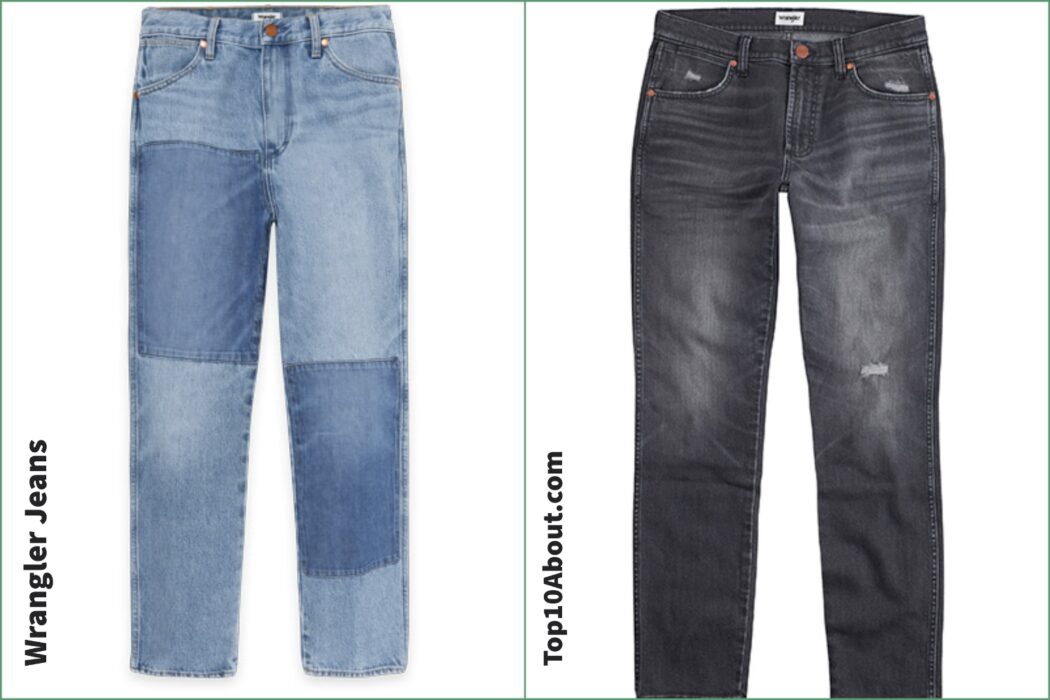 Wearers love to flaunt the signature 'W' logo at the back of the jeans' pocket. It is badged as America's iconic cool jeans since 1947. Durability, comfort, chic variants, and exclusive quality fabric are synonyms to brand Wrangler. If you are looking for the world's best jeans brands, this comes among the top 10.
Prestigious VF Corporations owned the brand Wrangler. Its headquarters are in North Carolina, United States. Its manufacturing plants are nearly in all corners of the world. The stand-out quality of this brand is that they design pairs of denim suiting all body types. They have shed the stereotypes of clothing only Americans with denim. They focus on global body type requirements. The fit guide is for buyers to select fit pairs for themselves.
5. Lee Jeans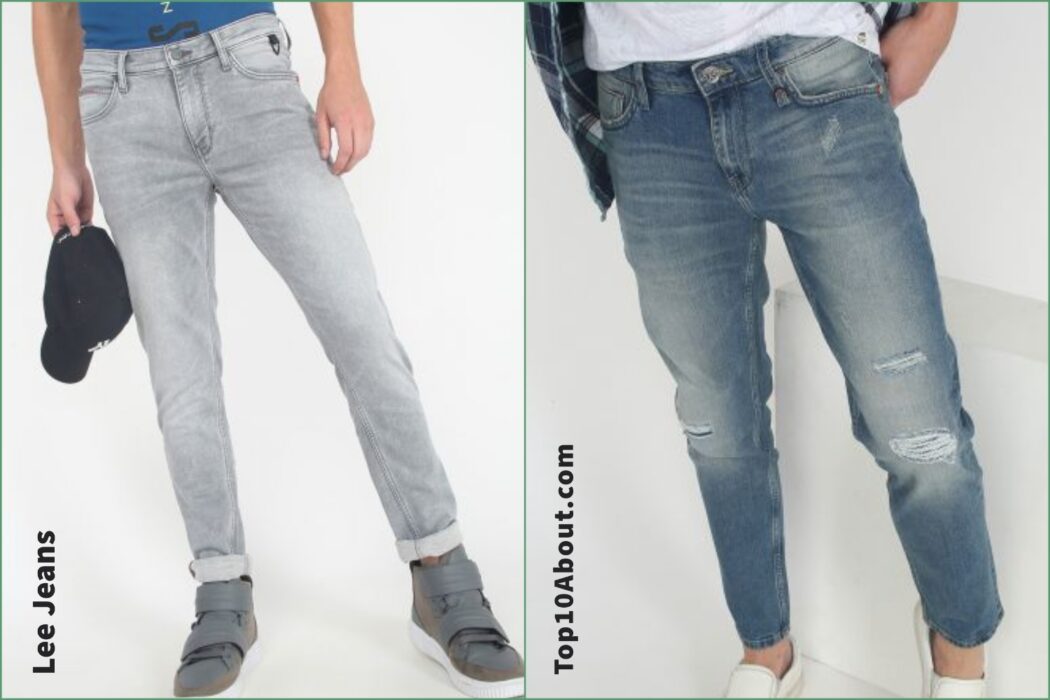 Lee is another best and most selling brand of jeans for both men and women. They have launched their first denim pairs in 1889. It is a subordinate company to VF corporations of America founded by Henry David Lee.
They craft premium quality jeans that range from classic to trendy. Some of the Lee brand innovations are Zipper fly jeans, Hair on hiding, leather logo label, cowboy jeans, and Lazy 'S' back pocket stitching. Even after 120 years, this best-fitted jeans brand craves to come up with something novel. Absolute cotton denim molded and no stretching in the jeans. 
4. Calvin Klein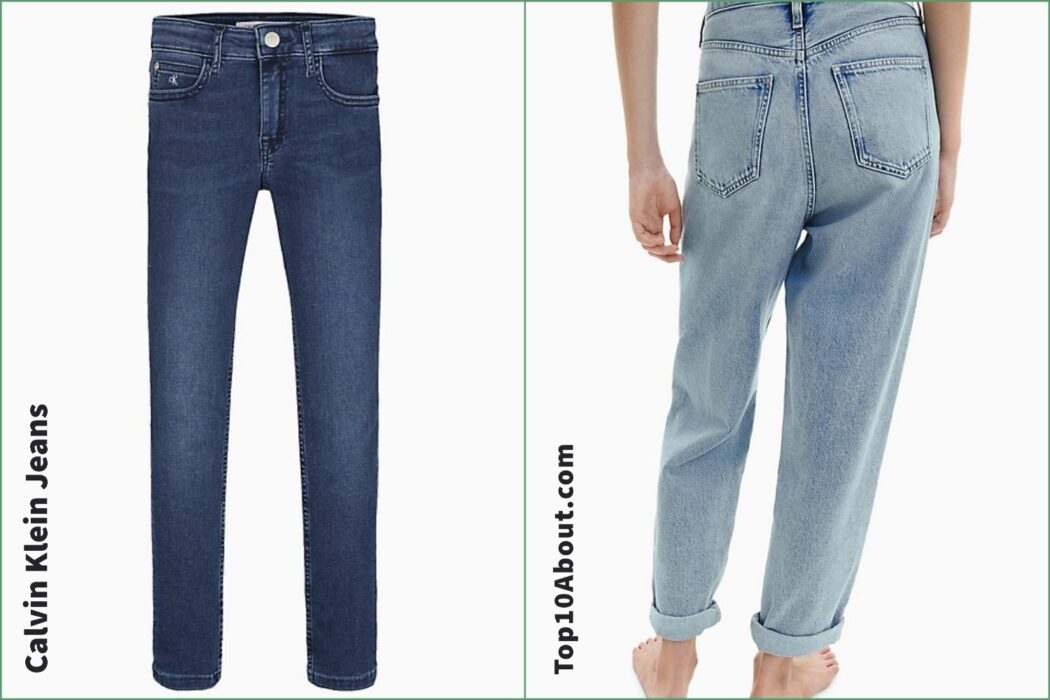 You must have heard about this brand if you keep knowledge of fashion and lifestyle. Kate Moss, Natalia Vodianova, and Justin Bieber flaunt the designer pair of denim by Calvin Klein. This proves the popularity of this brand as one of the most popular jeans brands in the world. They have carved a name for their products with their quality assurance.
This American brand is the brainchild of Calvin Klein and Barry Schwartz started in 1968. The denim designed by them is fresh and timeless. The comfort fit, youthful carvings, and durability have fetched huge global youth customers. Well-curated men and women denim jeans collection are available in this brand. Skinny, slim, tapered, straight, boyfriend fit, curvy jeans are some of the specialized outfit patterns that can be chosen.
3. True Religion Jeans
 
The 3rd for best and most popular brands of jeans goes to True Religion Jeans. It is an American brand since 1922 founded by Jeff Lubell and Kym Gold. Their product stood apart in terms of neat stitching. The classic five-pocket jeans were a swag among wearers. The 'T' stitch logo was one of its kind among jeans manufacturers.
The iconic bold designs of this jeans brand drew customers from all over the world. The unique marketing strategy is to rope some infamous models as brand ambassadors. The premium quality jeans are of this brand are special in crafting straight cut and slim fits.
2. Diesel Jeans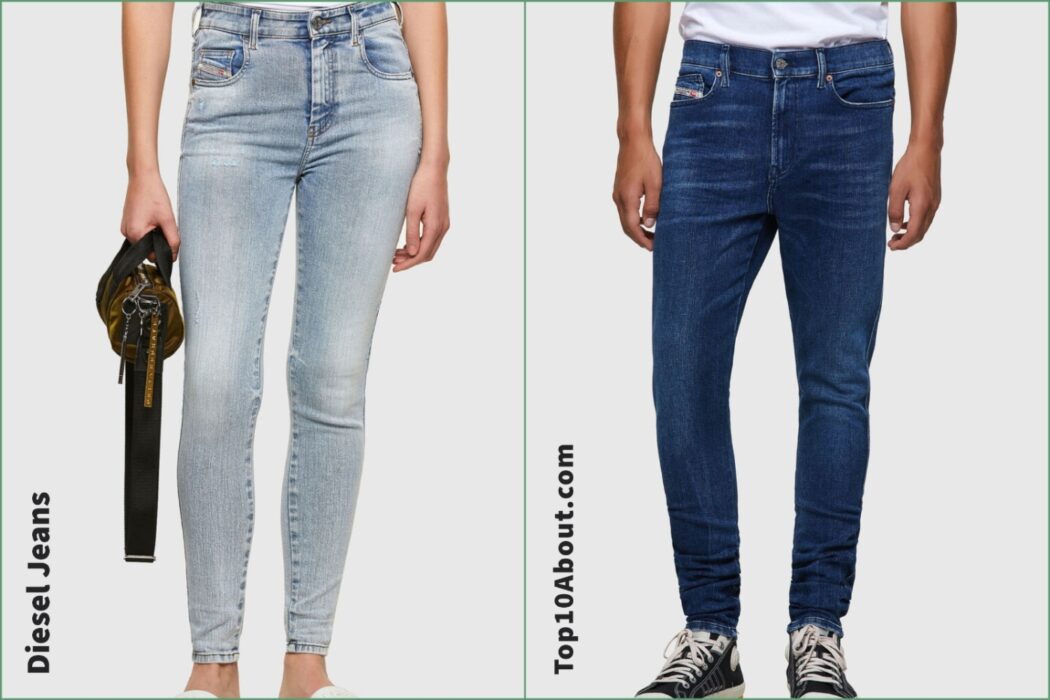 Diesel is an expensive and popular brand of jeans it vows luxury, durable fabric, and longevity. It is noted for its faded look as it is innately pre-washed. The buttons have engravings of their brand initial. The front pocket logo is a style statement.
This Italian retail clothing company was founded in 1978 by Renzo Rosso. Their outclass stitching is their brand signature. Diesel, Diesel Kids, and Diesel Black Gold are the three categories of their original products. The jeans fabric used to designed keeping in mind the long hours of wearing. So, Waykee, Thommer, Theppar, Larkee, Thanaz, Sleenker are the fits that follow body types.
1. Levi's Jeans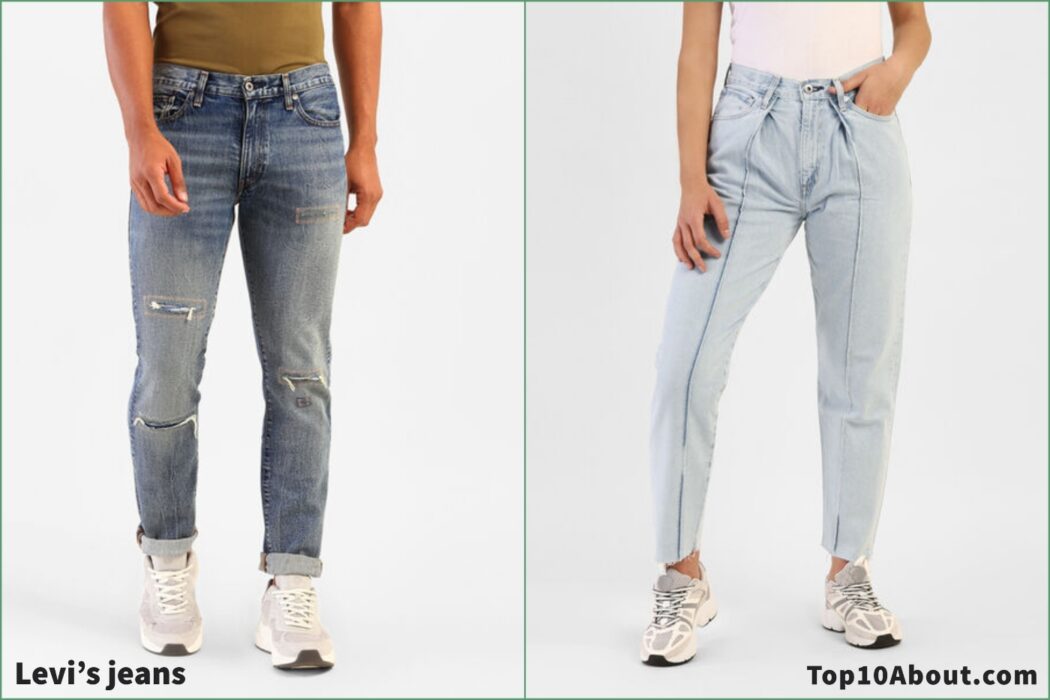 The concept of jeans course by Levis some 150 years back. Since then, they lead the merchandise market throughout the world. In other words, Levi's is the most popular jeans brand in the world of all time.
Levi designs the modern-day youth's choice. It is an American venture by Levis Strauss way back in 1853. This jeans brand offers different varieties including straight cut, slim fit, relaxed, tapered jeans, boot cut, skinny, and big fit.
Its sewing pattern, label, blue jeans concept, and reinvention of Khaki Pants make them different from others. Levi's were the earliest to use rivets on men's jeans. They have two noticeable features that make them different: a two-horse logo on every jeans back and a red tab.