Do you want to know which PDF Editor is best for your windows PC? If yes, follow this list of the top 10 PDF editors for Windows 2023.
As you know, PDF tools are necessary because we need these tools to handle various PDF files daily. On the internet, there is a vast number of PDF editors available, few of them are free of cost, but few PDF editors are available free of charge. But it's hard to find a perfect PDF editor for windows PC because not every PDF Editor suits your windows, and not every PDF fulfills your needs. So how can a beginner find the best PDF editor? Don't worry. This article will tell which PDF editor is best for you in 2023.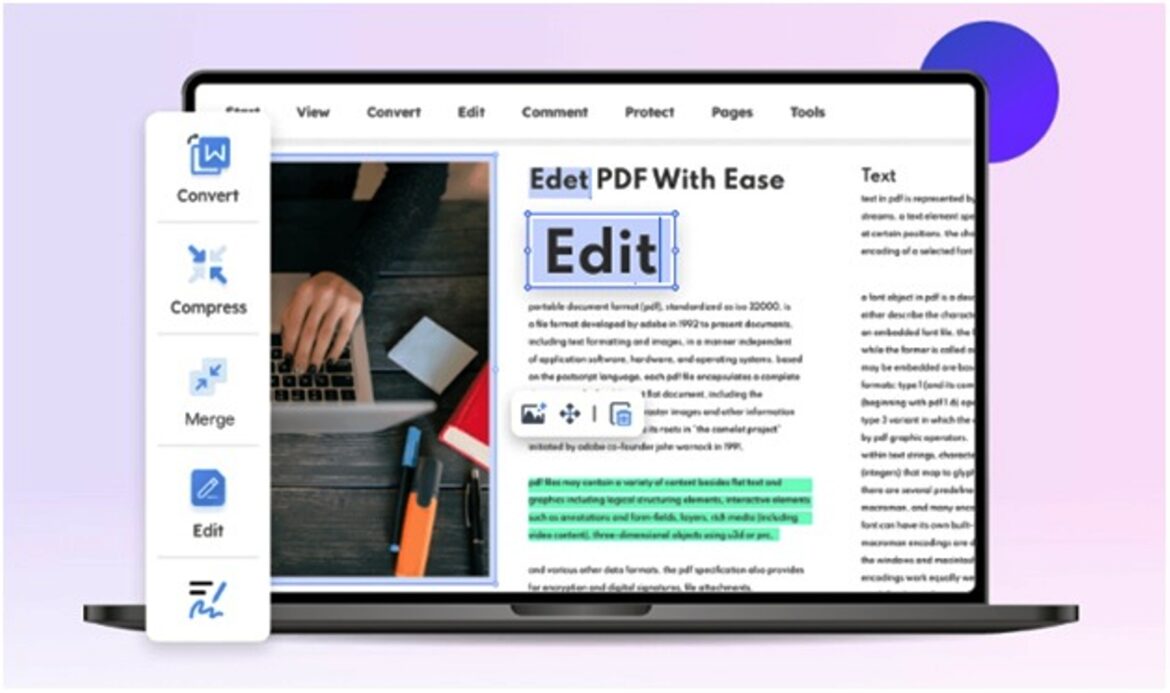 Top 10 PDF Editors for Windows 2023
There are hundreds of great PDF editors available, but we enlisted here the top 10 free PDF editors for windows.
10. Smallpdf
If you don't have space on your windows PC to download a PDF editor or want a go-to PDF converter. You can use an online PDF converter. This PDF converter tool assists you in converting the file without installing the tool on your device. This online tool quickly converts your PDF files to other formats like word, Excel, and images.
Additionally, you can professionally edit your PDF file in a short time with this tool, like arranging PDF pages, adding notes, images, links, e-signature, etc.
See also– Top 10 PDF to Word Converter Apps for Android
9. PdfFiller
The best app that helps you in making your office paperless is "PdfFiller". It can create fillable PDF forms. You can organize, edit, sign, and more with this tool. It can help you a lot if you are willing to make your office paperless.
With the help of this app, you can edit files. You can also convert the PDF format such as docs and PDF.
8. Nitro PDF
Nitro PDF is a good PDF editor tool that has pdf productivity tools and browser-based services. This tool enables you to convert a file into other formats without losing your layouts.
The font, images, and everything present in the original file will be retained. With the help of this app, you can change email attachments and media into PDF files. You can also archive them to have easy access.
See also– Top 10 Best Free Video Editing Software for Windows
7. Sejda PDF Desktop
Sejda is a PDF editor tool that is very easy to use for beginners. There are two versions of it available: the desktop and the online versions. The desktop version works for windows, Mac, and Linux OS. You can do all advanced-level PDF editing. It is free of cost. There are certain limitations of its free version
6. PDF Experts
One of the famous PDF Editing software is PDF Expert. This PDF editor has different unique features like user interface, editing tools, etc. thus, it becomes pretty easy for users to understand and use the software. It doesn't need any proper guidance. It works on windows, iPad, iOS, and macOS.
The software possesses unique features like editing, protecting, organizing, and signing PDF documents.
It can open large PDF files easily and quickly. You can add images, edit, add or delete text and links in PDF documents. It provides security to your private and essential data. You can put the password to make it more secure. Moreover, you can also merge, rotate or rearrange the pages.
5. Foxit PDF Editor
Foxit PDF Editor is a sophisticated tool that offers a smooth and perfect workflow of documents. It has unique features for editing. It works on desktop, mobile, and web. Windows and mac versions for desktop and iOS and Android versions for mobile
This PDF Editor provides you with extensive language support. You can change the interface language according to your own preference. Foxit PDF Editor supports 17 languages. It enables you to have different editing options.
Additionally, you can change font, color, and size and add or delete text. You can add, delete or extract images, and you have the option to add a header or footer.
Moreover, you can add or delete a watermark and even can customize a watermark. It enables you to link a web page, program, or document.
4. PDFescape
The PDFescape is a versatile and highly efficient PDF tool that is perfect for editing PDF files. This Free PDF editor's specialty is protecting all original or edited PDF files.
It allows you to edit PDF files by adding or removing text and inserting pictures in the PDF files, even if you easily share the edited files with anyone.
3. PDF Candy
The PDF candy is one of the most accessible PDF editing and converting tool that lets the user edit PDF files. It is effortless to use, and It has no complicated interface. Thus, you can convert PDFs just with a single click. You can start converting when you land on the PDF candy homepage.
Additionally, you can split or merge PDF files with the PDF candy, and this software is safest because it protects files with a password.
It has 19 converting to PDF tools options with support for office software, images, and even e-reader formats. There is 10 formats option word, excel, PowerPoint, JPG, and OCR.
2. PDFelement
PDFelement is a top-rated free PDF editor for Windows that helps to edit PDF files. It is a full-featured PDF editor that is extremely easy to use on windows PC. It is the perfect choice for those who are looking for a simple but all-in-one PDF editor. This tool enables you to do various PDF tasks like splitting, merging, converting, and compressing files. Additionally, you can create & fill in PDF files by adding text, images, links, and different kinds of annotations. Besides, if you fear that someone will steal or publish your file, you can add a watermark to your PDF file to protect it from scammers. You can customize your watermark by choosing different fonts, emojis, images, etc. moreover E-signature option is also available for you here so you can sign multiple files quickly.
1. Adobe Acrobat
Adobe Acrobat is a free PDF converter for windows. It can convert any file format like PRB to PDF, VCE to PDF, and PDF to PDF/A.
The unique feature of PDF converting software is that when you scan in adobe format, the original format gets converted simultaneously without making any extra effort. It is a straightforward and affordable app. You can do advance level editing with it.