Do you want to know what are the benefits of buying an SUV? If yes, follow this list of the top 10 benefits of buying an SUV.
When you're looking to buy a new car, you'll come across various options. You can choose to have a hatchback, a sedan, or an SUV. While there are plenty of sleek sedans or cute hatchbacks out there, you should consider having an SUV, as it can provide many benefits—more than you can think of.  
There are many stylish SUVs to choose from. But before you select a great-looking vehicle, you should always look for their specifications online and see if you're getting your money's worth. For more details check out online reliable websites, so you can gather thorough information on the car's engine, design, and other features. Keep reading to learn why it's worth having an SUV.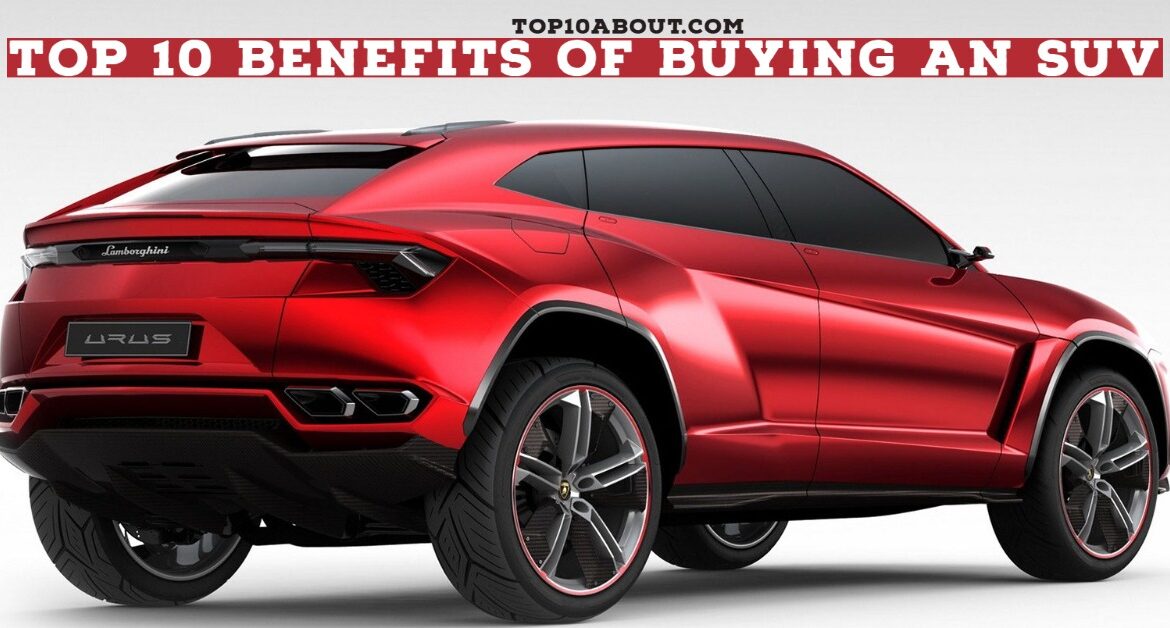 Top 10 Benefits of Buying an SUV   
An SUV maximizes seating capacity
A sedan is usually fit for only up to five people. However, if you're planning to bring more people with you or you have a growing family, an SUV will be an ideal choice for you. It can offer more seating capacity, which is usually for up to seven people. This will allow you to bring only one vehicle when traveling or going somewhere with your whole family. By only taking one car, you'll be able to save money on gas. 
See also– Top 10 Best Electric Cars in India 2021
An SUV offers spacious cargo
Apart from the increased seating capacity, an SUV offers spacious cargo. With spacious cargo, you'll get to load more things, such as several pieces of luggage and heavy or large packages. The standard sedan or hatchback won't be able to carry this much. Because you have a lot of space in your SUV, you can make the most of your trip and avoid traveling twice just to bring everything else needed for your travel. 
Moreover, some SUVs allow you to fold two back seats, providing maximum cargo capacity as much as possible. This would be a great and useful feature for you if you're planning to move out and bring plenty of boxes with you.
An SUV features vast cabin space
Another advantage of having an SUV is the vast cabin space. Even if only three people are in the back seat, they can sit comfortably even during the longest trips. Your children will also be able to stretch their legs freely. Everyone in the vehicle won't have to worry about feeling cramped during road trips. 
Apart from the extended leg space, an SUV provides comfortable headroom. Its roof doesn't slide down towards the trunk. So, with both wide cabin space and sufficient headroom, you and your loved ones will enjoy maximum comfort inside the SUV.
See also– Top 10 Best Mileage CNG Cars in India 2021
An SUV does not require you to bend
Getting inside a sedan or a hatchback requires you to bend yourself in order to hop in. While it might not be an issue for most people, it might be uncomfortable for people who are tall or those with back pain. With the height of an SUV, passengers no longer have to adjust before getting inside. 
An SUV can tow other cars
Car emergencies can happen anytime. They especially happen to people you're close with. If a family member or a friend suddenly had a problem with their car in the middle of the road and there's no towing service available, an SUV can tow small vehicles and bring them to a safer spot or the mechanics right away. Hence, driving an SUV will be of great help to people around you.
An SUV comes with an extended maximum weight capacity
If you often bring heavy items with you or drive a lot of passengers, you might have trouble getting into bumps and cracks while on the road. A small car, like a sedan, won't be able to handle heavyweight when you drive over bumps or cracks. Its wheels will eventually flatten. 
But with an SUV, you can carry additional weight without worrying about a flat tire. You can steer through bumps, and your vehicle will still be fine.  
An SUV can go through floods
Even if you check the weather every day before driving out to go to work or do errands, you can never tell when a flood might occur. If you suddenly catch yourself in a middle of a flood, an SUV will help you get through because of its added height. Moreover, you won't have to worry about experiencing car problems caused by floods, such as broken electrical systems.
Just ensure that you drive slowly but steadily to avoid accidents.
An SUV provides maximum safety
One of your top priorities when car shopping is to check how the car will perform in case of accidents. The last thing you'd want to happen is to get injured, even with a light bump on your vehicle. Luckily, an SUV can take a strong force of collision during a crash, allowing everyone to be safe inside. It's especially safe for those in the passenger seat who have no access to airbags.  
On the other hand, injuries are more likely to happen when you drive sedans and hatchbacks because of their compact sizes. Therefore, an SUV is an excellent option for you if you value maximum safety for yourself and your loved ones. It even comes with the best car insurance. 
An SUV is more powerful than other vehicles
If you're planning to drive on rough terrains frequently, an SUV can get the job done for you. While it can seamlessly get through even on the bumpiest roads, it will also help ensure that passengers experience fewer bumps and intense movements.
In other words, an SUV can handle even the rockiest road.  
An SUV is fuel-efficient
One of the best reasons you should buy an SUV is how efficient it is in fuel consumption. Contrary to its size, an SUV doesn't consume heavy loads of gas, allowing you to save money. 
With the latest technology today, some SUVs come with hybrid or all-electric powertrains that consume their energy first before emptying your tank. This means more road trips and fewer stops at the gas station.  
Conclusion 
Purchasing a new vehicle might be challenging since you will have plenty of options to choose from. However, if you're looking for practicality, an SUV is your best bet. With an SUV, you can enjoy driving with your loved ones who will remain comfortable and safe throughout short or long trips.