For students it's quite essential to have good handwriting. It's true that handwriting differs child to child but   if you are one of them who have bad handwriting then it's really a sad thing because handwriting matters in exam paper and also creates great impression on teachers mind so most of the parents always want good handwriting from their kids. Many students have bad handwriting and they suffer a lot but are there any tips to make good handwriting? Yes there are several things and ways to improvise the handwriting. In this post we are going to discuss ten best tips to write beautiful handwriting. So students just read the complete post and apply them on regular basis and no doubt you can experience the change in your handwriting for sure! Yes, it will take long time but you will definitely get the best result.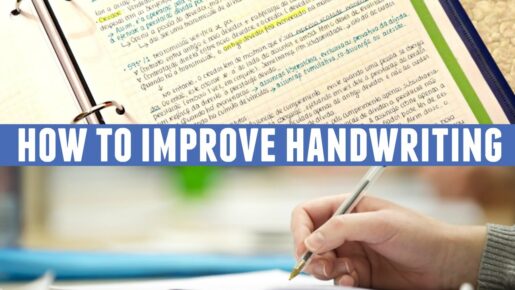 Here are the list of Top 10 Tips to Make Good Handwriting for Students



10. Take care of proper Grasping of Pen/pencil
Most of the students makes mistake during the grasping of the pen and pencil. If the grasping process is wrong then you can't write good handwriting. The best way to grasp a pen/pencil is to hold it with the thumb and index finger with proper support of middle finger. Never make the grip too much tight just grip it gentle. If you have bad handwriting then try to practice with pencils first then after the improvisation you can use pen. This is one of the good handwriting tips ever you can apply for your improvisation.
Also For Read-Top 10 Best Online Education Websites for Students
9. Use a nice pen
In the market you can get different size and brands of pens but if you want to make your handwriting better then you have to understand which type of pen fit perfectly for you. Pens normally come with various grips and some are thick and some are thin. So it's quite important to choose the right pen and practice more with that particular pen so that it can well fit to your hand.
8. Improve your Motor Ability
Try to improve your motor ability and it's only possible of hygienic food. Students should eat hygienic food so that their motor muscle can improve more which definitely help them to improve their handwriting for sure. Hand muscle plays important role in good handwriting so don't ignore motor ability improvement.
7. Make your Body posture perfect
Body posture can be a major reason to know How to get Good Handwriting. If your body posture is fine then you can easily write good handwriting for sure. For this you need to sit straight and relax and always grip the pen lightly. As per the experts you can put the paper sheet at 45degree for good handwriting. Always take sufficient space when you are going to write anything. So if your body gesture is perfect then no doubt you can easily improve your handwriting.
Also For Read- Top 10 Best Tools to do Your Homework
6. Practice more
As you know practice makes a man perfect so if you have bad handwriting don't be sad and practice writing whenever you are getting free time. If you have strong desire then nothing is impossible in this world. So just follow several tips regarding How to make excellent Handwriting and try to improvise in your writing. No doubt you can experience the improvement within few months for sure.
5. Write on lined paper
If you have bad handwriting then always try to write on lined paper because it helps a lot to resize your handwriting structure and regular practice with lined paper always a positive steps towards good handwriting for students. So start writing on lined paper from today and bring improvement in your handwriting.
4. Practice with worksheet
 Practice with work sheet is one of the best Tips to Make Good Handwriting for students. Now most of you think where you can get practice work sheet? It's very simple just download it on internet and printout it and keep practicing. This practice will help you to maintain a particular size of letters and also make your line straight which always helpful towards improving your handwriting.
Also For Read- Top 10 Websites for Self-Education
3. Experiment paper rotation
It's quite essential for student to experiment the proper paper sheet rotation that suits him perfectly. It's true that it different for everyone but it's one of the best experiment if you want to improve your handwriting. One you know the best paper rotation angle for your writing then the job of good handwriting become easier for sure.  
2. Always maintain a relax grip
It is one of the most important things that every student must careful during writing. Always try to maintain a relax grip. Don't tight or stress on your figure because it affects a lot and one of the main reason of bad handwriting. So don't take stress on your finger hold the pen gently and start writing it can help you a lot to improve your handwriting.   
1. Find the reason of your bad handwriting
This is the most important point for you if your handwriting is bad and you want to bring improvement in it. This point is all about knowing your weakness. Is it necessary? Yes if you can know your weakness during writing then you can easily get the way to rectify your faults. So just think once where you are doing mistake and how you can bring improvement in your handwriting. Hard work always pays off so never lose hope find out your problems and work on it you will definitely see the result very soon
Conclusion    
So what are you waiting? Hurry up and follow all the ten necessary steps which are well described above and change your bad hand writing in to good. Application is must because without hard work you can't achieve any think so understand your problem for bad handwriting and work on it.  I hope this post will definitely help all students best of luck further Thanks!