If you're looking for the best PC, Tab, or Android gaming sites of 2023, follow this list of the top 10 most popular game websites in 2023.
Playing games is one of the most common parts of our lives. Also, the game is an addiction for so many people. Game lovers are always passionate about playing new and best games. They just keep exploring the most downloaded PC games and most downloaded Android games on gaming websites. We hope you are also one of them, that's why you are also here.
As we always do, this time we at Top10About are going to share the top 10 most popular game websites from where you can download games and even play online games. These are the best gaming websites that will provide you with the downloading option or playing online PC games and mobile games.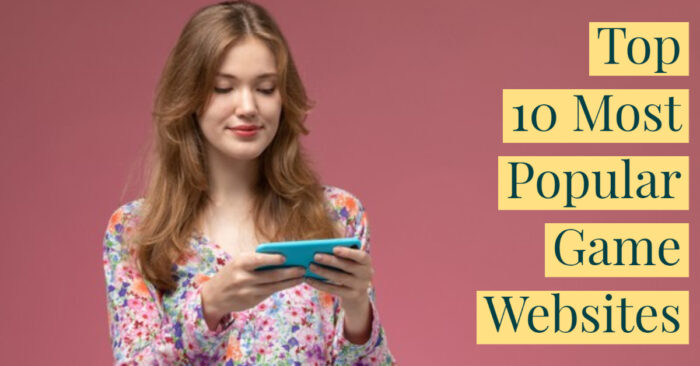 Top 10 Most Popular Game Websites 2023
BGames offers high-quality, original, and downloadable games for millions of users. The website updates regularly to make sure that the users have access to the finest and latest games every day. It has more than 100 categories with a massive collection of games. There you can play thousands of online games of many genres such as action, racing, shooting, arcade, puzzle, etc. Thus, this is another best game websites if you are looking to play games online.
Shockwave is a highly integrated and interactive website for gaming and fun lovers. It was founded in December 1998. Here you can find over 2000 games for direct downloading or can play them online. The website adds various advanced and latest games every day so that you can find the most exciting and engaging games here. You can download as well as play online games with so ease.
MyPlayCity has more than 300 free, legal, downloadable, virus-free PC games. The great graphics and user-friendly interface of this website is something you won't dislike at all. It has various puzzle games, racing games, match 3 games, simulation games and so many others for exciting users. This is one of the 100% free game downloading websites and you can try out this.
FreeWorldGroup or FWG has over 500 free online games. Here you can find several kinds of games here such as maths games, zombie games, action games, arcades, card games, board games, and word games. It has different categories based on the basic to the advanced genre, so you won't be short of selection here. Thus, if you looking for some best game websites in 2023, just check out this gaming site, maybe it will suit you.
AddictingGames offers an amazing group of online flash games. Here thousands of independent developers from all corners of the world have offered dozens of free as well as paid games. You can check out the reviews and ratings to see whether a game is going to be an exciting experience for you or not. There are also listed most obsessed games of all genres such as action games, racing games, puzzles, etc. So if you are searching for some best game websites, it's going to be one of them.
Yahoo! Games on iPlay.com is the best website to download or play free online games. However, as we know Yahoo! Games shut down, but it has also started a new gaming site named iPlay. You can activate your existing Yahoo Games account at Iplay and continue to play all your favorite games without any interruption. The website has divided its games into various genres for easy and quick access. You can either play them online or continue to download them to your computer device.
FreeGamePick is one of the best game websites online that allows you to find as well as download more than 200 PC games completely free. It depends upon your mode if you would like to download the game or are willing to play it online. There are no limits for free trials for some games. Every download goes with no viruses, adware, as well as spyware. That's why a huge number of gamers use this gaming website to download and play online games every day.
Minesweeper is a logic-based game where the primary objective is to clear a grid of squares without detonating hidden mines. Players use numerical clues provided by revealed squares to deduce the locations of these mines. Clicking on a square with a mine results in a loss, while successfully clearing all squares without mines leads to victory. The game demands careful thought and strategy. Catering to this popular game's massive fanbase, Play Minesweeper features the game, providing enthusiasts with a dedicated platform to engage in this widely-loved puzzler. Given the game's immense popularity, the website serves as a go-to destination for countless players looking for a classic Minesweeper experience.
Hearts Land proudly features the classic card game of Hearts, offering enthusiasts a dedicated platform to enjoy this time-honored game. The objective of Hearts is for players to avoid accumulating points by steering clear of certain cards, particularly the heart cards and the Queen of Spades, during the course of the game. Each heart card carries a single point, while the Queen of Spades carries a hefty 13 points. The player with the lowest score at the end is deemed the winner, making strategic passing and playing of cards essential for success. For new players, Hearts Land features a detailed guide explaining the history and rules in depth. Additionally, players can try the game out in both single and multiplayer modes.
At Cribbage Online, players can delve into the captivating gameplay of Cribbage, a classic card game played with a standard deck of 52 cards. The goal of the game is to be the first to reach a target point total, often set at 121 points. The popular game is distinguished by its unique scoring system and deep strategy. The website boasts several impressive features. Players can engage in real-time multiplayer matches, testing their Cribbage strategy against enthusiasts from across the globe. With a variety of difficulty settings available, individuals can select modes that align with their skill level and playing preferences. Additionally, the site enhances the gaming experience with tracking of players' statistics and a leaderboard. Cribbage Online provides a comprehensive and cost-free gateway for Cribbage lovers to play, socialize, and sharpen their game.