Are you searching for the most popular android games? If yes, check out this list of the top 10 most downloaded Android games in the world.
Free games and apps that make Android phones popular and trendy among people. On Google play store you can get several kinds of game like a puzzle, adventure, racing and many more.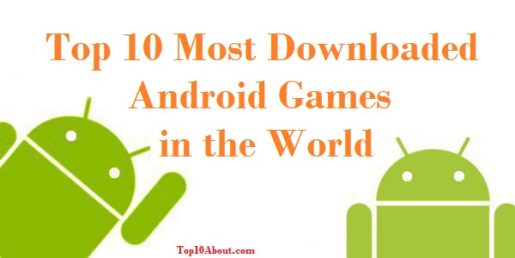 As per the current record, you can find over 7, 00,000 mobile applications in which you will also get many games so it's always a challenging job for game lovers to find out some best games for their entertainment.
If you are one of them who is searching for some best and most popular android games on the Google Play Store, then this post will definitely help you to choose some best games. So, in this post, we are going to discuss the top ten most downloaded Android games in the world.
Top 10 Most Downloaded Android Games in the World
10. Pokemon Go
Pokemon Go is an excellent game which was one of the massive hit of 2016. This game all set to gain 10th spot in our list of most downloaded Android games in the world. This game has over a billion global downloads and over 147 million monthly active users. In this game, you can experience to catch Pokemon in real life. It is an exciting game and to play this game you need to on your GPS on your smartphone.
9. Clash of Clans
Clash of Clans successfully manages the 9th spot in our list of most popular android games in the world. This is a strategy game which is made by Supercell Company. It was released on Google Play Store on 7th October 2013. This is an amazing game in which you need to apply proper strategy to fight with your opponent to save your towers. You have to wisely use the level up. You can play this game with your friends by making a team also. Now it has almost 100 million downloads all over the world.
8. Cut the Rope
Cut the Rope is an all-time most popular puzzle game which is well available on the Play Store. This Zepto Lab production game is an interesting game and it has more than a billion downloads to date. The whole concept of this game is you have to cut the ropes so that you can feed the frog with hanging candy. It is a funny game and it deserves the 8th position in our list of most download android games in the world.
7. Asphalt 6: Adrenaline
If you love to play thriller racing car games then no doubt Asphalt 6 Adrenaline is one of the best games for you. Initially, this game was launched for the iOS platform only but because of its popularity then it released on Google Play Store on 21st December 2010. As expected, this game obtains an overwhelming response from game lovers in a quick time. The developer of this game is Gameloft which is well known for its high-quality games with better graphics all across the world.
6. Fruit Ninja
Fruit Ninja is a popular game that is available for various platforms like android, iOS, and windows. You can find this game on almost all android smartphones. It has completed 300 million views till May 2012. In this game, you have to crush the fruits. If you are a fruit lover then you can try this game. This game is at the number 5th spot in our list of most downloaded Android games in the world with over 1.5 billion global downloads.
5. Temple Run
Temple Run and series is still one of the best android games of all time. This game has 4 ratings on the Google Play Store and you will find more than 2 billion downloads of this game series to date. It has achieved 1 million downloads on the first phase of the release. This is an endless running game that was developed by Raleigh-based Imangi Studio and was released on 4th August 2011. No doubt, an addicted and trendy android game of its time.
4. Subway Surfers
Subway Surfers is another popular and most downloaded mobile game in the world. This game comes at the number 4th position in our list. This is an endless runner android game that was developed by Denmark companies Sybo and Kiloo. This game was published on 24th may 2012 and got popular within few days of its release. It has reached more than 2.5 billion downloads and successfully names among the most popular games of all time.  
3. Candy Crush Saga
Candy Crush Saga is basically a single-player match-3 puzzle video game that was first released on the 12th of April in 2012 by King Digital Entertainment. This video game available on platforms like iOS, Windows Phone, and Windows 10 along with Android. This game become among the most-played and downloaded mobile games with over 3 billion downloads. Some experts also believe that this game release stress and good to play for mind relaxation. You can download and play this game for free on Google Play Store.
2. Angry Birds
Angry Birds comes at the top of the list of highest downloaded android games in the world. This is an exceptional game of Rovio Entertainment. This game has almost more than 4 billion downloads and the popularity of this game not decreasing. The total concept of this game is angry birds just destroying the Pigs through slingshot. It has almost 4.5 ratings on Google Play Store. Now you can also enjoy different seasons of this game which are just amazing.
1. PlayerUnknown's Battlegrounds (PUBG)
An android game that has turned all dimensions and broken all records of video games in history. It doesn't matter you play games or not, you must have heard about this game. PUBG, The most addicted android game of 2019-2020 and over 7 billion global downloads enough to declare the most popular and downloaded android game of all time. Basically this is an online multiplayer battle royale game produced and published by PUBG Corporation on the 20th of December. This game won many awards including Best Multiplayer Game and Mobile Game of the Year.