how to maintain your two-wheeler during COVID-19 lockdown? Check out these top 10 two-wheeler maintenance tips during COVID-19 lockdown.
COVID-19 lockdown has affected every part of life as we know it. While we take precautions against Coronavirus (COVID-19) for our safety in these testing times, we can also impart a part of our time into taking care of our idle two-wheelers too. Taking time out to care for your two-wheelers has the added advantage of having a break from your mundane routine as well. 
Leaving them unused for prolonged periods can cause damages to your vehicle such as rust, failure to start, damages to Tyres, etc. How to prevent them?
Read on to know the top 10 tips to take care of your two-wheeler during this lockdown due to COVID-19.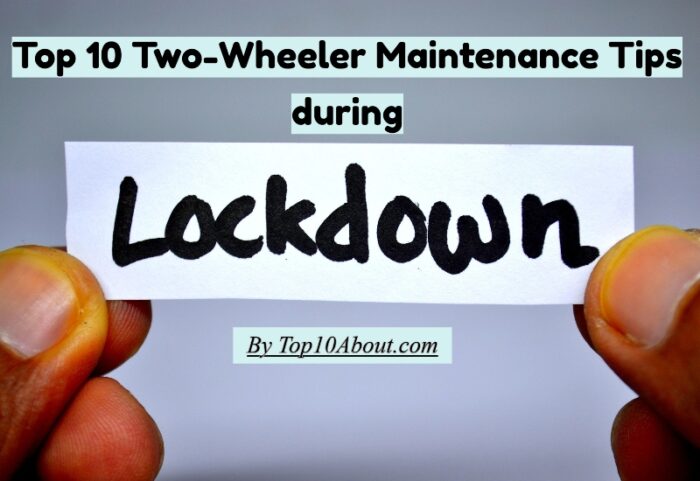 Top 10 Two-Wheeler maintenance tips during COVID-19 lockdown 
10. Do not keep documents inside
Although it's not a physical part of your two-wheeler but without it, you can't legally drive your vehicle. Never leave important documents like registration certificate, insurance policy, driver's license, etc inside your vehicle. If your two-wheeler gets stolen along with the documents it will be difficult to file for a complaint without the original documents.
Keep a copy of the documents inside the vehicle instead of the original ones, so that even if you are flagged down by an officer you can show them the copy for the time being.
See also– Top 10 Motorcycle Insurance Companies in India 2020
9. Lubrication
Lubricate the springs, cables, and chains once in a while. This will also ease the pressure when you take out the vehicle after lockdown. Without lubrication, these parts can collect rust. If you live in a rainy area or anywhere that is more susceptible to moisture, ensure you lubricate them once in a week. This will save your two-wheeler to get damage and will save your money too.
8. Park your two-wheeler in a safe location
Try to park your vehicle in designated parking locations. Do not leave it unattended on roadsides. This might increase the chance of theft. It can also collect more dust and dirt. If you don't have any such safe place to park your vehicle, equip it with anti-theft devices like a GPS system, etc so you can track it if it gets stolen.
See also– Top 10 Fuel Efficient & Best Mileage Bikes in India
7. Inflate the tires
Before you park up the vehicle for a prolonged time, inflate the Tyre pressure a bit higher than the normal. This way even when your Tyres lose pressure, it will still remain in the safe bracket.
In the idle condition, the Tyres tend to lose more pressure. When you take out your vehicle, deflated Tyres could leave flat spots. The flat spot is a condition in which because the Tyre remains in the same position for a long period, the pressure creases out the grooves over the Tyres. Without these grooves, your Tyres are more susceptible to slipping and sliding on roads.
6. Disconnect the battery
If there is no chance you will be using the bike for a long period, disconnect the battery. The battery gets charged only when you use the vehicle.
When you keep it idle, it will discharge completely. You will not be able to start the vehicle automatically. To prevent the more discharge, keep the battery disconnected. Keep the battery ungrounded, so that it will not discharge quickly.
Once the lockdown will clear, you can connect the battery and use your two-wheeler.
5. Start the vehicle once in a while
As we all are unable to go outside due to COVID-19 lockdown, so to keep the battery of two-wheeler from freezing out, its best to work the automatic start once in a while. This will keep the engine and lubricants to run smoothly and will also prevent the battery from discharging completely.
Your vehicle's battery keeps recharging only when you use it. Without riding the bike, the entire charge stored inside the battery will discharge out. Once this happens your bike will not start automatically and your headlamps and horn will also fail to work. 
Keep in mind always this Two-Wheeler maintenance tips whenever your bike is idle condition.
4. Cover up your vehicle
If you aren't gonna ride the vehicle for a long period, cover it up. You can buy a bike cover with specifications best suited for your vehicle's model online.
Covering it up will protect the bike from dust, dirt, and bird droppings. If these elements stick to your vehicle's body for a prolonged period then it can damage the paint.
Minute dust particles can also clog various parts of your vehicle which can lead to starting troubles. So, it is better to cover up your two-wheeler until lockdown finishes.
3. Keep your insurance intact
If your two-wheeler insurance policy has expired, renew it online. Renewing the policy or buying a new one online would be the ideal way to maintain social distancing at this period of time.
Buying a policy online is also easy and hassle-free. If you don't renew the policy, you will lose your NCB benefit.
A break in your policy period will also lead insurance companies to bump up your premium the next time you buy one. Furthermore, if you ever go out after your insurance policy has expired and if you get caught by the police then you will be liable to pay a handsome amount of fine.
2. Keep your two-wheeler in the center stand

 
Another one of the basic Two-Wheeler maintenance tips during lockdown is to keep your two-wheeler in its center stand instead of the side-stand. If you keep the vehicle in side-stand, the oil will be stranded onto one side of the oil chamber. If you keep it in the center stand, it will be evenly distributed. The weight of the Tyres would also be balanced this way. 
1. Keep your two-wheeler clean
The fundamental but most essential two-wheeler maintenance tips during COVID-19 lockdown is the cleanliness of your vehicle.
Regularly clean your vehicle. Unwanted dirt and dust can stick to your bike's paint and can destroy it. It could further lead to rust. Make sure you wash it once in a while.
Clean your two-wheeler with a good cleaning product or shampoo. Ensure you use soft clean clothes to clean over the paint. Using hard bristle brush over the paint, mirrors and glass will leave marks over it. Cleaning would also be a good break from the daily monotonous routine.
Once when the restrictions on travel are eased you must not be caught in a pickle situation after not having taken care of the vehicle properly. Caring for your vehicle through lockdown will also prolong the usage period of the vehicle. Service your vehicle once after the lockdown is lifted and before you ride it for the first time. It is best to check every part of your vehicle is in safe working conditions before venturing out to drive. 
Stay safe and keep practicing social distancing norms and hygiene even posts lockdown. Keep having knowledge about Coronavirus Disease 2019 (COVID-19) Symptoms, Causes, Prevention & Treatment.