If you want to know all about G-Fresh Mart, follow this list of the top 10 things about the Franchise of G-Fresh Mart.
A supermarket is fundamentally a self-service shop where a wide range of household products, food, and beverages are available in an organized manner. The main advantage of a supermarket store is to have a wide range of product options under a single roof at a reasonable price. A supermarket is basically a retail chain store, famous all across the world and one of the successful business ideas in 2023. India has several popular brands that are in the Supermarket trade and one of them is G-Fresh Mart.
G-Fresh Mart is one of the modern and evolving Supermarket and Grocery store franchises in India. It was started back in 2021 and founded by Suraj Mishra. G-Fresh Mart opens Grocery Supermarket Stores with FOFO Models all across India. As of now, this Supermarket retail chain has more than 100 retail stores in PAN India. If you are looking to own a Supermarket store of G-Fresh Mart and seeking some information about it, you are at the right place. Run down the list and feel free to ask your question related to it in the comment section.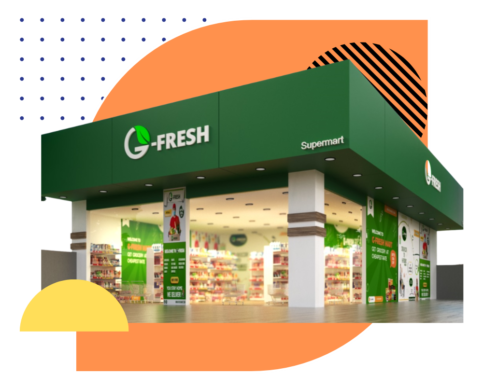 Top 10 Things About the Supermarket Franchise of G-Fresh Mart
10. How much time does it take to open a G-Fresh Mart Store?
The total time to open a G-Fresh Mart Franchise completely depends on the area of the shop. However, it takes a maximum of 45 days to open a G-Fresh Mart Store from the day of your payment.
9. What Type of Stores are open by the G-fresh Mart?
G-Fresh Mart is one of the fastest-growing Supermarket and Grocery retail chains in India. It opens Grocery Supermarket Stores with FOFO Models all across India.
8. Product Range
The Supermarket and Grocery Store franchise of G-Fresh Mart offers you about 20000+ Products. The product range includes Fruits, Vegetables, Groceries, Oil, Masala, Beverages, Snacks, Foods, Healthcare, Beauty, and many more in multiple brands. This will help you to attract a wide range of customers and result in more revenue.
7. What is the process to open a Supermarket Store of G-Fresh Mart?
You must apply online to open a Supermarket and Grocery Store at G-Fresh Mart through this form. Once you fill in your details and submit the form, the sales team of the company automatically contacts you within the next 48 hours for further processing. If the requirement is fulfilled, you may surely open the Supermarket Grocery store of G-Fresh Mart.
Appointment
Site Survey
Franchise Verification
Area Code Activation
Documentation
Franchise Kit/Opening
6. How many Supermarket Stores can be Opened by an Individual?
There is no limit but the store opening process will be the same. The sales team of the company will check and validate your location once you apply for any location. If everything seems okay, you can start in that location after confirmation from the company.
5. Is there any Royalty Fee to be paid?
For initially 6 months, there is no royalty that needs to be paid to G-Fresh Mart. However, if your revenue goes beyond 10 lacs monthly, in that case, you have to pay a 1% royalty fee. But if your monthly revenue is less than 10 lacs, you are not required to pay any royalty fee to the company.
4. Total Investment
The investment to open a Supermarket and Grocery store of G-Fresh Mart depends on several factors. One of them is the total space of your shop where you will open the store. For instance- It could cost you about 12-13 lacs if your land is in the area of about 500 sq. ft. If you have more area, investment could be more.
3. Company Support
You will get free Marketing and Hiring support.
Advanced Billing Software online and offline.
Lucrative Branding
Free Accounting & GST Services.
Lifetime Software & Training Support
2. Why Choose G-Fresh Mart?
Totally recession-proof business.
Wide range of products
You can start this business without any experience.
Low investment and low-risk franchise.
High margin compared to a traditional shop.
High Return on Investment.
1. Founder and Head Office of G-Fresh Mart
Founder– Suraj Mishra
Address– B-31, B Block, Sector 6, Noida, Uttar Pradesh 201301
Contact number– +91-8277997319
Email Address– connect@gfreshmart.com