Are you searching for some working pick up lines to impress her? If yes, check out the following top 10 best pick-up lines to impress a girl.
Want to impress your girl easily? You can do it. But remember, every girl is not the same. They may be moody, bold, loving, cute, etc. Of course, they come with different traits. But most of the time their feelings are the same.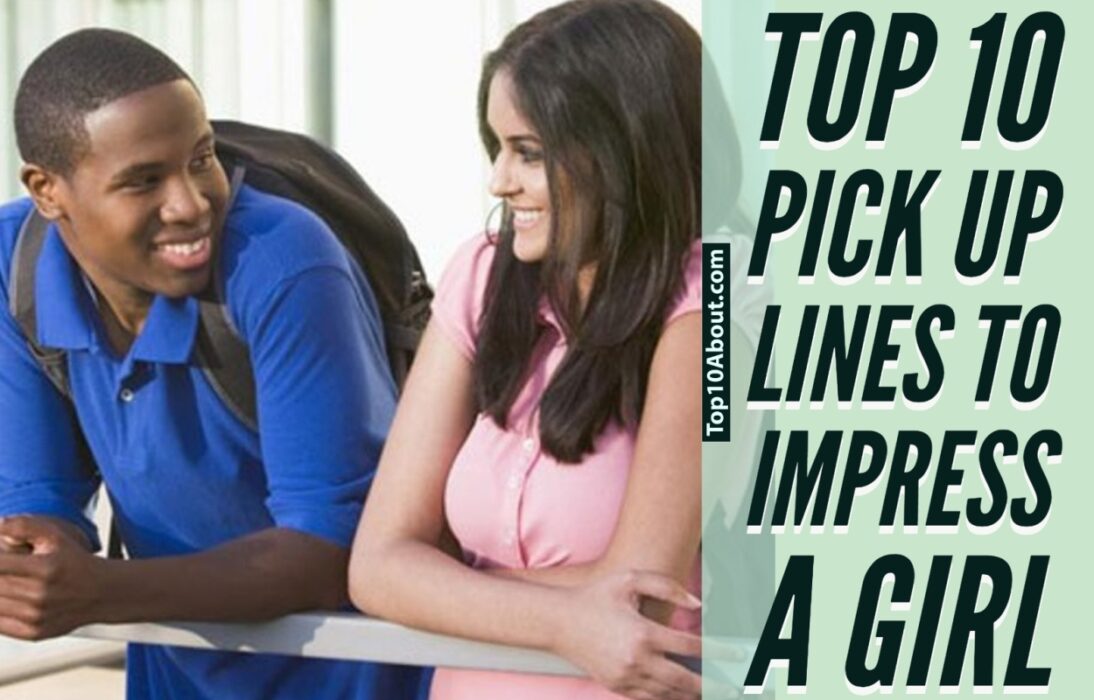 Impressing and proposing to a girl is not an easy job. You need to first understand their type, mood, and desire. To impress them, you can try saying some romantic pick-up lines. If the approach is okay, any girl can be impressed by you.
The pickup lines should be romantic, sweet, funny, heart-touching, and impressive. Let's see the post and tell us your thoughts in the comment section.
Top 10 Pick Up Lines to Impress a Girl
10. Killer pick up lines: 

I have a crush on you; I have had a crush on you for the past like…"like a minute or something", I walked in here and I saw you and immediately fell in love.
If you suddenly fell in love with her, and you are enough brave to speak then use these pick-up lines to impress her. It gives a surprise moment and shows her about your daring. Try to impress her with caring words, she should find respect in every sentence. You should be a little caring about your words while talking with her.
See also– Top 10 Tips to Make Girlfriend on Facebook
9. Simple pick up lines:

'I searched on Google to show me pick up lines. But I can't find any of them suitable to impress you. So, I decided to go with the sound of my heart'.
This line is perfect for those who want to stay different from all the others in the ques. The above-mentioned words make her feel unique from the others. This is what she wants from her guy. You can simply use these lines to impress her.
8. Cute pick up lines to impress her

I am so shy about picking any girl. I can't say romantic pick-up lines and also I can't play games to impress girls. But I can promise you to end up every time with the craziest conversation about stupid things. I think you will enjoy it at every moment.
You can try this line for any fun-loving girl. Every girl in the world does not look for money and valuable things from their man. Some girls want to live their lives with joy. If you like this type of girl, this pick-up line is going to make it happen for you.
7. Impressive pick up lines:

I don't want to be a lady's man. I don't have any idea about how to play with real love. But I must deserve someone pretty and amazing like you. Can we have a cup of coffee together?
These lines will be perfect for a loving girl. However, most probably every type of girl will likely listen to these types of words. So, impress your loving partner with these simple pickup lines. Of course, don't miss to enjoy the reaction from her.
6. Flirting lines to impress a girl:

I always find words to describe your beauty. Maybe no word hasn't even been invented to compare with your beauty. Can I get a chance to admire it in the future also?
Every girl is pretty in the world. Except for that, almost every pretty girl loves to listen to their beauty. Just find her beauty and admire it with the above lines. She must be waiting to listen to those from you.
5. Sweet pick up lines:

I don't want to impress you with a swanky car. I am not flashy like others and I also don't find myself as a smart talker. But I will love to enjoy every cute conversation from my heart with only you. Can you go out with me?
These lines are perfect for emotional people. It emphasizes how serious you are in her love. There is no need to be a smart talker, flashy, or decent to win someone's love. You can only win the heart with the love that you have. You should be also a little caring in your words when impressing an emotional girl.
4. Most adorable pick up lines:

There is magic, fairy tales, destiny, and love in the world. I am looking for those magics that can convince you to go for a cup of coffee with me. Can you help me?
You can try these lines for any type of girl. Who can say maybe this is a killer word to impress your girl. Try to show her unconditional feelings that you have for her. We think this is the way to impress her. Once you win her heart, don't forget to take care of her.
#3. Evergreen pick up lines:

I memorized some best pick-up lines to impress a girl. I decided to tell those in front of you. But the moment I looked into your eyes, I forgot all these. Now thinking 'how gorgeous anyone could be'.
This pickup line can impress every type of girl. Just pick a rose and tell these lines to her. Now imagine the reaction that you are going to see from her. Imagine and set your planning for the next hours.
#2. Romantic pick up lines:

I can only imagine one thing when I look at you. We are sitting on the bench and watching the sunrise to the sunset together. After that, spend the night watching the glittering stars.
You can try this line on someone loving and caring girl. Not every girl wants to enjoy life in the same way that others like. Some girls want to enjoy life differently. If she is also the same girl, then this is going to be a great match for you.
1. Heart touching pick-up lines:

"I always asked my mom, when I will get my dream girl? But after saw you when I will go back home, I will tell my mom, I found her".
Ask her to listen to you for 2 minutes and tell her that "I was asked to my mother about this, that when I will get my dream fairy, and she used to say soon. And now when I will go back home, I will tell my mom, I found her.
You can try this line on any girl. They love to smile. So you need to bring a smile to her face at first sight. Maybe this is the way to convince a cute girl. You can also try this line on someone who loves to go on dates. This word will surely make her impress on you easily. Soon, you will get a call from her phone.