Are you searching for some best Christmas gifts in 2022? If yes, follow this list of the top 10 best Christmas gifts for kids in 2022.
Christmas Day is one of the global festivals that gets celebrated around the world on December 25 every year. Mainly kids await this festival in expectation of some best Christmas gifts. So, this Xmas day 2022, are you not planning some interesting and intelligent gifts for your kids. We are suggesting here the top ten best Christmas gifts for kids in 2022. These Christmas gifts are designed for the different age groups of kids.
Top 10 Best Christmas Gifts for Kids in 2022
10. Barbie Dreamhouse Playset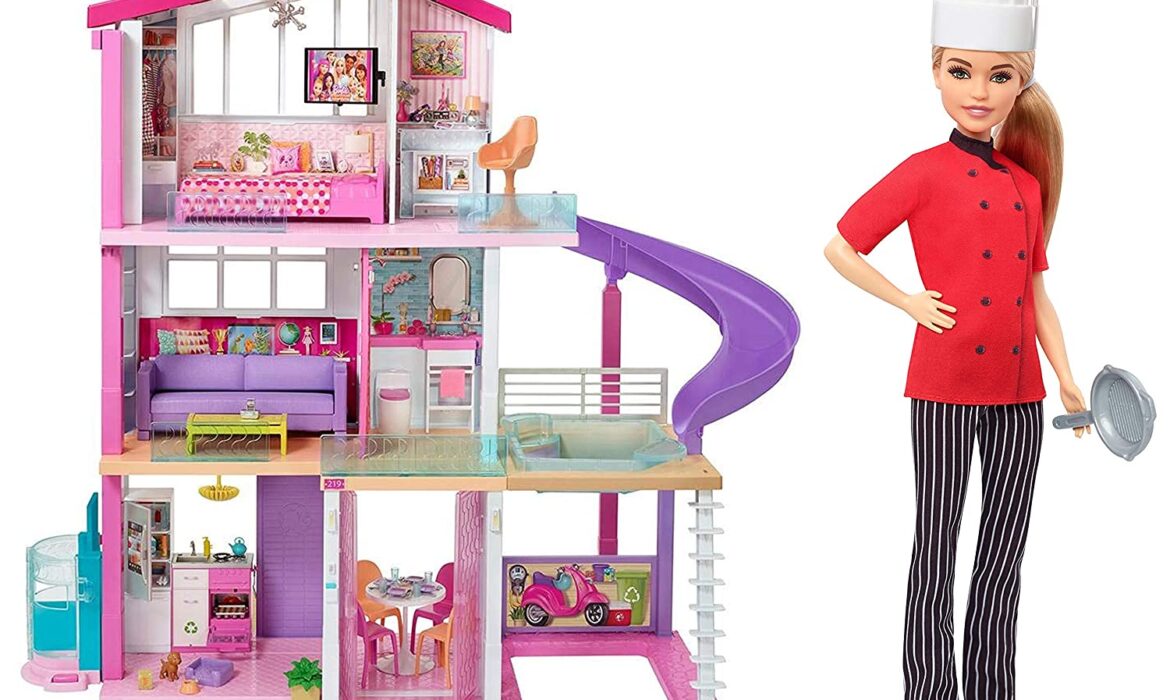 This fabulous dream house of Barbie is extravagant and lavishly made would be one of the best Christmas gifts for kids this year. Marvelous decoration with furniture and a TV set with a remote and many items. It has dimensions of 20.3 x 76.2 x 86.4 Centimeters.
It has three floors and a working elevator of pull technique along with seven bedrooms well equipped with sound and light.  Each floor is unique in design first floor has an entryway and kitchen.  The second floor has a dining room, bathroom, and pet room. The third floor comprises of living room, bedroom, and closet. Available in Barbie's signature pink, purple, and blue colors.
See also– Top 10 Best Birthday Gifts for Mother
9. Tenzi Buildzi Building Block Game
This award-winning game Tenzi is a party game that engrosses kids in intelligent activities like a quick solution to problems and enhances creativity. The best part about this game is it is suitable for all ages, fast and fun easy to learn and play. So, this would be the best Christmas gift idea for kids this year. Numerous ways and levels to make it even more demanding among kids. Made of dimensions 3.87 x 3.62 x 8.25 inches. Favorite game amongst teachers and parents as it helps imbibe fine motor skills of assembling and spatial reasoning and cooperation skills to build a nice and stable tower. It also develops stem cells in children to work together with a team with thinking abilities, communication, and inquiry skills.
8. Operation Game: Operation Star Wars The Mandalorian Edition Game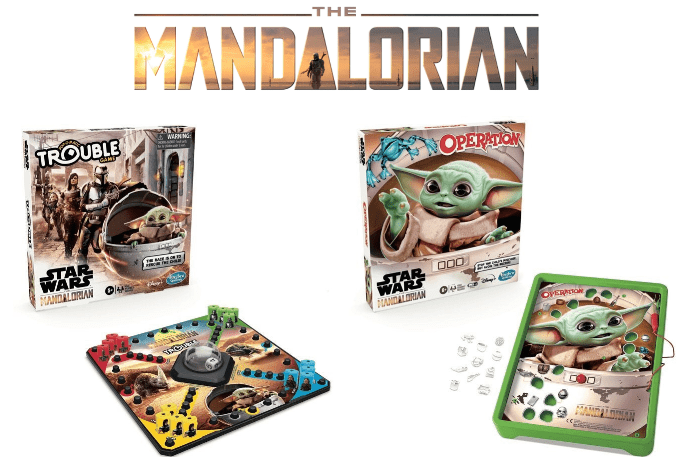 The game on the Mandalorian action TV series starring on Disney Channel lets kids imagine the characters in the series. The kid in the series Baby Yoda is a favorite among the children. The game has froggy, mudhorn egg, and a cup of broth included inside the game for the kids to have fun. Players need to remove all the tiny objects from the game board without shutting the buzzer off. The player with maximum pieces is the winner, suitable for kids above 6 involving solo to any no. of players. The game is very engrossed as the player needs to remove the objects using tweezers without touching the sides as it will set the alarm on, and the player fails. So definitely, this would be one of the best Christmas gifts for kids in 2022.
See also– Top 10 Perfect Valentine Gifts for Husband
7. WINNING MOVES Double Trouble Game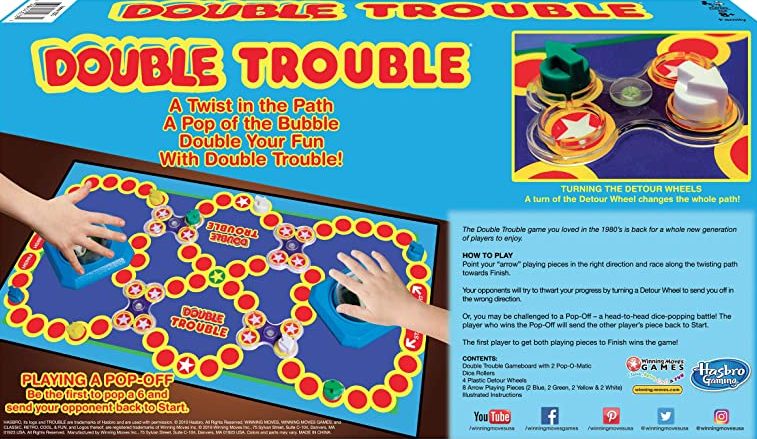 Another best Christmas gift for kids is this fun racing game involving kids of 6 years of age. Kids need to reach the finish point by going through the twist and turns across the way by pointing arrows in the correct direction. Kids need to be attentive as the opposite players tend to set their opponents in the wrong way. They can force the other players to Pop off by brushing them away from the directions. The loser needs to start from the beginning once out. The one leading with their playing pieces is the winner in the game. It comes with a gameboard, plastic detour wheels (4), Pop O Matic dice rollers (2), and arrow playing pieces (8). Suitable for above 8 of age and 2 to 4 players.
6. Ravensburger Gravitrax Starter Set Marble Run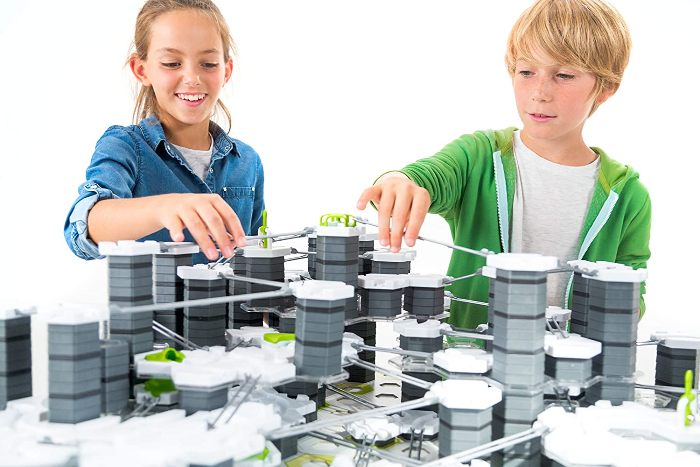 Gravitrax is an immersive marble run game wherein the player can arrange, design, and own race tracks to explore gravity, kinetics, and magnetism to drive the ball to the finish point. It has various features, levels, and race tracks to manage the speed of each ball. The open-ended concept allows the player to have the infinite prospect to design a new race track each time. A player can create more style.
With the action accessories and set expansion. Available in dimensions 13.5 x 13.5 x 4.5 inches, over 100 pieces, and 18 distant construction elements to install an action-packed race track system. It helps kids understand the laws of physics by analyzing the ball on the race track, along with the cross, curve, canon, and freefall. It is for kids to enhance problem-solving skills and educational abilities.
5. Shashibo Shape-Shifting Box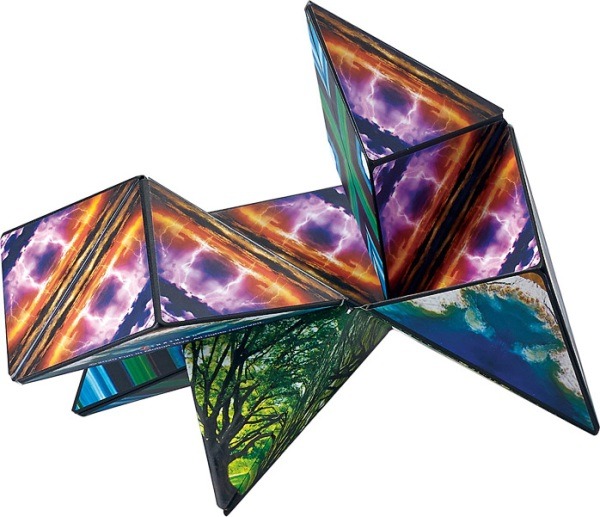 Shashibo is known for its uniqueness in making a fidget that comprises approximately 30 earth's rare magnets to present an inventive design to the world that can change into 70 shapes. Easy to fit in hand to give a comfortable feel for a long time, energizing the senses and enhancing creative abilities. There is no comparison to shashibo's durability, tear-proof and glossy finish. Every puzzle has four distant features, bright patterns impressive artwork on it. Build on a magnetic concept to enable various structures and sculptures. It is an amazingly metamorphic gift to create calming effects and wards of stress relaxing nerves. A playful fidget to bring togetherness and fun for hours. That's why this is another one of the best gifts for your kids in Christmas 2022.
4. Singing Machine Karaoke Machine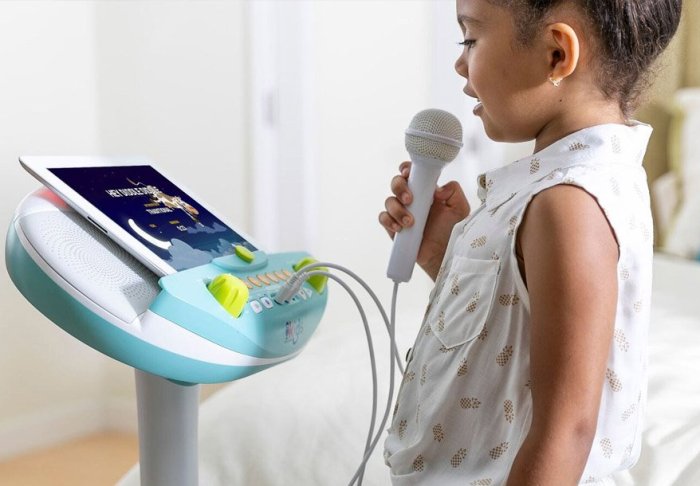 This is truly one of the most interesting Christmas gifts for kids in 2022. The Singing karaoke Machine of model STVG785BTW comes with a built-in feature of a 7′ LCD color screen for reading lyrics. Dual microphone jacks and Bluetooth compatible to stream digital audio wirelessly. It also has the additional quality to record the performance and share using an in-built USB to enable kids to record their songs. Pre-loaded five karaoke songs make it party-ready the moment it reaches your place. The Multicolored LED light system with dimmer function adds more glam to the party scene with echo control on voice notes. It has a master volume control system and CD+G discs, Mp3+ G  playback.
3. LilGadgets Untangled PRO Kids Premium Wireless Bluetooth Headphones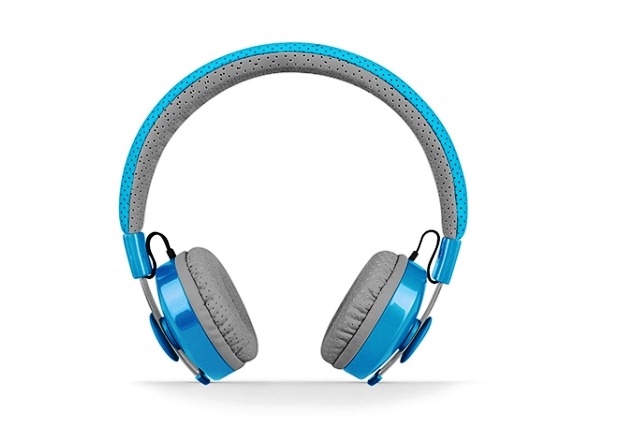 These exquisite Untangled Bluetooth Headphones are specifically designed for kids to enjoy hassle-free freedom and sheer comfort. So, you can not ignore this Christmas gift idea for kids. Made of high quality and compatible with almost all Bluetooth devices, along with a share port feature to enable Daisy chain connection to all users while one is connected to a wireless connection. The earpads and headbands provide utmost comfort using breathable mesh material and are carefully secured so that earpads won't drop off. Suitable for all age groups. They are highly durable and well tested to ensure the style and comfort of each age group. It comes in six beautiful colors with a 100% guarantee from Lil gadgets for complete Satisfaction.
2. Exploding Kittens LLC Exploding Kittens Card Game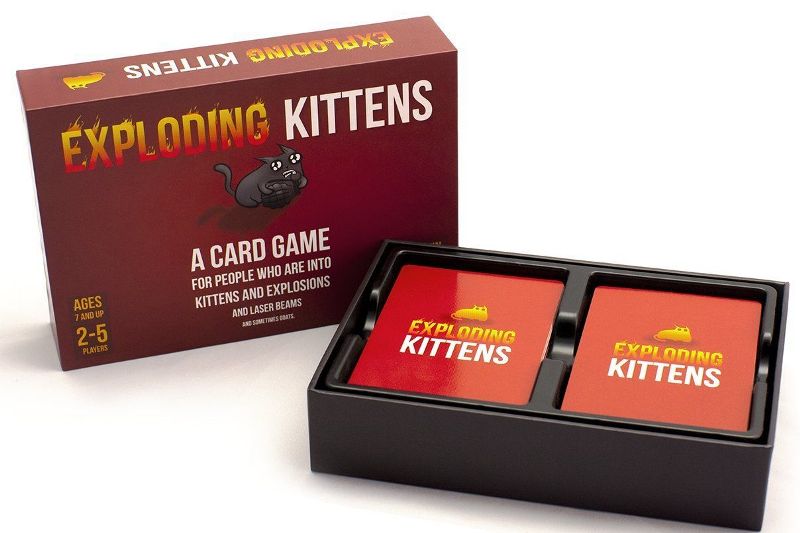 A card game that loves kittens, goats, laser beams, and explosions would be another one of the best gifts for your kids in Christmas 2022. Exploding kitten is a strategic game wherein players need to draw cards till any player gets an exploding kitten card. At that moment it is an explosion to player is pronounced dead and out of the game. If the player has a defuse card, they can escape the kitten with the card having a belly rub, catnip sandwich, and laser pointers. The rest of the cards are for alleviating, moving, and avoiding kitten explosions. It has dimensions of 11.2 x 16.2 x 3.8 Centimeters and is a party game for 2 to 5 players ( 2 decks and nine players). The game has 56 cards each (2.5*3.5 inches), the most funded card game in history.
1. ThinkFun Gravity Maze
While we are picking the best Christmas gift for kids, this would be the top choice. As the name suggests, this Maze is a puzzle game that gets the player engrossed visually and mentally to reach the set goal. The goal is to create a self-made Maze that should lead the marble from starting point to the target tower. The assembled target towers can be in different variations but, the player needs to build a clear path every time so that the marble ball teaches the target tower. It comes with a game grid, nine-building towers, a target tower, three marbles, and 60 challenge cards, along with an instruction manual. It is easy to learn, and uniquely designed to encourage thinking and reasoning in kids.