Are you searching for the best and cheapest cars in India? If yes, check out this list of the top 10 best cheapest cars in India for 2023.
Buying a car is one of the most exciting things in everyone's life. Mostly, middle-class Indians go for pocket-friendly cars that give good mileage, look stylish, and are affordable. So, if you are also planning to purchase an affordable car, we have suggested here the ten best and cheapest cars in India that you must think about. We have also provided an approx price idea along with the specifications of these cars. The actual price may vary, so call the sales support of the respective company for the confirmed price.
Now, let's have a look at the list of cheapest cars in India for 2023 and tell your favorite car in the comment section.
Top 10 Cheapest Cars in India 2023
10. Tata Tigor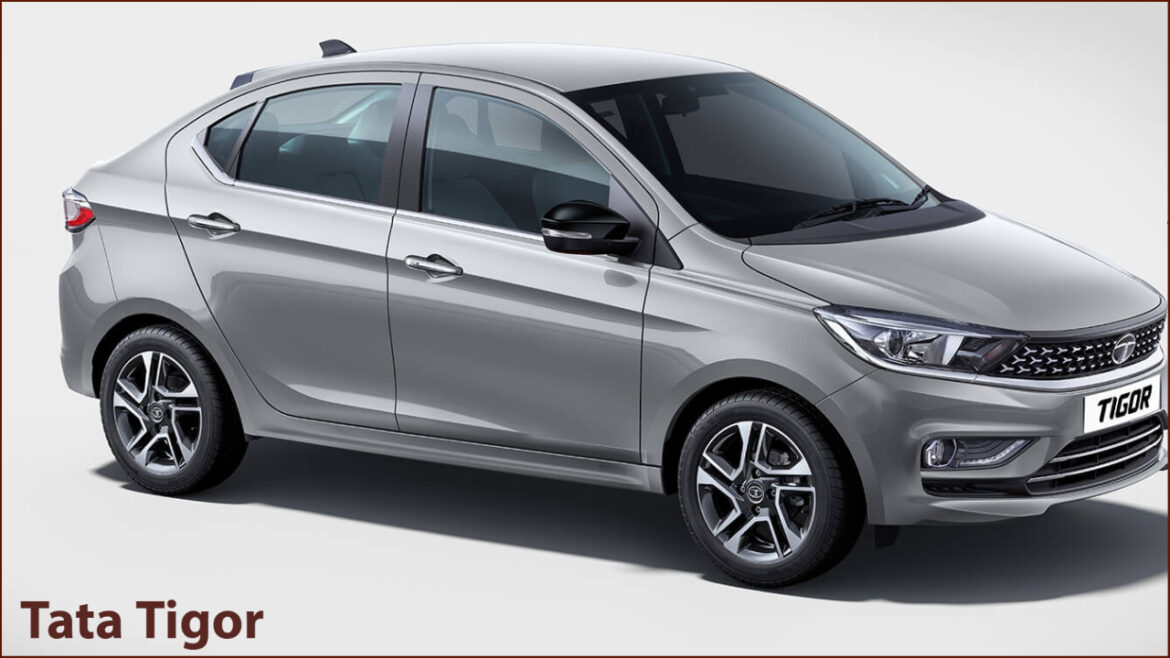 Tata Tigor is an IMPACT 2.0 design-oriented stylish and affordable sedan car by Tata. It has four-star rating safety measures. It has high-class Harman infotainment features as a 7.78 touchscreen with four speakers and four tweeters. Basically, a petrol-run car with a BS6 Revetron engine of 1.21 liters generates 86 bhp and a torque of 113 Nm. Electrically adjustable mirrors, comfortable rear seats, height adjusting driver seat are some of the appealing interiors. It gives a mileage of 20.30 Kmpl with petrol. The diesel variant is also available. The Price starts from 5.60 Lakh INR and changes as per the model. Thus, one of the cheapest cars in India as of now 2023.
See also– Top 10 Best Electric Cars in India 2023
9. Tata Tiago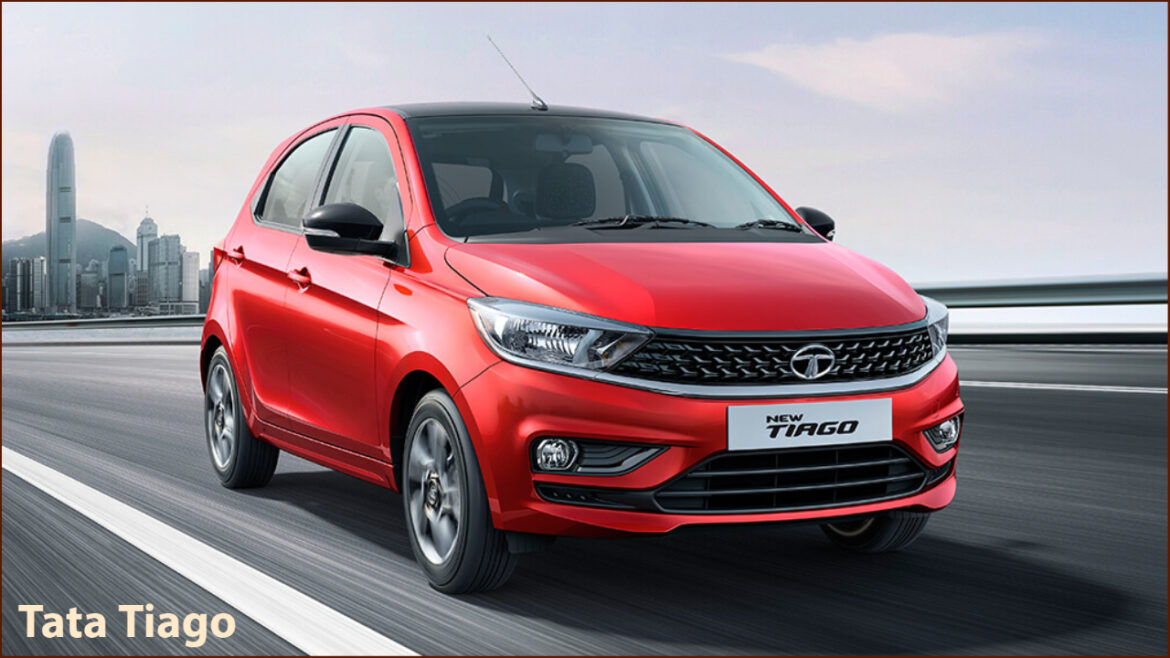 Tiago is a hopeful launch of the brand Tata to revive itself in the automobile industry. The 4-star rated Global NCAP shoutouts the safety measures enrolled in it. Besides, it is also an affordable and cheapest car in India for middle-class people.
This good-looking hatchback car has a Boot space of 242 liters. It is a petrol-run car giving a mileage of 23.84 Kmpl. It has a Revotron engine of 1199cc generating 84.48 BHP and a max torque of 113 NM. Its top features are an anti-lock braking system, dual airbags, power steering, 35 liters fuel tank capacity, fog lights, and alloy wheels. Both manual and automatic transmissions are available. Price varies from 5 lakhs to 6.95 lakhs. Six variants in manual and four automatic variants are there.
8. Maruti Wagon R
This Maruti car is always a favorite of middle-class Indians and is among the best and cheapest cars. It is an affordable, sturdy, and quality car, runs on petrol, and gives out a mileage of 21.79 Km/l. It escorts a 998 cc K12M engine generating power of 81 bhp and a torque of 113 Nm.
The K-series engine fulfills the BS-VI standard. It is available in both manual and automatic variants. Its CNG variants are also available that give 32.52 km/kg of mileage. It is laced with airbags, ORVM (electrically adjustable), rear defogger, ABS, and USB support to list a few. Price begins from 4.79 lakh INR for base model LXl 1.0.
See also– Top 10 Cheapest Hybrid Cars in the World
7. Hyundai Santro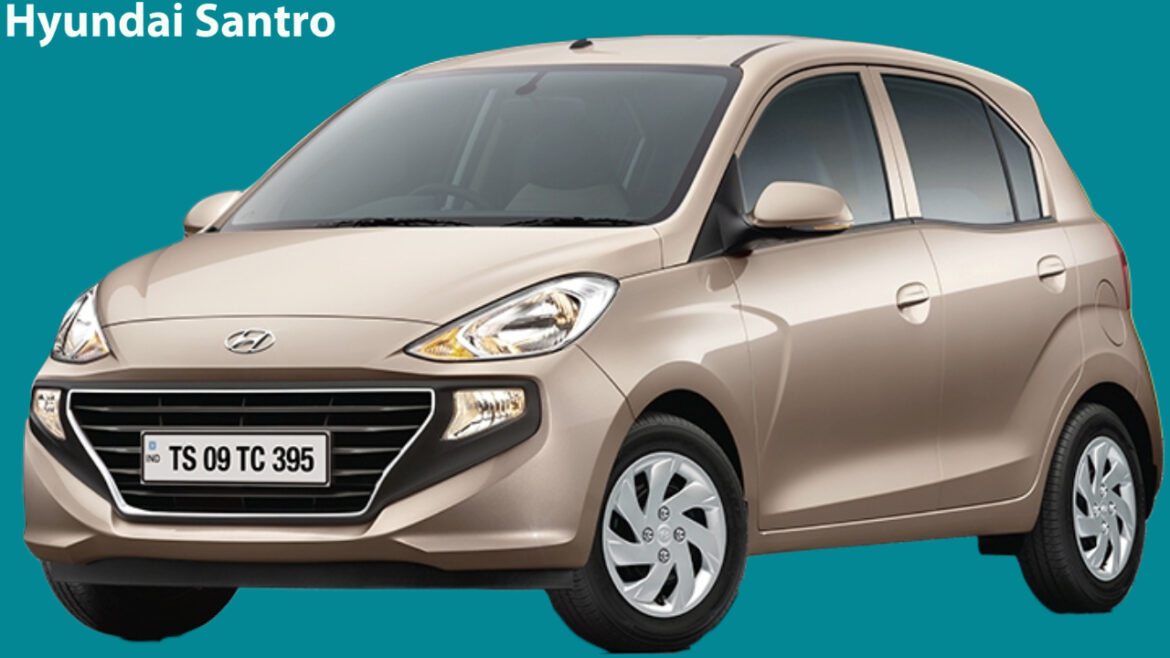 This is Hyundai motor's launch of a budget segment family car. It is very Indian masses due to its affordability and best performance. In 2019, it was the first car to be nominated for the World Car of the Year Award for being under three.
Both CNG and petrol run options are there. The engine displacement of 1086 cc generates a power of 68 bhp and 99 Nm torque. A boot space of 235 liters and a fuel tank capacity of 35 liters are appealing features. Airbags, an anti-lock braking system, a power windows front, a multifunctional steering wheel, and wheel covers are the other features sported by Hyundai Santro. Price commences from 4.74 lakhs making it fall in the category of cheapest Indian cars in 2023.
6. Maruti Celerio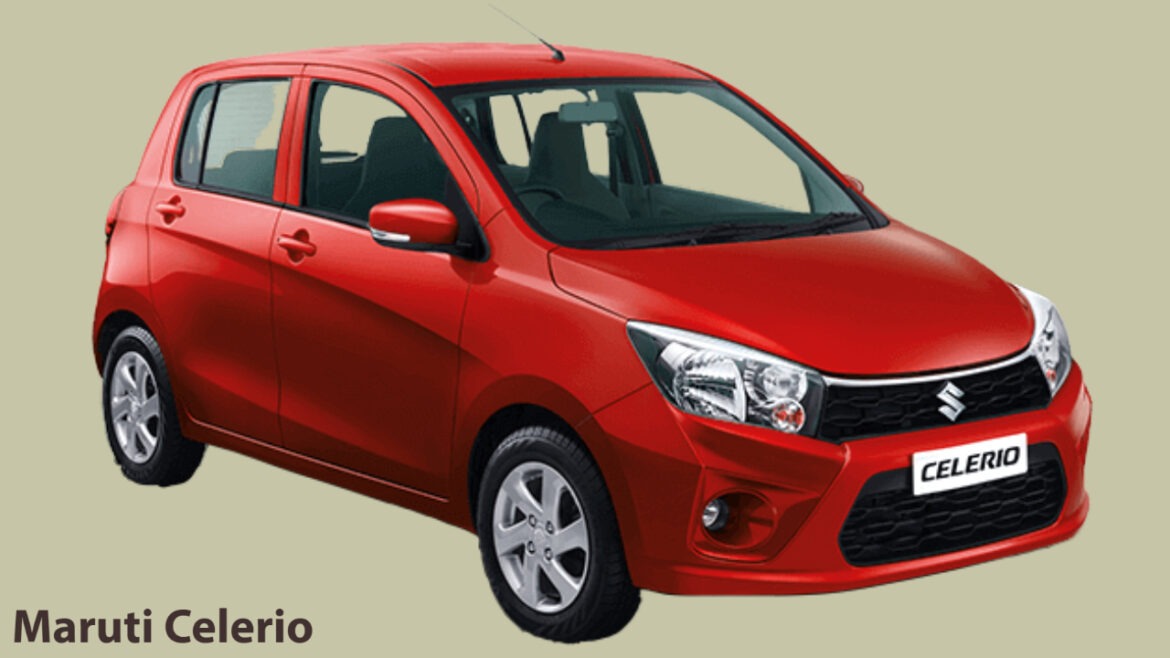 Maruti Suzuki's Celerio is a budget-friendly family car from the fleet of Common man's car brands. Its innovative features swear off comfort and safety. Besides, one of the low-cost cars in India is under 5 lakhs, the price starts from 4.65 Lakhs.
Both petrol and CNG-compatible models are launched by them. The 3-cylinder K-series engine of 998 cc displacement can generate 67 BPH at a torque of 90Nm. It gives a mileage of 21.63 on petrol and 30.47 km/kg in CNG models respectively. Auto gear shift technology for effortless driving is there. Mandatory driver airbags and anti-lock braking systems are for safety purposes.
5. Datsun GO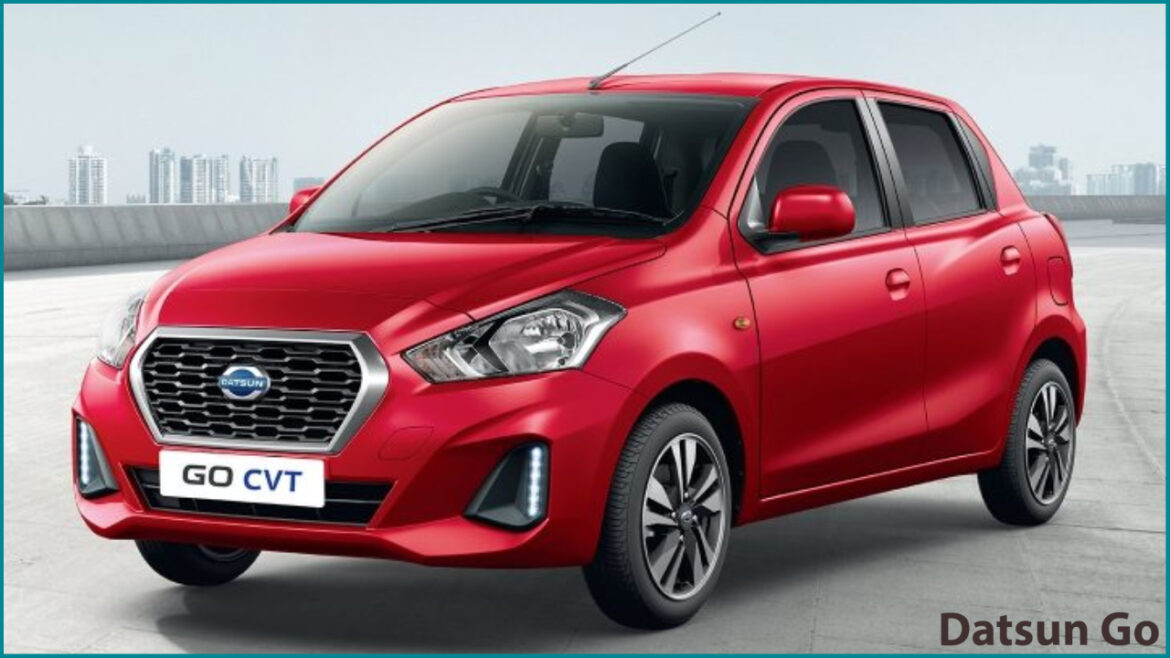 This is a BS6-compliant hatchback launched by Datsun in 2020. The 275-liter boot space and fuel tank capacity range from 40 liters to 65 liters. The engine has a displacement of 1.2 liters generating power of 76 bhp and torque of 104 Nm. The 14-inch diamond-cut alloy wheels, LED DRLs, halogen headlamps, and ORVMs (electrically adjustable) are some of the pleasing external features. Safety features such as dual airbags, ABS with EBD, and a speed alert system are there. Five variants named D, A, A(O), T, and T(O) are available in this model. Price starts from 4.03 lakh INR and settles at 5.76 lakh INR for advanced variants. Thus, one of the cheapest cars in India in 2023.
4. Datsun Redi-GO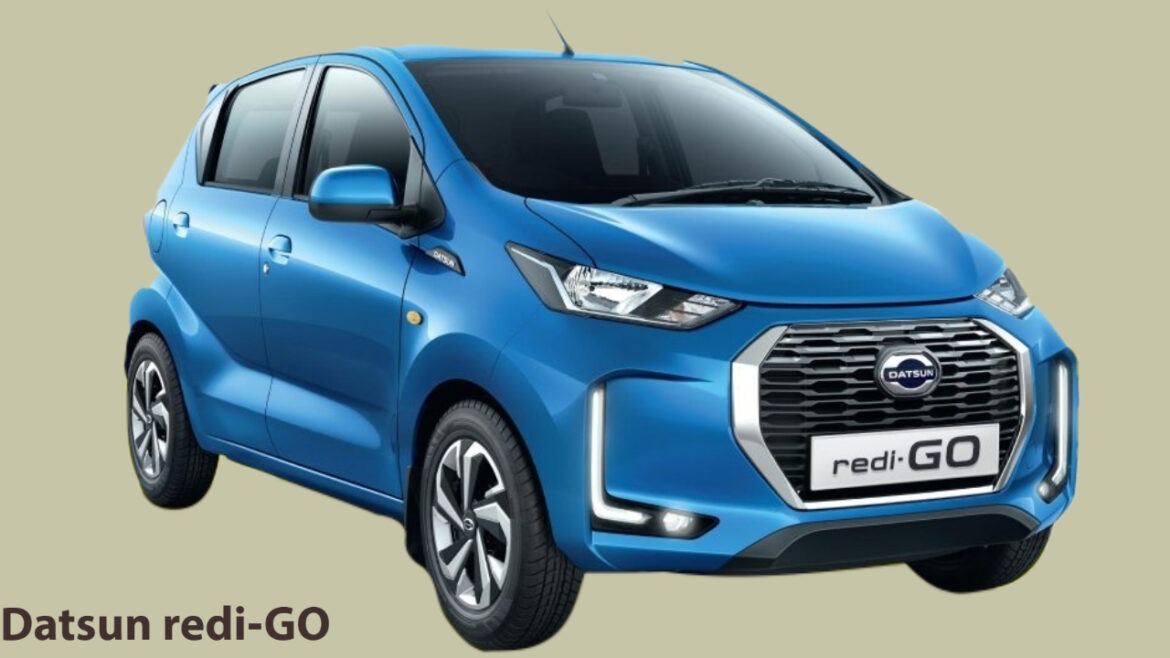 It is known to be one of the cheapest cars running on Indian roads. Datsun is a Japanese company that is for the upcoming generation. High safety standards such as crash-resistant body, ABS (Anti-Lock Braking System), Electronic Brake Distribution (EBD), and dual airbags are present
0.8 to 1 liter, I-SAT Technology petrol engines generating 67 bhp and a torque of 72 NM. The fuel capacity is 28 liters and grants a mileage of 20.9 Kmpl. Manual and Automated Manual Transmission is available. An eight-inch touchscreen infotainment system, roomy cabin, keyless remote entry, and air conditioning are there in the car.
Price starts from 4.25 lakhs INR and settles at 5.16 lakhs INR depending on the variant.
3. Maruti Suzuki S-presso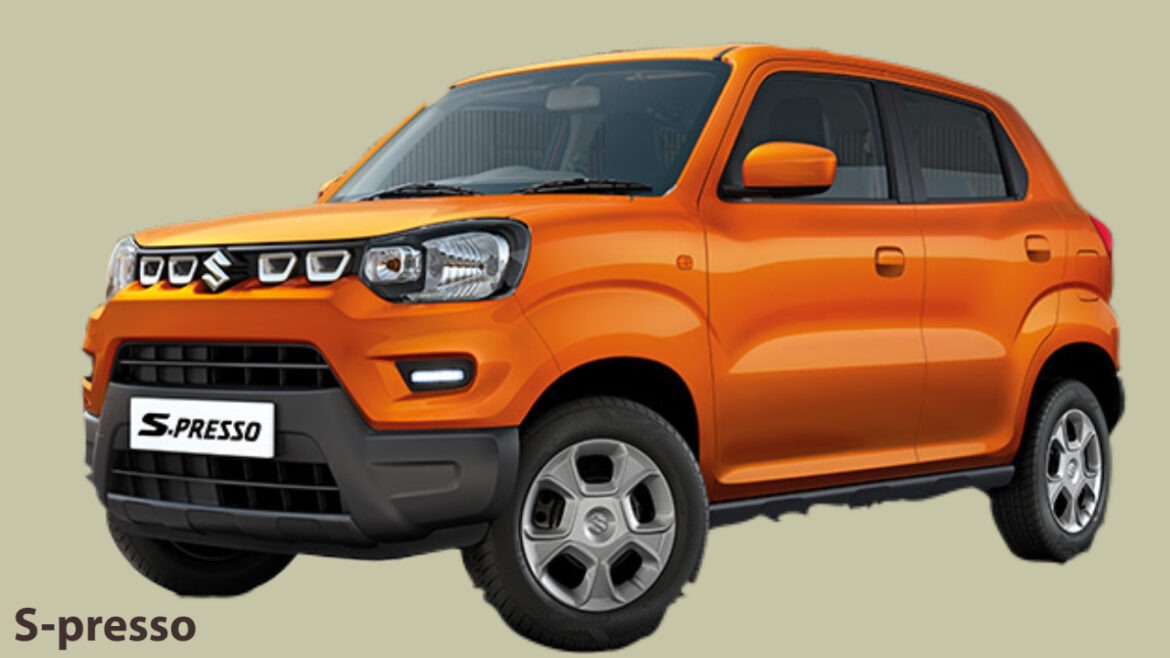 The Sporty design and SUV resembling the Maruti brand is selling high since its launch in 2019. It won the Hatchback of the year award at the Tech and Auto Awards (2019). Also, it comes among the best and cheapest cars in India as of now 2023. Price starts from 4.25 lakhs.
It is both a petrol and CNG-operated car giving mileage of 31.2 per kg and 21.7 Kmpl respectively. The engine has a capacity of 998cc generating 67 bhp and a torque of 90 Nm. Dual airbags, a spacious cabin, and good luggage capacity are some of the internal features. It has more than ten safety measure features that ensure safer rides. Smartplay studio, auto gear shift, and centrally located power window switches are eminent features in it. There are fourteen variants available in Maruti S-presso.
2. Renault Kwid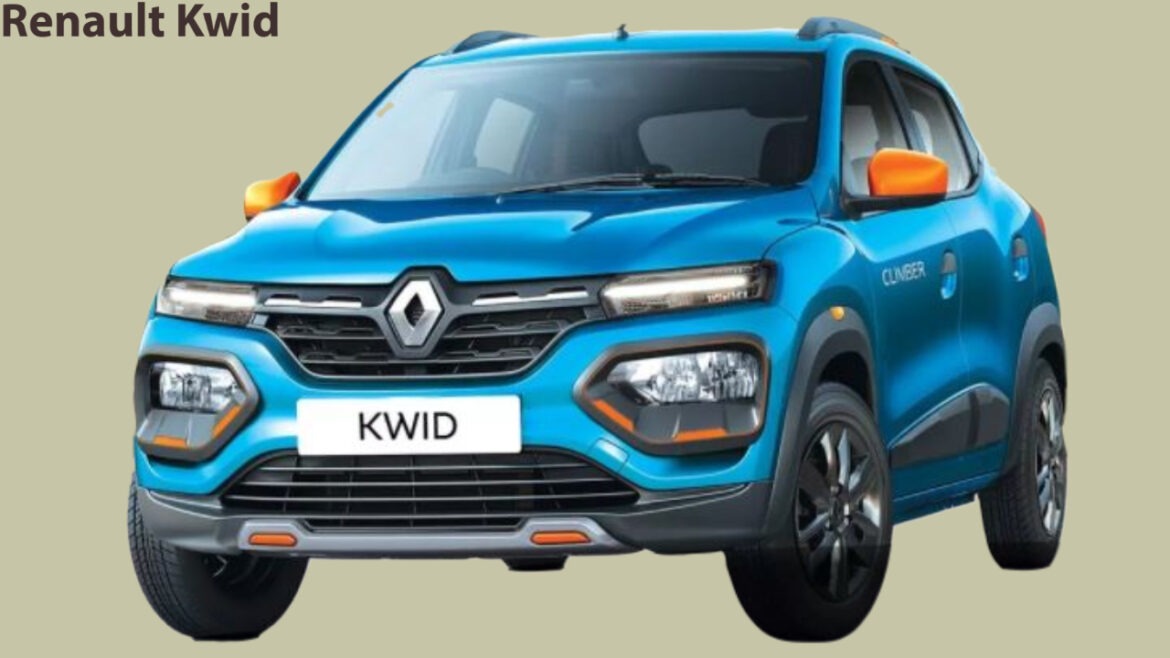 Another cheapest car in India that you can buy is the Kwid model of Renault company. The riding quality is parallel to Indian city roads. Users vow to the features, SUV inspiration, and meager service cost at this low price. The car is labeled as the most spacious one at the entry level.
It is a petrol run and mileage ranges from 20.71 to 22.3 km. Boot space of 275 liters and the fuel tank capacity is 28 liters. The lightweight engine is 799 to 999 cc. making 53 bhp and torque of 72NM. Satellite navigation systems, airbags, and touchscreen infotainment features surprise buyers at such a low price. Price begins from 4.70 lakh and goes up to 5.48 lakh.
1. Maruti Alto 800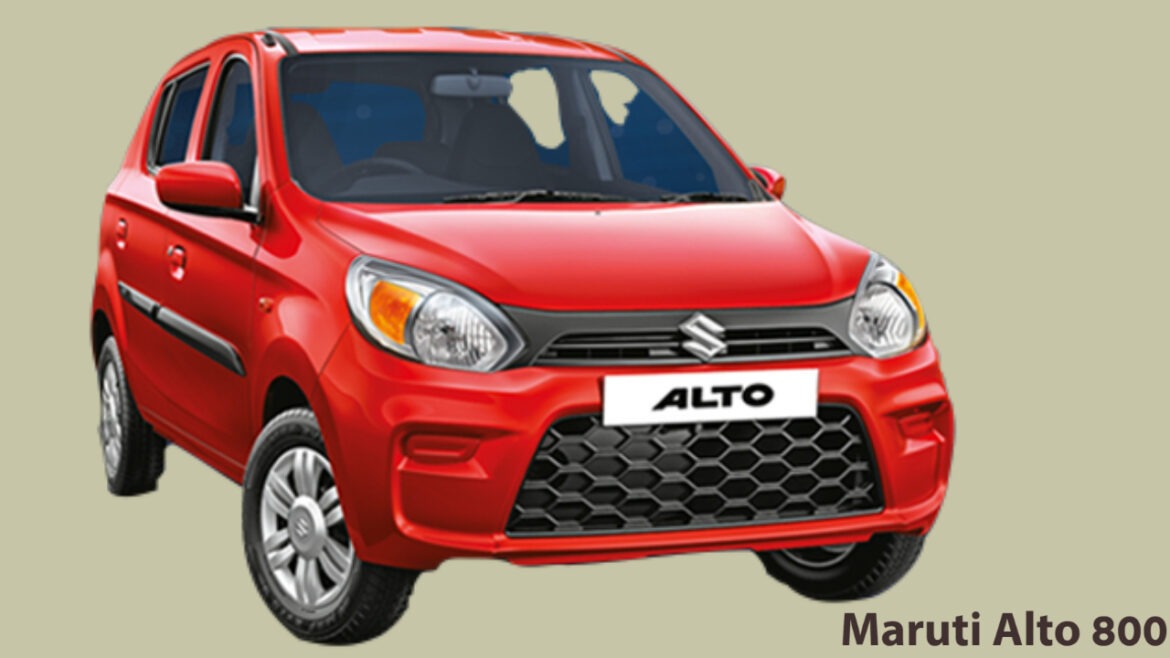 Alto 800 is a budget-friendly and cheapest car in India from the car brand Maruti Suzuki. Brand Maruti has fulfilled the desires of millions of Indians to own a four-wheeler.
Both petrol and CNG models are available in Maruti Alto 800. It gives a mileage of 22.05 km with a fuel tank capacity of 35 liters. F8D Type engine with a displacement of 796cc. Five-person seating capacity is in the car. Boot space of 177 liters and stylish interiors allures the buyers. Airbag feature as safety measure is also provided.
Servicing and spare parts are cheaper than the rival brands. Six color options are there to choose white, uptown red, silky silver, grey (granite), cerulean blue, and mojito white.
Prices start from 3.40 lakh INR onwards.