Are you looking for the best fingerprint sensor smartphones? If yes, check out this list of the best fingerprint sensor mobile phones.
With the new craze of a smart unlocking system in the mobile industry, users are looking for the best smartphones with Fingerprint scanner technology. Fingerprint sensor mobile phones are the new attraction for customers. Finger sensor technology really makes a cool experience for Smartphone users. Thus, if you are also looking for some best fingerprint sensor mobile phones check out this list of the top 10 best Fingerprint sensor mobile phones which offer the finest scanning system, quality selfie camera, and high performance. These Fingerprint sensor mobile phones are shortlisted from all India's top most popular mobile phone brands.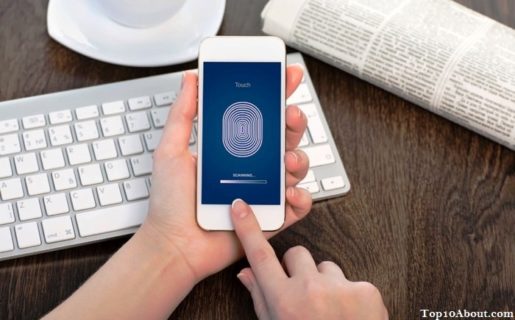 Top 10 Best Fingerprint Sensor Mobile Phones
10. Google Pixel
Google Pixel is called the iPhone of Android. It is not only a good-looking phone but comes with the best software optimization from Google. The back of the handset is the fun area which has a huge fingerprint sensor that supports the "swipe down" sign to scroll down the notification tray.
The phone offers 5-inch FHD in Pixel and a 5.5-inch QHD display in XL. It functions on Snapdragon 821 with 4GB of RAM. The phone is powered by a 2800mAh battery in Pixel and 3450 mAh in Pixel Xl. Google Pixel offers 12 MP rear sensors which can easily surpass most flagship devices. The best is to get the latest security patches and Android updates.
9. Samsung On Max
Samsung has an amazing lineup of smartphones. It is leading the mobile industry for its slight premium price tag. The new addition to the list is On Max which offers a lot for its price.
The phone comes with an excellent design with a 2.5D curved glass on top and a bright 5.7- inch FHD display. Like all other Samsung phones, On Max holds on the front fingerprint sensor which is the home button as well.
It operates on Media Tek MTK 675v chipset along with 32 GB of storage and 4GB of RAM. The storage is expandable up to 256 GB and also has a micro SD card slot. Max provides a camera with 13 MP rears and a front camera with f/1.7 and aperture and a front flash. The overall performance is good and captures crystal clear photographs.
8. One Plus
One Plus is a clear addition to the list of most popular Fingerprint sensor mobile phones. It delivers the highest-end specifications at an affordable price. But the scenario this year appears a little different. Though it is intact to the best specification, the price range has increased to Rs 38,000.
The phone has a thin and premium look with its smooth metallic finish. It has a fingerprint scanner upfront which is the home button too. It is ultra-fast and unlocks in 2 secs.
The phone functions by Snapdragon 835 processor with a massive 6GB/8GB of RAM along with a storage option of 64GB/128GB. The best is the new dual 20MP+ 16MP rear camera sensor. It is powered by a 1300mAh battery with fast "Dash Charging" support through the USB type- C port. The phone offers connectivity options such as Wifi, 4G/VoLTE, 3G, GPS, GPRS.
7. Huawei Honor 8 Pro
Huawei Honor 8 PRO is one of the most Popular Fingerprint Sensor mobile phones from the Chinese tech giant now available in India. The fingerprint scanner in Huwaei Honor is located at the back of the device. You can hold, single press, or double press the feature or app you want to open. It comes with inbuilt gestures like left/right swipe through pictures, a pull-down notification bar, and more.
6. OnePlus 3T
OnePlus 3T is one of the most budget-friendly Fingerprint Sensor Mobile Phones launched in 2016. This phone is nothing like other mid-range phones. It does not compromise on anything despite its price.
A touchpad fingerprint sensor is provided at the front and is made of ceramic which makes it more hard-wearing even than the glass fingerprint sensor found in the Samsung S7 series. The fingerprint is super fast and unlocks within just 0.2 secs. It is quicker, reliable, and accurate than the last generation. The phone provides a 5.5-inch FHD AMOLED display with Qualcomm Snapdragon 821 processor. It comes with 6GB of DDR4 ram and 64 GB storage. OnePlus offers a 16Mp rear camera and a 16Mp front selfie camera.
5. Huawei Honor 6X
Huawei Honor 6X is the best-selling Fingerprint Sensor mobile.  It comes with a 12MP+ 2MP rear camera and is affordable. The fingerprint scanner is at the back which makes it matchless and highly preferable.  It is quicker than iPhone touch ID and inhibits some inbuilt gestures that will enhance the user's experience.
It is faster than any smartphone. If you wish to buy a smartphone with the fastest fingerprint, then there is no second to Honor 6X.
4. Micromax Yu Yureka Black
When it comes to Fingerprint Sensor Mobile Phones, Micromax Yu Yureka Black cannot be a miss. The phone shares a common name with its sibling but has an entirely different outlook. It is premium with a shiny black metal finish body. It comes with a fingerprint scanner at the front and is the most stylish smartphone priced at Rs.10, 000.
3. Intex Cloud String HD
Intex cloud string HD is one of the cheapest Android phones to have a fingerprint scanner in India. The phone costs Rs. 5499 and is available on Flipkart. The fingerprint scanner is embedded at the back along with 4G LTE support and VOLTE.
It runs on the processor of a 1.3 GHz Quad-core Spreadtrum SC9832A processor and comes with storage of 1GB Ram. The inbuilt storage is 8GB with a micro SD card support. The smartphone comes at Rs. 5499 and is exclusively available on Flipkart. The phone offers a rear camera of 8MP and a front camera of 5MP and is powered by a 2400mAh battery.
2. Moto G5 Plus Oval Shaped Front Fingerprint Scanner
Moto G5 Plus keeps the promise of finding a solution to the problem faced by G4. G4 though had a fingerprint sensor; it was not the home button. G5 comes with a more conventional-looking oval-shaped fingerprint which doubles the gesture pad for home.
1. Motorola Atrix
There is an old saying- "Old is gold." Motorola Atrix is the first company to provide scanners in the smartphone. If you are looking for the most Popular Fingerprint Sensor mobile phones, Motorola Atrix is the ultimate option.
Conclusion
Hope this has helped you to know the best phones available in the market with the fastest fingerprint sensors.