Being a die-hard fan, if are you searching some interesting facts about AB de Villiers life, check out these top 10 most interesting things about AB de Villiers.
When we discuss modern era cricketer's one name always comes ahead which is none other than Abraham Benjamin de Villiers who is famous as AB de Villiers among people. No doubt he was one of the best batsmen in the world across all 3 formats of cricket. He is regarded as one of the successful South African cricketers of all time. His amazing batting flexibility and attacking cricket is just matchless. Though he recently declared his retirement from international cricket still people love him because of his amazing personality and superb cricketing skill.
AB de Villiers is not just a batsman but he is the inspiration of millions of people around the world. There are some unbelievable records of AB de Villiers which has made him legend cricketer. Besides that, if you will search deep, you will found many interesting things about AB de Villiers, which proves he is a multi-talented person.
AB de Villiers life is so much to know and gets inspired. Thus, we have decided to share the top 10 interesting things about AB de Villiers that most of the people are not aware of. So without wasting time let's get started and try to aware this among all Fans of ABD across the world.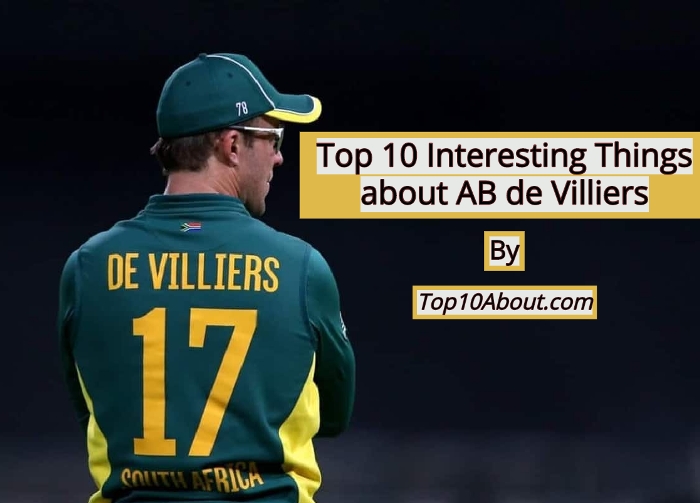 Top 10 Most Interesting Things about AB de Villiers
AB de Villiers is not just a cricket lover!
Most of the AB de Villiers fans don't know that he is not only a cricket lover but a hardcore hockey rugby and football lover. He was selected for the junior hockey squad before cricket. On the other hand, he was also selected for the junior national football squad and captained the South Africa junior Rugby side. So, this is truly an inspiring fact about AB de Villiers.
No doubt ABD is a pure athletic and an outdoor game lover. The love towards sports and fitness are the main reason for which De Villiers is now one of the most popular cricketers in this world. He has a huge fan base and cricket fans just love AB De Villiers for his amazing batting and fielding skill.
See also– Top 10 Secrets Behind the Success of Virat Kohli
Achieved several sports awards other than cricket
This is another one of the amazing facts about AB de Villiers. As we are already mentioned that ABD is athletic and he has achieved several awards other than cricket also. The most interesting facts about AB de Villiers is he successfully held six South Africa school swimming records. As a junior athlete, he has the record of the fastest 100 meters to complete. He was the member of South Africa junior Davis cup Tennis team and won under 19 national badminton championships also.
AB de Villiers passionate about music
One of the most interesting facts about AB de Villiers is he is not only the sports lover but he loves music. In 2010, this veteran cricketer launched his first music album with South African Ampie Du Preez. His music album name was "Maak Jou Drome Waar" which stands to "Make Your Dreams Come True". This was an inspiring song performed by AB De Villiers.
Manchester United football club fan
No doubt football is the most popular game ever but do you know which football club AB De Villiers love. I bet most of the fan of ABD doesn't know about this fact. This veteran cricketer is a big fan of English Premier League club Manchester United. He always supports Manchester United football club.
Popular on Social media platforms
No doubt De Villiers is a famous name in South Africa and a top class celebrity. He is quite active on social media and puts his training session videos and other fitness tips for his fans. He is regarded as the most popular cricketers in the world. You will find huge fan followings of him on social media sites like facebook, twitter, and Instagram. He has more than 3.6 million likes on the FB page and twitter account has more than 3 million followers.
Captain fantastic AB de Villiers
AB de Villiers is not a good cricketer but also a great leader. He was popular as captain fantastic among South African cricketer fans. He has been the captain for both ODI and T20 South African international cricket squad. Besides that, he was also the vice-captain of the Test squad at the beginning of the 2011 and 2012 season for South Africa cricket team. No doubt he is a smart cricketer and a great leader too. He has been an amazing skipper and leading his team with superb batting skill using his vast experience. He is now the icon for every young cricketer in South Africa and other countries.
Fastest batsman record
Cricket fraternity and fans know that De Villiers is one of the most successful and best batsmen in the world in current days. He has achieved several amazing records in cricket. If you mark his career closely you will find he holds the record of fastest one day international 50 only by playing 16 balls. Besides that, he also holds the 31 ball century records another fastest century in one-day international cricket. The 64 balls 150 runs made by this veteran South African cricketer is a rare record by any batsman in the history which is the fastest by any South African in Tests and the fasted 50 by a South African in T 20.
Beat the duck successfully
Do you know the unknown and amazing fact about AB De Villiers that he is the only cricket who has played around 7 innings in the test cricket before making his first-ever duck? Cricket is an uncertain game and no doubt this unique record of this veteran cricketer is not less than a miracle. He held this record against Bangladesh in Centurion in 2008. That's why people love De Villiers and say him a complete cricketer.
Why AB de Villiers Jersey number is 17?
As a fan of AB De Villiers, you should know why he wears 17 number jerseys. The fact is AB De Villiers was born on 17th February 1984 and according to De Villiers 17 is the lucky number for him. For the reason that he uses 17th number jersey in cricket. He has a strong belief that 17 number of jerseys is one of the reasons for his success in sports.
Only South African cricket to receive a medal from Nelson Mandela
The most interesting things about AB de Villiers' life is he has received the prestigious national medal award from former South African president Nelson Mandela for an innovative science project during his young age. This shows that AB De Villiers is not only a talented sportsperson but he was also having a strong academic background. And this thing about AB de Villiers makes him unique and special.
"Being a fan of AB de Villiers, we thought to tribute this post for his extraordinary entertainment and inspiring personality. We hope you liked and enjoyed this post. If you also know unknown, unique and amazing things about AB de Villiers, you can leave it in the comment section."