Your search for the best made-in-India cosmetic brands ends here. Follow this list of the top 10 Indian cosmetic brands for women in 2023.
Simplicity is the real beauty and beauty lies in the eyes of the beholder. But as a matter of fact, in modern times all women use cosmetic products to look more gorgeous and attractive. That's the reason cosmetic companies have seen prompt growth over recent years. Talking about the Indian market, there are huge numbers of cosmetic brands for women in all price ranges. Choosing the best Indian cosmetic brands in the market is the first concern of women. To help out with this, we have compiled an ultimate list of the top ten best cosmetic brands in India. Let's run down the list and tell us your favorite cosmetic brands in the comment section.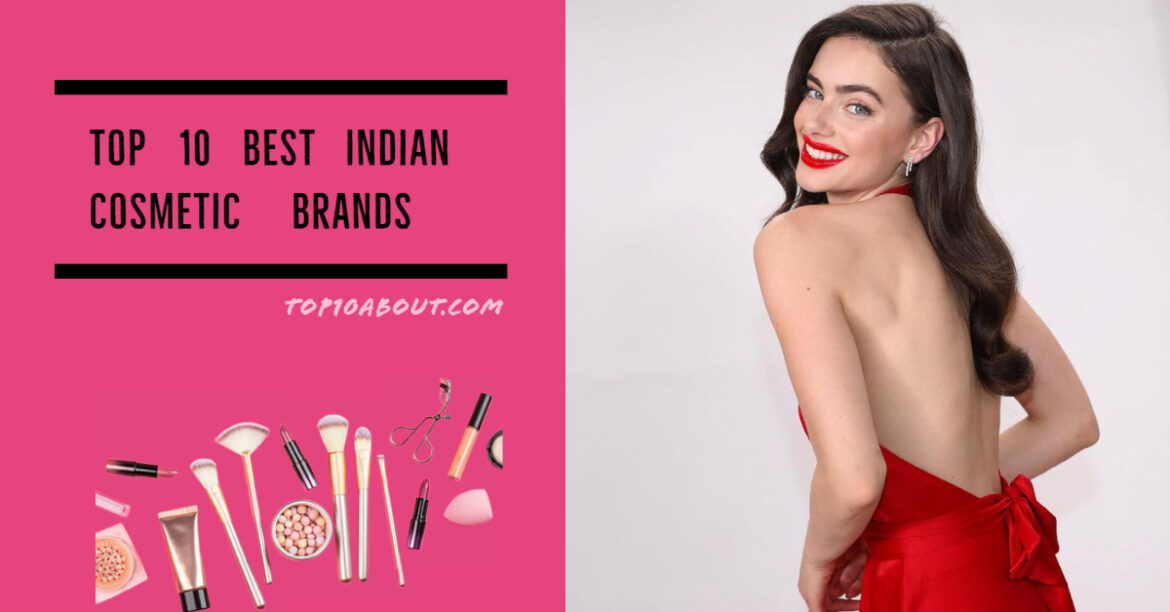 Top 10 Best Indian Cosmetic Brands in 2023
10. Jovees
Jovees is a popular Indian cosmetic brand that claims herbal and natural skin care beauty products. Started back in September 2004 with just 25 products and a dream of creating innovative and effective products that would add value to customer life. It has successfully appeared among the best made-in-India cosmetic brands.
Today it has a wide range, having over 130 products in skin care, hair care, and herbal beauty with a robust, presence in India, Sri Lanka, Hong Kong, France, Maldives, Australia, and Spain. Jovees has a chemical-free product that soothes the skin without makeup with the goodness of natural herbs.
See also– Top 10 Beauty Tips for Healthy Skin
9. Forest Essential
Forest Essential is another best and most popular Indian skincare, perfume, and cosmetic brand. This Indian cosmetic brand was founded back in 2000 by Mira Kulkarni. India, the USA, Australia, the UK, & UAE are some of the countries where it is available. It becomes the first luxury Indian skincare brand to go global. It is 100% natural and provides delicate facial cleanser, pure rosewater facial toner, sunscreen lotion, organic fruit scrub, etc. All the products are made using all diabetic formulations and contain only pure essential oil, vegetable oils, and plant extract. So, if you are looking for something organic and natural stuff, you can try this cosmetic brand.
8. Colorbar
Colorbar is an Indian beauty brand that was started back in 2003 by Samir Modi. It is one of the leading beauty brands in India as of now 2023. The philosophy of this brand is to be gender-neutral and celebrate diversity. They believe that everyone has the right to express themselves in their unique ways. Colorbar has grown to become a household name with products loved by women of all ages and skin types. Colorbar is the only beauty brand that invests in R&D that enables us to create exclusive and unique products. For example, the eye shimmer range is available only at Colorbar because it gives a sensual Sheen to the eyes without chunky shimmers or glitters. The products are meticulously crafted End and undergo a stringent quality test to ensure that they meet high standards.
See also– Top 10 Best Leather Shoe Brands in India
7. Elle 18
Elle 18 is an older Indian brand of Hindustan Unilever. It is popular among young girls college and teens. It is famous for its funky bright colors that fit the youth. Besides this brand is also famous for its bright color full nail shades. Their beauty product consists of some extremely affordable makeup products that mostly girls used. So, if you are also a young girl, you can try this Indian cosmetic brand and define your style statement.
6. Biotique
Biotique is another Indian cosmetics brand that is fully organic and natural. This cosmetic brand's products are made for every skin type with 100% organically pure, preservative-free ingredients and renewable plant-based resources. Their range covers skincare, haircare, body care, etc. It has affordable prices that every woman can buy happily. Biotique promises purity and natural goodness which is better for people.
5. MamaEarth
Mamaearth is another popular name in the Indian cosmetic industry and Asia's no.1 cosmetic brand with Safe certified products. It is a widespread Indian brand, founded back in 2016. The brand is an environmentally conscious brand working towards the conservation of mother earth for future generations by recycling more plastic than they use. They are a toxin-free product that promises purity and natural goodness which is better not just for people but the planet as well.
4. VLCC
VLCC stands for Vandana Luthra curls and curves is another best and most popular Indian cosmetic brand. It is a beauty and wellness products company, that always comes up with interesting products at an affordable prices. All the products from this brand contain natural ingredients. And this is what makes the VLCC skincare range so very sort after. This brand claims to be herbal or ayurvedic, they suit all skin types.
3. Himalaya
Himalaya is a well-known Indian herbal cosmetics brand. It provides health care products under the name of Himalaya herbal health care whose products are fully Ayurvedic. It is available across locations in India, the United States, the Middle East, Asia, and Europe. While its products are sold in 106 countries across the world the company has more than 290 researchers that utilize ayurvedic herbs and minerals. Today Himalaya is a leading global herbal health and personal care organization with close to 500 products in over 100 countries.
2. Coloressence
Coloressence is a made-in-India brand of color cosmetics in India. Which engaged in the manufacturing and marketing of color cosmetics. Coloressence is a cruelty-free brand that contains no animal ingredients and is 100% vegetarian. Their range has many cosmetics for the face, eyes, lips, etc. All the products are really good quality at a reasonable price. Every Indian woman can happily and easily buy their beauty and cosmetic products at an affordable price for daily use.
1. Lakme
Lakme is India's topmost and best Indian cosmetics brand owned by Hindustan Unilever Ltd. It was started back in 1952. Lakme is the most preferred and widely used brand in the country and is also loved by makeup artists. It provides a wide range of beauty products, maintaining quality and quantity for every skin tone. It also promises to be breathable and long-lasting even in the humid corner of the country. Their range begins from those affordable priced to the professional level range. Their range includes skin care products, makeup products, nail products, etc.