From time to time, we come across brand and their success stories on marketing campaigns. Some of the famous companies who have made it great using marketing campaigns are Bud Light and Coco-Cola. They have done it through platforms such as the Super Bowl commercial or by utilizing influencing marketing campaigns by inviting top celebrities.
This kind of marketing needs a whole lot of fortune, and not all brands don't have that much money to spend behind a half-minute advertisement. And this is the primary reason why social media marketing has found such limelight in the recent years.
With the proper utilization of this social media platforms such as Facebook, Twitter, Instagram and others, some brands have changed the game of marketing. In this post, Top 10 About is going to share with you 10 standout brands on Social Media. These are those brands who have highly grownup using social media strategies and platform. So, let us have a look at some of the brands that have made it large through social media.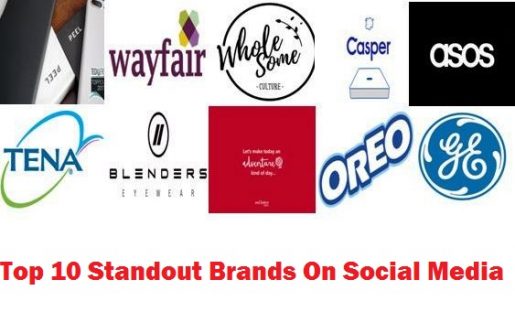 Here are only 10 of the brands mentioned. There are many more brands such as Superdry India, Nike and Puma who has gained huge popularity through social media.
Read here- Top 10 Highest Paid CEOs in India
Top 10 Standout Brands On Social Media
10. Oreo
Oreo, a commercial brand of cookies has been one of the other brands who has done the most out of the Super Bowl audience. Today, Oreo is a most famous cookie brand and social media is one of the big reason behind it. We all know that by 2013 the image of Oreo has changed which is just because of changing advertising and marketing strategies. Oreo has utilized correctly modern social media platform and made the brand standout. The consulted the second screen, and their infamous tweet was tweeted more than 10,00 times. This helped the brand to get a huge awareness among the consumers. Now, Oreo is one of the most popular brands among the people.
Read here- Top 10 Most Popular Smartphone Brands in India
9. Red Letter Days
Just asking for follows and share was not helping the company to gain popularity as people will give you nothing if they don't get anything. And this is what struck the minds of the marketing team of Red Letter Days (A UK based company) that was started in 1989 by Rachel Elnaugh. They utilized the hashtag # feature to gain popularity on social media for their brand. Now they are the real example of brands who standout with social media marketing.
Read here-
8. General Electric
If you are talking about someone who has made a huge profit out of the Facebook video marketing, then this the brand you need to look forward to. These brands have gained the position they are today due to their social media marketing strategies and policies. For example, Facebook has more than 8 billion video views per day, and that is the major reason why so many brands have started investing more and more in the Facebook advertisement. Recently, the brand has released a series of video where the work of the employees was being highlighted. The motto of this video was to make people aware of the high quality of their job and also attract new talents for their company. And the major goal is to make famous their brand among the people.
7. Blenders Eyewear
The whole success of this company is based on Facebook ads and Instagram's influence on marketing. They used advertisement where the review of the customers would be highlighted. This help Blenders standout from the rest of the brands on Social Media. This helped the brand gaining brand awareness.
6. Tena
Tena is a standout brand among all, and the motto of this brand is to make people aware of incontinence and other taboos, Tena sells a product that helps people suffering from incontinence. They utilised social media and asked people to make a video of themselves about their suffering and post it on social media. This helped people to become aware of the brand and the products they are offering.
5. ASOS
ASOS is yet another popular fashion brand who has been making a huge change in the social media marketing strategies. They started a hashtag campaign where the users have to post a photo of them with their latest outfit using the hashtag #asseenonme and have the opportunity to get featured in the Instagram feed of ASOS. This helped asos get huge brand exposure and gain potential customers.
4. Casper
Casper is a popular mattress brand who has utilized humor in their social media content. This was the social media marketing strategy to attracting customers towards their brand. In a recent study, it was found that social media users get attracted towards brands who post funny content on social media. They have used this social media marketing trick to make their brand standout from other.
3. Wholesome culture
Similar to peel, wholesome culture is yet another popular fashion brand that was having a tough time in the fashion industry. But this brand had a specialty. This brand was a strict vegan brand, and so they utilized social media in spreading awareness about their cruelty-free clothing. This helped to draw a lot of potential customers towards their brand.
2. Wayfair
Wayfair is a popular furniture brand. They were quite active on Instagram but were having a tough time attracting followers to their Instagram page. But when Instagram introduced their new feature in 2017 for shopping sites, the brand utilized it for the best and made a huge profit out of it. Therefore, using this strategy now this brand stand out on social media.
1. Peel
With the increasing rate of smartphone users, there has been a rise in demands for their protection and phone covers holds a major part in it. But when the market where getting filled with heavy protective cover, Peel came up with the idea of producing covers that are stylish, sleek yet protective. They utilised the Facebook story for making people aware about their product and why it is better than the others. This campaigns helped the company to have a growth in their sale up to 16 times. With this fact we can say that this is one of the standout social media marketing examples of current time.