Are you looking for some popular & best tourist attractions in Greece? If yes, check out this list of the top 10 best places to visit in Greece.
Greece is one of the top tourist sites in Europe's travel destinations. If you want to enjoy sunny beaches, traditional delicious cuisine, cool atmosphere then Greece is always a suitable destination for you. You can enjoy beautiful mountains, many historical places, and culture in Greece. Besides that, when we look for the most romantic destination in the world Greece always appears in the topmost.
As we always do, this time we are going to present here the top ten best tourist attractions in Greece for unlimited fun and enjoyment. Let's have a look at the list and feel free to share your thoughts in the comment section.
Top 10 Best Places to Visit in Greece
10. Cape Sounion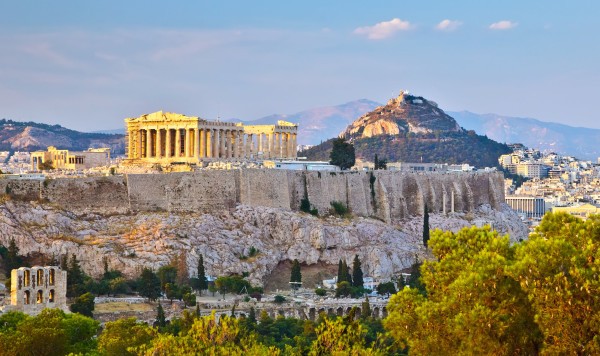 Cape Sounion present at the southmost tip of the famous Attica peninsula. This place is quite popular for the god of the sea and the ancient Greek temple of Poseidon. And this monument of the Golden Age of Athens named Temple of Poseidon is the main tourist attraction here. This place is surrounded by the sea and beautiful places to visit. Many people come to this place to enjoy the beautiful scenario of this place. You can enjoy the sunset view from this Aegean Sea which is always a great experience.
9. Thessaloniki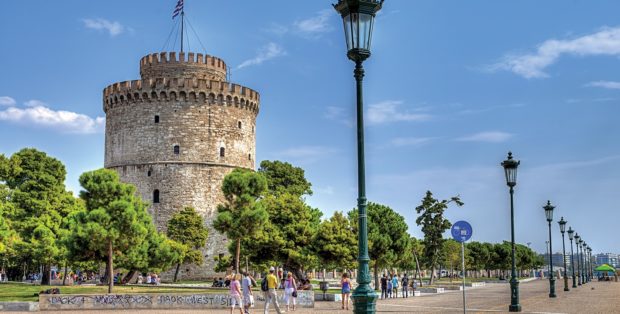 Thessaloniki is well known as the capital city of Northern Greece and the second-largest city of the Macedonian region. This is one of the most famous places to visit in Greece. You can enjoy many cultural programs like social events, lively festivals which are always great to experience. If you are an art lover then you must visit this place in Greece because there you can find museums, art galleries, and different food markets. There you can also find several nightclubs which are always good for couples.
8. Zagori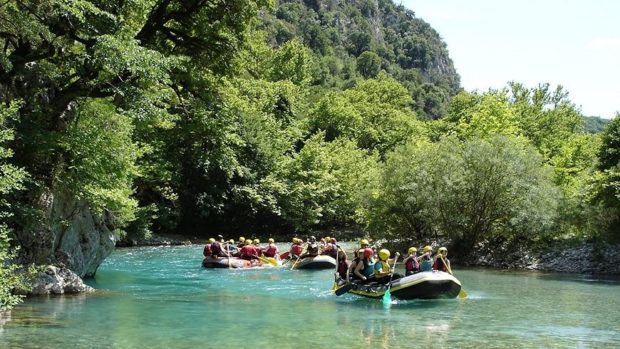 Zagori is present in northwestern Greece. This is among the popular tourist destination in Greece, widely famous for the natural beauty and breathtaking geology. Ioannina, Moni Kipinas, Vikos Gorge, Zagori Villages, Stone Bridges, and Pindos Mountains are some of the major tourist attractions in Zagori. This place is full of dense forests and rugged mountains. You can see many traditional villages in this place. This is the best place for hiking, kayaking, whitewater rafting. So if you are a nature lover then never miss this place while visiting Greece.
7. Halkidiki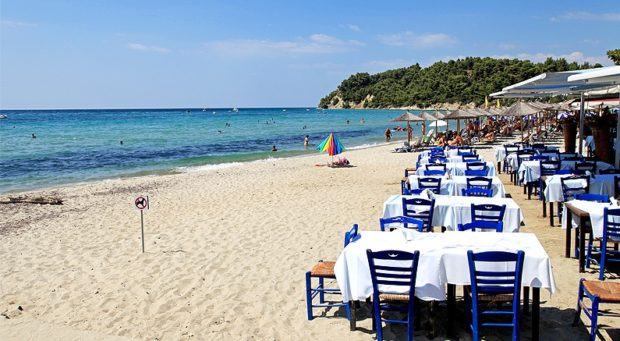 Halkidiki is a beautiful tourist spot which is situated near the city of Thessaloniki. You can enjoy here excellent beaches with unlimited fun and enjoyment. Three separate peninsulas are there like Kassandra which is famous for its nightlife, Sithonia which is famous for its beautiful sea beach, and at last Athos popular for monks. No doubt, Halkidiki comes among the best places to visit in Greece. That's the reason millions of people visit this place annually to enjoy the natural beauty of this area.
6. Peloponnese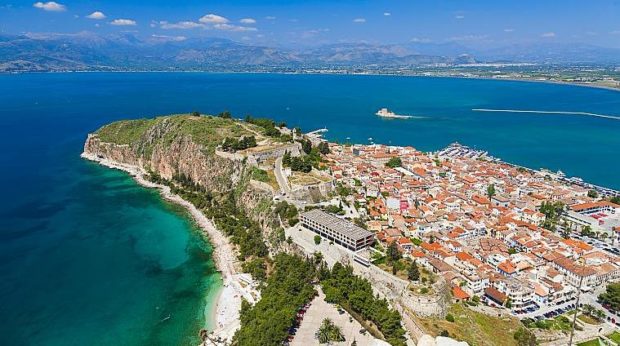 Peloponnese is situated in the southernmost area of both Greece and Europe. This is a popular and wide peninsula which is well connected to the core land by a bridge which is known as Rio-Antirio. You can visit the classical Greek temples in this area, Kastania Cave, Kapsia Cave, Megali Paralia, Simos beach, and Lake Doxa. Peloponnese was called Mora which simply indicates the mulberry leaf. Beautiful nature, supportive people delicious foods make this destination a favorite spot for tourists. So, if you are thinking of the best places to visit in Greece, don't forget to include this in your list.
5. Delphi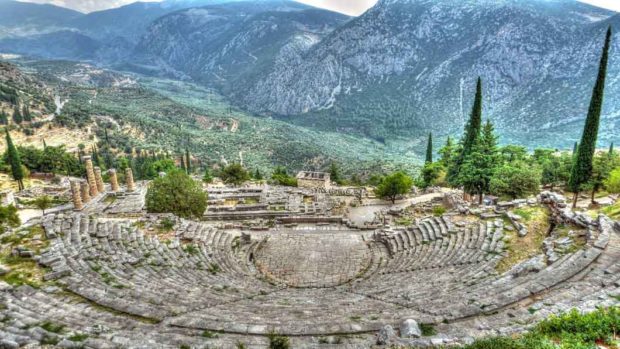 One of the historic and most popular archaeological sites in Greece. Delphi is situated two and a half hours from Athens. This is widely famous as a sacred spot and in ancient times people come to this place to meet the priestess to take advice regarding politics, relationships, and farming. And this place is converted into a UNESCO World Heritage Site. There you can visit the Temple of Apollo, The Hippodrome, The Sacred Way, Polygonal Wall, Theater, Stadion, and The Tholos.
4. Meteora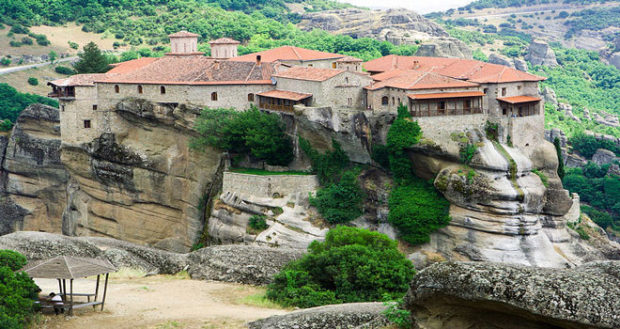 Meteora means suspended in the air and it clearly clarifies the spectacular cliffs which are more than 366 meters. This is present in the north-central mainland of Greece. Meteora was built by some monks in the 14th century and widely famous as a spiritual place too. The best rock formation, 6 monasteries, sunset, and surrounding area are absolutely breathtaking that you would never like to return back. No doubt, a purely beautiful place and a perfect destination for tourists not only in Greece but in the world. So, if you ever planning to visit Greece never forget to come to this place.
3. Crete
Crete successfully holds 3rd spot in our list of 10 best places to visit in Greece. This is a crowded tourist spot in Greece where you can enjoy the absolute beauty of nature. The densest and largest Greek island where you can enjoy the breathtaking countryside with olive trees, beautiful mountains, beaches, and a stunning coastline. You can get several coffee shops in the outdoor villages in this area. A truly beautiful island that extremely recommended to visit in Greece.
2. Athens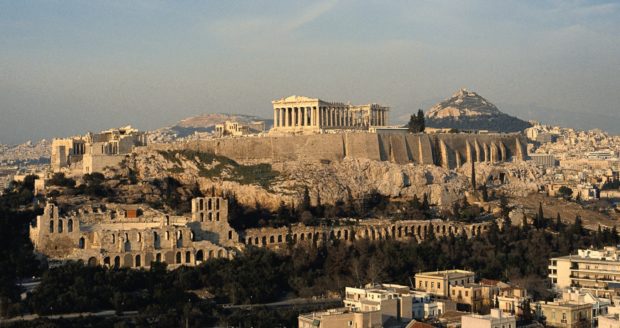 Athens is another one of the most famous tourist attractions in Greece of all time. It is quite popular for its archaeological monuments and ruins. You can enjoy both the modern and historical blend of living style in this area. Athens is not only popular for ancient ruins but it is also a vital hub of business, nightlife, and culture. This place is inhabited for more than 3k years and thus one of the world's oldest cities. It is widely famous as the origin of democracy.
1. Greek Islands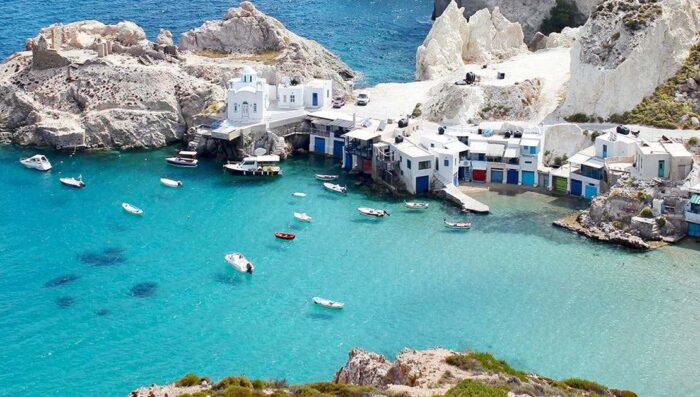 While we are discussing the top ten best places to visit in Greece, the Greek Islands is the leading destination of all time. The Greek Islands is also named among the best and most famous tourist destinations all over the world. Every year millions of tourists come to these beautiful and exotic Greek islands to enjoy the ancient ruins, amazing harbors, and beautiful beaches.
These are the top ten best tourist destinations in Greece where you can enjoy unlimited. So, if you are planning to visit Greece then just visit these places and make your trip more memorable and entertaining.