Do you want to know how to switch a bank? If yes, follow this post including Seamlessly Switching Banks: A Step-by-Step Guide.
In the dynamic world of personal finance, one might find it necessary to make changes that better suit their evolving financial needs. One such change might involve transitioning from one bank to another. While the idea might seem daunting, it's a manageable task once you know how to switch banks effectively. This article aims to provide a comprehensive, step-by-step guide to help you navigate the process of switching banks with ease, ensuring your transition is as seamless as possible.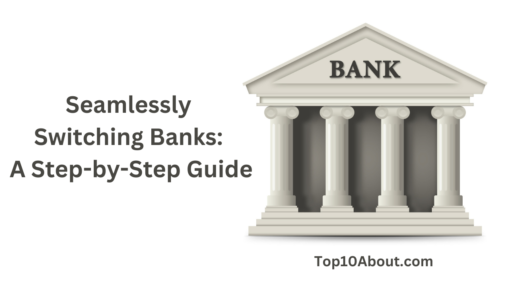 Evaluating Your Needs and Choosing a New Bank
There can be many reasons to switch banks. According to SoFi experts, " One is advertising an incentive (such as a sign-on bonus) that's too good to pass up. Or is offering a discount on a home loan rate if you open an account, and you want to snag that lower mortgage APR."
The first step in switching banks is identifying your banking needs. This might involve assessing the features and services that your current bank lacks. Are you looking for better online banking options? Do you need a bank with a more extensive branch network? Are you unhappy with the customer service you receive? Once you've identified these factors, it's time to look for a new bank to fill these gaps. Research different banks and compare their offerings. Consider factors such as the convenience of branch locations, availability of online banking, customer service quality, and account fees. Take your time to find a bank that aligns with your needs and preferences.
See also– Best Personal Loans: Navigating the Loan Landscape
Opening Your New Account
After selecting a new bank that fits your needs, the next step is to open an account with them. Visit the bank's website or a local branch to start the account opening process. This usually involves providing personal information, such as your name, address, Social Security number, and a valid form of identification. You may also need to make an initial deposit to open the account. Remember to review the terms and conditions of your new account carefully to understand any associated fees or requirements.
Transferring Your Funds and Automatic Transactions
Once the new account runs, it's time to move your funds from your old bank. Determine the best method for transferring your money, whether through a wire transfer, writing a check to yourself, or withdrawing and depositing cash into your new account. Be mindful of any fees associated with these transfer methods.
Notify your employer, utility companies, credit card issuers, and other relevant entities about your account change. Update your account information with them to ensure that your transactions flow smoothly without disruptions. Monitor your new account to confirm that the transfers and automatic transactions are processed correctly.
Closing Your Old Account
After all funds and automatic transactions have been shifted to your new account, it's time to close your old one. Contact your old bank to inquire about their account closure process. Some banks may allow you to close your account online, while others may require visiting a branch in person. Check for any outstanding checks or pending transactions.
Post-Switch Monitoring
The final step is to monitor your old and new accounts for a while closely. Ensure all your transactions are processed correctly, with no unexpected fees or charges. It's also wise to ensure that your old account was closed correctly and doesn't incur additional charges.
Switching banks doesn't have to be a nightmare if you take a systematic approach. By following this guide, you can ensure that your transition to a new bank is seamless and stress-free. Happy banking!