Delhi is more popular as best tourists attraction instead of capital of India. It is glorified with the historical sites, monuments, architectures and religious places. That's why Delhi has become one of the most visiting places by tourists in India. But do you know which are those best places to visit in Delhi where every year millions of tourist comes. If no, here is best chance to know those best tourist destinations in Delhi. Because I have prepared a 2016 fresh list of top 10 most popular places to visit in Delhi.
Read Here- Top 10 Most Popular Places in Mangalore for Tourism
Top 10 Most Popular Places to Visit in Delhi
10. National Zoological Park Delhi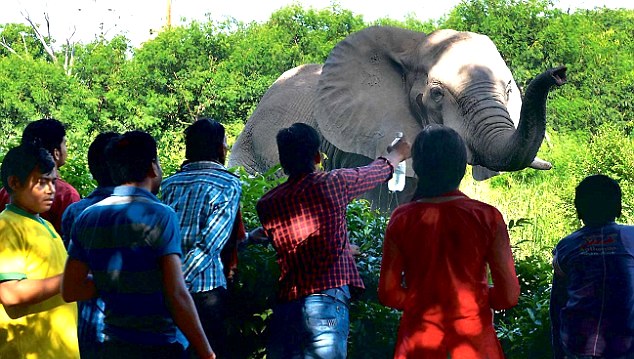 Among the most popular places to visit in Delhi. It is a Zoo with area of 176 acre near the old Fort area in Delhi, India. It was started in 1959.  Now it has 1350 number of animals while total 130 species of birds and animals from across the world. It is best place to visit in Delhi if you wants to enjoy adventure as well as wildlife. You can see here White Tiger, Crocodile, Leopard, Bengal Tiger, Sloth Bear, Blackbuck, Rhinoceros, Gaur, Emu and many more. It remains open from 9 AM to 4 PM. Visiting charges for an Indian is 40 rupees per head while 200 rupees per head for the foreigners.
9. Connaught Place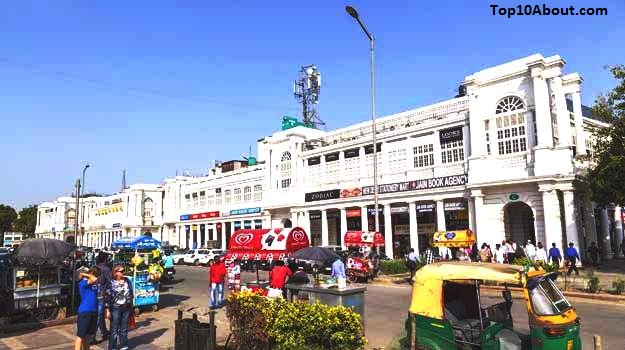 Connaught Place is one of the most crowded market in Delhi, India famous for its business, commercial as well as financial services. It comes under some of the top most lavish places of Delhi and also well familiar with the name of CP. It was established in 1993 and now it is 5th highest priced market as well as 4th most expensive office destination in the world. It is best place for many reasons like shopping, available head offices of most of the Banks, Airlines, Restaurants etc.  and that's why it is one of the most favorite places to visit in Delhi by the tourists.
8. Jantar Mantar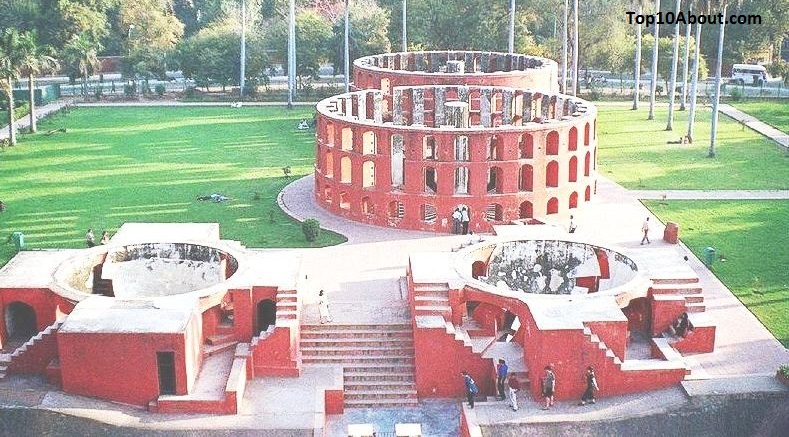 Jantar Mantar is also one of the best and most popular places to visit in Delhi, India. It remains open all the days of week and visiting charge is 5 rupees per head for Indians while 100 rupees per head for foreigners. It was constructed by the Jaipur Maharaja Jai Singh in 1724 situated in Delhi capital of India. It includes 13 architectural astronomy  instruments which made them unique and give a big reason to peoples for visiting it. Initially the purpose of Jantar Mantar was to compile astronomical tables, to predict times and movements of Sun, moon and planets.
 7. Lotus Temple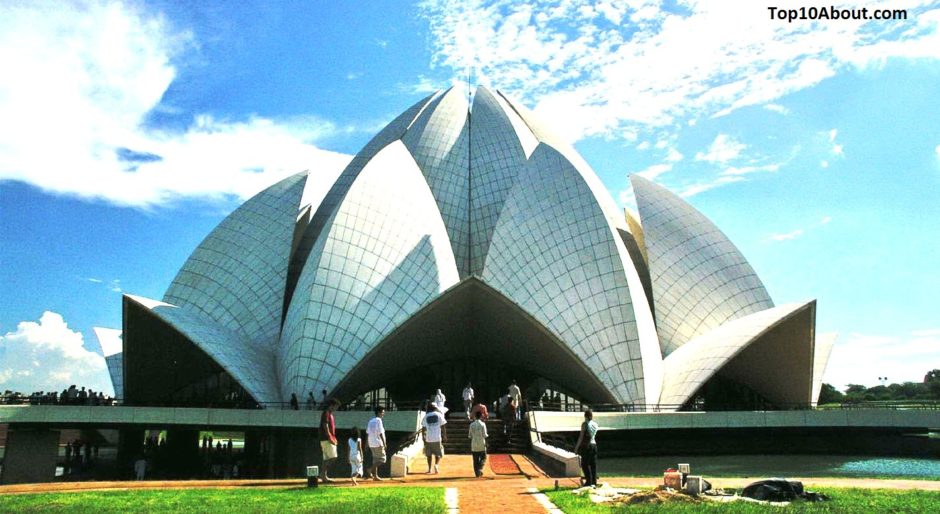 Lotus temple is a symbol of peace as well as prosperity famous for its Lotus flowers like shape. It was established in 1986 as a Bahai house of worship. It is also one of the most famous places in Delhi to visit for tourists. That's why it is most favorite place of tourists in Delhi, India. The Lotus temple is open for all the peoples from anywhere in the world. It has capacity to gathered around 2500 peoples and has 9 doors that all open in center hall. There is highly restricted to make noise of any kind. The nearest metro station of lotus temple is Kalkaji Mandir Metro Station. It remains open all the days of week from 9 AM to 7 PM except Monday and there is no fee to visit for any tourist.
6. Qutub Minar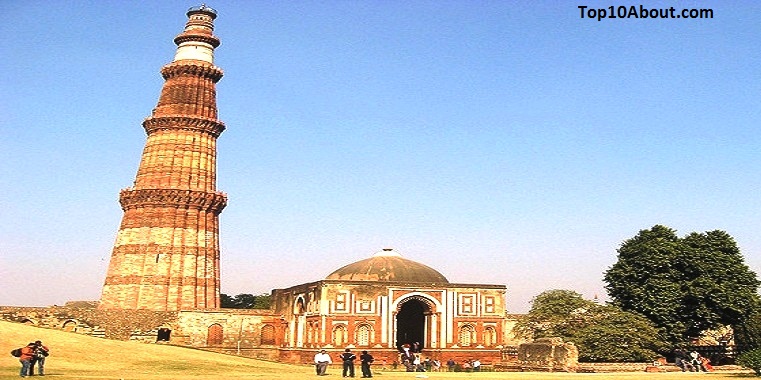 Qutub Minar is one of the most famous and tallest minaret not only in India but  also in the world. Qutub Minar was first constructed by the Qutub-ud-Din Aibak who was the founder of Delhi Sultanate in 1200 AD. Later the minaret was destroyed completely which again  restored by the Firoz Shah Tughlaq. Qutub Minar is 72.5 meters high in tapered shape with the diameter of 14.32 meters from the base while 2.75 meters on the peak. It has 379 steps in circular staircase which goes to the top of the minaret. Qutub Minar is one of the India's most visiting monument and all time favorite place of tourists in Delhi. It remains open all the days of week. Visiting charges for Indian is 10 rupees while 250 rupees for foreigners.
5. Chandni Chowk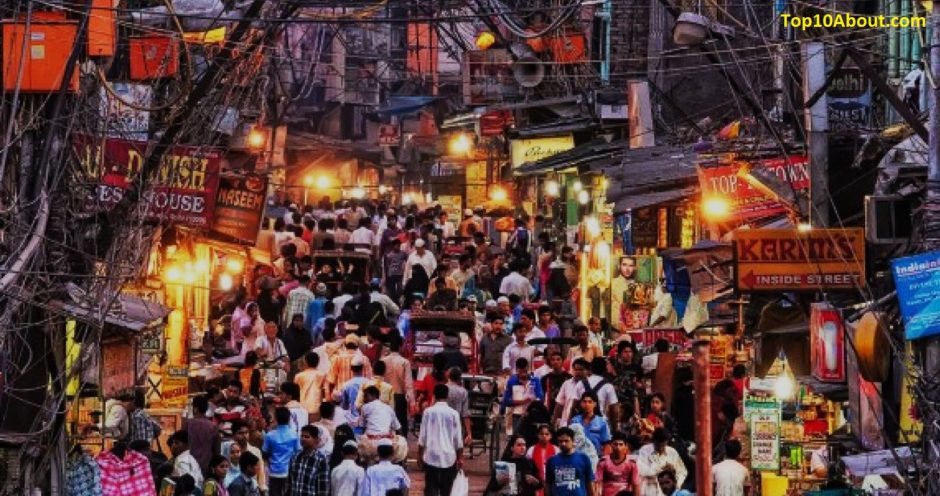 Chandni Chowk is another most popular place in Delhi, India famous for the cheap selling of products like clothes, books, electronic gadgets, jewelries shoes, attar etc. It is one of the heaviest crowd market of Delhi which is available from very old times. Hence it is best place for the shopping at cheap prices available with many varieties. There is Nai Sarak connecting with main Chandni Chowk road where you can find every type of books new as well as photo copy. As because it is all solution market that's why it has become one of the most famous tourist attraction in Delhi.
4. Jama Masjid
Jama Masjid of Delhi is one of the largest mosques of India as well as Asia because it can accommodate more than 25,000 persons in its courtyard area. It is one of the peaceful place to pray and having really enticing structure.  It was constructed in between 1644-1656 by the Mughal Emperor Shah Jahan. It has 3 gates, 4 towers and 2 minarets of height 40 m constructed of strips of red sandstone and incredible white marble. This places is one of the most popular tourist attraction in Delhi from many years. It remains open except only Namaz or Prayer time. Be prepared for the big crowd as well as narrow streets if you wants to visit area around it like Meena Bazar and Chandni Chowk.
3. India Gate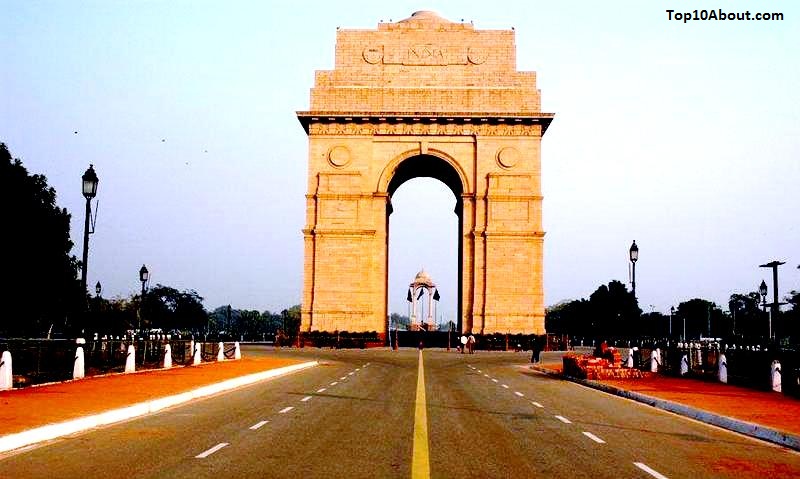 India Gate is also well known as by the name of All India War Memorial which symbolize the pride, bravery and patriotism. This is the memorial and in respect of all those great soldiers who have died by protecting the nation. That's why there is one structure exist called Amar Jawan Jyoti as well as Flame of the Immortal Soldier, since 1971 as India's tomb of those unknown soldier who have sacrificed their life. It's a motivational place in itself and hence one of the best tourist place in Delhi. Besides it has a beautiful structure as well as nice surrounding area. There is no charges to visit and it always remains open but the best time to visit India Gate is at evening because it looks more incredible as well as adorable in night when lights on.
2. The Red Fort
The Red Fort was the residence of India's Mughal Emperor for about to 200 years. In Hindi language, Red Fort is known as by Lal Qila. It is also one of the most popular places of Delhi, India that located in the mean of Delhi. The Red Fort is named because of its red sandstone walls. It was constructed in 1648 by the 5th Mughal Emperor Shah Jahan. The Maughal has constructed 33 m high walls of Red Fort to prevent attackers. There are thousands of people as well as tourist visit this place of Delhi every month. It's a really incredible place specially for the tourist to aware with the  India's Mughals. This place become more important when every year the Prime Minister hoists the national flag  of India in the occasion of Independent Day (15th  August).
1. Nizamuddin Dargah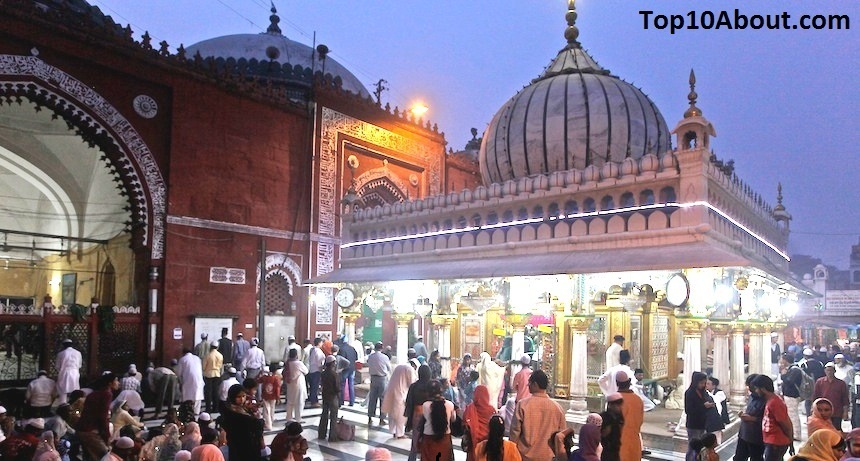 Delhi Situted Nizamuddin Dargah is the most famous mausoleum of world's most famous Sufi Nizamuddin Aulia. It is also one of the most popular places to visit in Delhi where thousands of people can be seen everyday. It is an Islamic religious place however peoples of every religion like Hindus, Sikh, Christians can be seen here in large amount. The tomb of Amir Khusro who was the spiritual disciple of Nizamuddin Aulia (Delhi) is also situated there. Besides Jehan Ara Begum (Mughal Princess) and Inayat Khan's tomb also can be seen there. This place of Delhi has been visited by so many politicians, sportsmen, celebrities and still tourists are coming from the every corner of the world. Therefore I have listed Nizamuddin Dargah on the top position in the most visiting places of Delhi.