Free Video Editing Softwares for Windows – Video editing has become one of the most popular technique among the peoples just because of easy video editing softwares. There are many video editing tools to free edit videos of any format. But the problem is to pick best video editing software for windows since there have been so many video editing tools in the market. Therefore I have decided to share 2016 top 10 best video editing softwares for windows.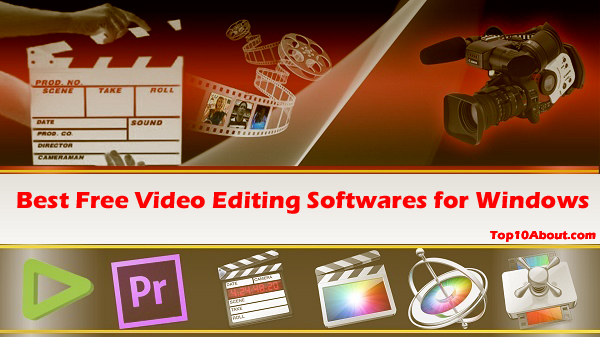 Top 10 Best Free Video Editing Softwares for Windows
10. Movica
Movica is one of the best free video editing software. Movica uses some excellent programs to edit your video and gets good repute. The keyboard's shortcuts key make video editing easier than always. It fully supports FLV, WMV and MPG files.
Jahshaka is the first Realtime Editing and Effects software in the world. With the power of OpenML and OpenGL, it gives users outstanding levels of performance. It presently supports OS, Linux, X, Irix and Windows. Therefore, it is considered one of the best free video editor for Windows.
8. Lightworks
Another best video editing tool is Lightworks. It is developed by EditShare LLC.  It is Emmy award-winning software for its best features and editing performance. It can edit up to 256 video, audio and also image clips. But, the user interface is not extremely friendly so find is difficult for using the first time.
ZS4 Video Editor is another best free video editing and compositing software for windows. It provides media experts with an ability to combine videos, photos and audio files into one or more output files.
6. Blender
Blender is the another free 3D video editing tool which supports all  operating systems under the GNU General Public License. It has several advanced features such as powerful character animation tools, modifier based modeling tools, a node-based material etc. and Blender is one of the best video editors for both Windows and Mac users.
5. FFMpeg
FFmpeg is a paid video editing software for Windows users, but a collection of free software that can convert, record and stream digital video and audio, including libavformat (a leading audio/video container mux and demux library) and libavcodec (a leading audio/video codec library).
4. Avidemux
Avidemux is a free video editing program designed for Windows user to simple cutting, filtering and encoding videos. It is developed by Mean, Gruntster, and Fahr. It supports many file types including MP4, DVD compatible MPEG files, AVI and ASF. Avidemux is the best free video editing software for windows.
3. Wax
Wax is a high performance and flexible video editing software designed for home users and professionals.  Wax helps the user to make and add special effects in 3D for video files. The disadvantage of this video editing software is that its video editing functions are quite limited.
2. VirtualDub
VirtualDub is a best free video editing software for Microsoft Windows users developed Avery Lee. VirtualDub is specially designed for capturing video. It offers many amazing features, such as video splitting, compression as well as the addition of audio tracks.
Windows Movie Maker is the most popular and best free video editing software for windows. It is specially designed for the videographer. Windows Movie Maker is developed by most popular and well-known windows developer company Microsoft for Windows XP, Vista, 7, 8 and 10. It is a part of Windows fundamentals software group and offers the ability to create and edit videos. It has many features such as adding titles or credits, audio music or song, timeline narration, and Auto Movie. The best advantage of Windows Movie Maker is that it gives many video effects and title generator that can be easily applied to editing video.