Best Brands that make Leather Jackets- Looking at the selections of jackets which are on the market today, you may wonder which jackets are worth the money and which jackets will leave you frustrated. From the higher ended retail stores to grocery stores (yes, I have seen jackets for sale at major grocery store chains, though I would not recommend buying them) leather jackets are everywhere. Here are the top 10 brands which are available. They have been picked because they are well made, stylish, require minimal accessories to clean a leather jacket, and popularity.
Top 10 Best Brands that make Leather Jackets
Coach leather jackets have received a great deal of notice this year, specifically in their sheep leather. As the higher climates have dictated that thicker cow hide jackets take a back seat to the thinner leathers, Coach's selection for 2016 is ideal. One of the more popular jackets this year from Coach is the retro racer sheep leather chrome-tanned jacket which retails for around a thousand dollars.
Also For Read- Top 10 Latest Celebrity Jewellery Trends
If you are seeking the thicker leather styles, then Andrew Marc leathers may be the choice for you this season. Most of the jackets offered by the company are the traditional black. However, the quality of the design and the diversity of the jackets is something to be commended. Buyers should take note that many of the jackets do have an abundance of pockets and supporting material (such as the GUSTAVUS) which may make I a bit more difficult to clean a leather jacket from this company over other brands.
Overland Sheepskin & Fine leather makes it to the top 10 leather brands due to the fact that they focus on finding the purchaser the ideal jacket. This is done by informing the potential client on the style, fabrics, durability, and maintenance of the jacket. Furthermore, the company offers a diverse selection of jackets ranging in prices from $469 up. Being as the company's primary focus is in sheepskin leather and being as a lighter alternative to the thicker leathers is ideal for 2016, Overland is worth consideration.
Also For Read- Top 10 Celebrity Hairstyles for Men in 2016
Let us face it. There are just some brands which will make the list because of their iconic presence in the industry and this is one of them. Some people must have a Harley Jacket, just like some people must have a Harley Bike. This is not to say that this is a bad thing. When it comes to biker jackets, why not choose one from the company known for having the "tough man" bikes? Keep in mind that these are intended to wear with their bikes, for the most part, and so they will be thick.
6. Wilsons Leather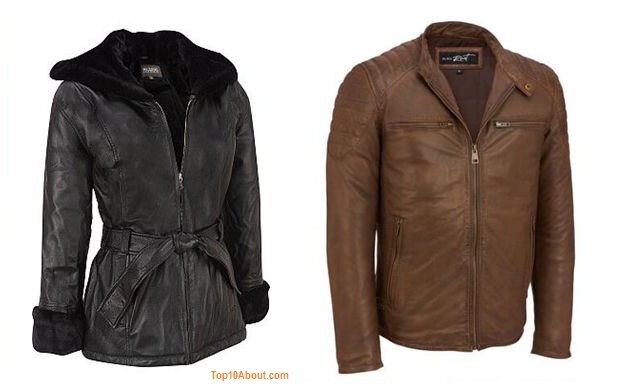 Perhaps the greatest attribute of Wilson's leather is that they offer an assortment of various styles. From the trench coat to the Milwaukee Leather Stand Collar Jackets, there is something for about every character. I would not go so far as to declare Wilson Leather as being a Luxury brand, but if you want to get a mid-range quality and be able to get both men's as well as woman's leather jackets and apparel at one site, it is top notch.
Also For Read- Top 10 Fashion Trends for Spring Summer 2016
Gucci is one of the most iconic names in the fashion industry, and so it goes that the winter fashion would include their branding. The leather jackets offered this season from Gucci are highly merged with other fabrics including paint apart from the Ghost leather biker and the Leather Bomber jacket. They are on the more expensive side of leather jacket brands and average around 3 to 6 thousand dollars, so ensure that you find the one that is PERFECT for you.
Burberry offers an English take on the leather jacket for 2016. The Key coats, according to the site leather bikers, technical bombers, and field jackets. What is striking about this brand is that they really utilize the leather for a fashion design. The material is not deeply embellished by superfluous additives, but is styled and tailored to make something unique and functional. Those looking to get away from the zipper jacket will find comfort in the large buttons on selections such as the Lambskin Trench Coat with Regimental Topstitching.
Also For Read- Top 10 Most Expensive Clothing Brands in the World
3. Versace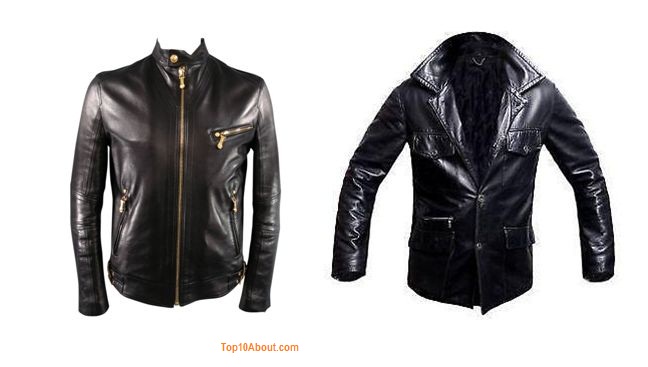 Known for creating designs that are outside of the box, 2016 leather jackets from Versace do not disappoint. Lamb leather is the top pick, and again I feel that his is due to the warmer climate. Additionally, the company has decided to go with softer styling, opting for buffed leather over hides which have the pores and defects exposed. Versace jackets are expensive with price tags reaching 8 thousand dollars for certain jackets.
Though typically known for their shoes, Timberland actually has a great selection of leather jackets which have made it to magazines such as Men's Fitness and GQ magazine. For those of us who do not want to dish out thousands of dollars on a jacket, the price tag is fairly decent ranging from $500 up. The jackets do tend to have a bit of cotton/wool mixtures on the lining and so cleaning of the jacket may be a bit complicated. Check with your local professional leather artisan to find out the best method.
The last brand on the top 10 list is Asos. This is the alternative brand to buying really luxurious leather. I would not go so far as to call it a bargain brand, but it is definitively lower in quality and in price than those mentioned previously. Those shopping on Asos should keep a keen eye on the materials as they offer both genuine leather as well as Faux leather.
The best place for a leather jacket
Of course, the best place to find a leather jacket is at a leather shop where they tailor the jacket to you. Remember, it is not the price, or the brand that you will need to worry about when it gets cold (some people mistake a highly recognizable label for quality). Find a coat that matches your style, your price, but most of all a jacket that is functional.