If you want to propose a girl, don't think, do it right away before it becomes too late. But  here you may ask us how to propose a girl in right way? For helping you to propose a girl without any trouble Top10About have prepared a list of top 10 romantic ways to propose a girl. It doesn't matter whether you are going to propose a girl for friendship or marriage these tips can really help you for both the condition.
Every girl wishes that a boy should make her feel out of the world when proposing her. But many times the boys are lacking this romantic capability and fail to put the good impression while propose a girl. Proposing a girl is an art and every boy has this art. You just need to realize your own way and make it possible practically. Keep this thing in your mind that girls are so sensitive and they have expectations. Love proposal in a good manner is automatically going to impress every girl on earth. And in that way, you can get her reply in your favor. So take a look here on these successful and romantic ways to Propose a girl or woman.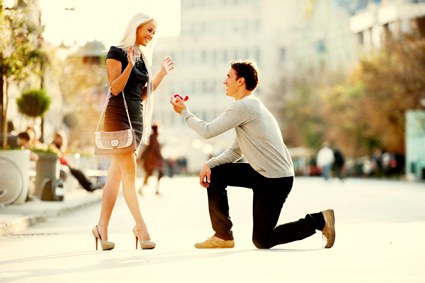 Top 10 Romantic Ways to Propose a Girl
10. Love Letter
You heard that the old is gold. In old times the mostly peoples prefer to letter to offer their love proposal. It is good for those men who are shy to propose a girl. Always words matter and using love letter you can express your all the inner feelings for your loving partner.And now in this modern era it will be a unique way and may be who knows the girl likes it and impress by it.
9. Candle Light Dinner
This is one of the classic way using which you can impress your lovable girl. Candles are perfect to create a romantic evening. The dim light and burning candles can create the perfect environment.  You will find that this is the perfect style to propose a girl you love.  In this romantic way surely that girl is also going to be impressed by you.
8. Propose by Song
If the girl you like is filmy then this method of proposing her could be successful for you. Just select a romantic song in which hero is proposing his heroine by the singing. And then go with the girl on some alone & romantic place and then start proposing by singing. Hopefully, this will work for you as for some previous peoples.
7. Special Day
You can select one of the special day to propose a girl such as valentine days, friendship day, rose day, kiss day etc. These days are specially for the lovers and girls find it more romantic. You can propose a girl on Valentine's Day because it is a loved filled day and everyone expects a proposal on this day. Other special occasions are also perfect days for proposing a girl for friendship or marriage as well.
6. T-shirt
This is the best idea for those who want to propose a girl which they love. Get a black color t-shirt and get it personalized saying will you marry me or will you be mine forever etc. first of all it will be a surprise element and when the girl will open the package he is going to be completely surprised and will definitely like your proposal. You can also get down on your knees and expose this tee to him.
5. Radio Proposal
This definitely works but for only those whose love mates listen radio. If you know that the girl you love listen radio at the certain time of day then you can propose her with radio message. There is a quantity of plan available with the help of which you can reach out your words to the people you love. They also play a song dedicated to your partner after speaking your points. This is a big way to shock and propose a girl for the friendship you love.
4. Banner Proposal
This is also among the nice ways to propose a girl for friendship or marriage. If you want to do some creative then the banner proposal is going to be an impressive idea. If she said yes then you and your partner is going to remember this proposal forever in your life.  With this idea, you can easily speak out your feeling without speaking word. There is no need to feel the rejection. You can write as many feeling as you can in the cutest way possible.  This way you might surprise her but they will understand because they know you.
3. Propose in Picnic
This is also one of the most successful ways to propose a girl for friendship. You can request the girl for a picnic along with you. This is great for boys where they can impress their girls by presenting him with delicious chocolate and proposing her to be yours for life time. You can be alone with your partner and enjoy your privacy. In case if her reply is no then you both can still talk to each other in privacy and solve the issue. If you do not want to hear NO, plan a perfect picnic; perfect place, arrangements and propose her.
2. Propose in Movie Break
You can propose your partners in movie break. This is a tested method of proposing girls for friendship or marriage and it absolutely works. There are so many peoples who have tried this formula to propose the girl and fortunately they are successful all the time they try this. It will be also fun to see the girl's reaction at this moment.
1. Propose with Simplicity
If you are such kind of person which can not do beyond his limitation. Then its good to be simple and real. Just go to that girl you like and propose them simply but remember to use some magical and impressive words like You are the single alone who attract me like a magnet, I want to go old with you etc. These will make your simplicity into romantic.
These were some most successful ways to propose a girl. You just have to make sure that nothing goes mistaken and you are wonderful at the time you are proposing the girl of your dreams