Football is the most popular game among peoples all over the world. This is an extraordinary game which normally happens between two teams with 11 players on each side. In recent days, you can find more than 200 countries have their own football team and there are many footballers who have been quite popular from this game like Lionel Messi and Cristiano Ronaldo. Now days not only celebrities getting huge income but sports men also and football player is one of them. In our last post, we shared richest actors in the world but now the time is to share about richest football players in the world. Football players are also getting huge salaries and they also get big amount from advertisement. So if you are a football lover then you must have interest to know, who the richest footballer in the world is. Don't worry, Top10About has prepared a list of top 10 richest footballers in the world. So let's start in details about them without wasting any time.
Top 10 Richest Footballers in the World
10. Frank Lampard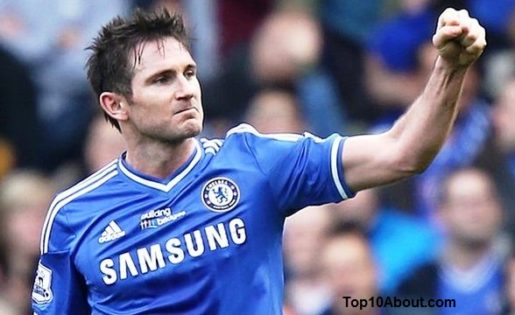 Frank Lampard is a popular and former professional footballer. He has estimated worth of $60 million dollar and comes at 10th position in the list of most richest football players in the world. From 2008 he has been playing for Chelsea as a midfielder. This player also involve in various advertisement of some popular brands like Pepsi and Adidas. He generate huge amount of money from these advertisement also. According to report his total earning in 2013 is around 15.7 million dollar due to various sponsorship. He has huge fan following all over the world and his skills are also very high in the football field.
9. Samuel Eto'o
Samuel Eto'o is a famous Cameroonian football professional who has almost worth of $75million dollar. He is the sticker of Turkish club Antalyaspor. He is the most famous and vital African player and also won the best African player award 4 times. The annual income of this popular player is around 26million dollar. He has two brothers like Etienne, David and both of them are footballer. He has got huge contract for the Internazionale Club and Barcelona and that's the main reason his name comes in the list of richest footballers in the world.
8. Ronaldinho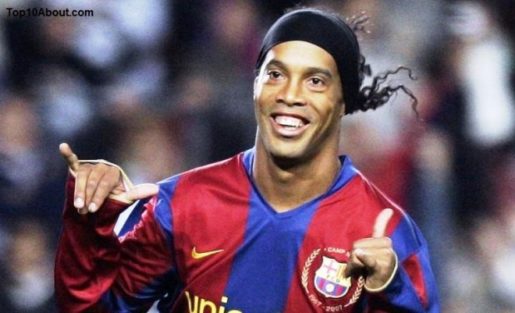 Ronaldinho comes at number 8th position in the list of highest income footballers in the world. He is a popular Brazilian player and according to the research he has almost $90 millions. He plays as a midfielder for popular Spanish club FC Barcelona. His annual salary is aroud 10 million USD with Barcelona. He also earns many amounts from Nike and Pepsi advertisement and endorsements. He also earns 25million Euros in three years from AC Milan contracts.
7. Raul
Raul Gonzalez Blanco is a famous Spanish footballer. He plays as a sticker and one of the vital players for Real Madrid. With $93millions, he comes at number 7th position as the most earning footballers in the world. He is a hardworking and very discipline player in his career. He has many fans all over the world and you can easily mark his extra ordinary football skills in the field.    
6. Wayne Rooney
Wayne Rooney is one of the best midfielder football players who belong to England national team. He is also the captain of Manchester United. His annual salary is almost 16million dollar. He also earns a lot amount from various popular brands endorsement. Samsung and Harper Collins companies also give him around 5 million dollar per year. His total estimated worth is around $95 million and this amount gives his name in the list of richest football players.
5. Kaka
With net worth $105 million Kaka comes at number 5th position in the list of richest footballers in the world. The real name of Kaka is Ricardo Izecson dos Santos Leite. He is a famous Brazilian player and also plays for AC Milan. According to the research his annual salary is around $10 million and he also earns $5million from brand endorsements like Hyundai, Adidas and wise up. He is a talented midfielder and an amazing football player.
4. Zlatan Ibrahimovic
Zlatan Ibrahimovic is a recognized professional footballer and also known as the captain of Swedish national team. He has achieved almost 32 trophies in his football career. With $140Million Zlatan comes at 4th position in the list of international richest footballers. He earns almost $84 million from Barcelona but left the team after one season. He is also known as the most egoistic footballer ever.     
3. Neymar Jr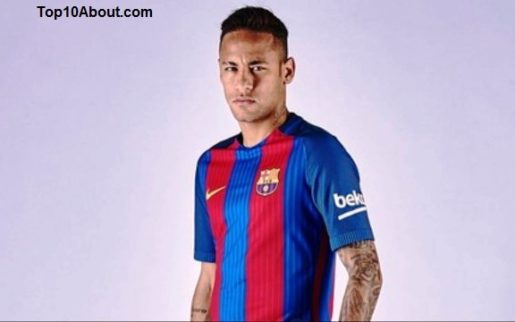 Neymar who is the captain of Brazil team comes at number 3rd position in the list of richest footballers in the world. His net worth is around $148 million. He also earns huge amount of money from reputed company like Volkswagen. His earning is amount $25 million from endorsements. In the year 2011 and 2012 he was awarded by the South American footballer of the year. He has got many awards in his career and he is known as one of the most skillful player of the football world.   
2. Lionel Messi
Lionel Messi is the most skillful and one of the most popular and highest paid football players. He is the captain of Argentina national football team. With $350 million Messi comes at number 2nd position in this list of richest footballers in the world. He is the only footballer who has 5 balloon d'Or awards in his career. Many people assume him as the GOD of Football game. He earns a lot from various brands advertisement like Adidas and other reputed brands. He has a foundation in his own name where he provides the education and health care of children's on regular basis at free of cost.     
1. Cristiano Ronaldo
Cristiano Ronaldo is a famous footballer who comes at number one position with $450 million. No doubt he is the world's richest footballers. He plays for Real Madrid and National team Portugal. He earns a lot from brand endorsements and fashion boutiques. He is a top class footballer and he has huge fan following all over the world. He has won 4 Balloon d'Or awards in his career. You can mark his excellent skills in the football ground. He is also known as the most valuable player in football game.