Cricket is known as the religion of Indian people and one of the most popular games in India. You can find various formats of cricket and all of those formats are quite interesting. From when the T20 cricket format began the popularity of this game increases a lot and now you can find many people of different countries also attracts towards this gentleman game. Most of the people known about cricketers and also follow them but they don't know about their lifestyle.  If you are one of them who wants to know about their lifestyle and their net worth then this article will definitely give you all information. Most of the time you may listen that Indian cricketers are getting highest salary among all cricketers in the world but most of the time you may think that is it true? But yes in real this news is true. You will understand this fact when you see the list of top 10 richest cricketers in the world where most of the cricketers are Indian. You can also see the example of the IPL format where players are getting so high amount for this platform which is their payment for almost 2 months. Thus, Top10About has prepared a list of top 10 richest cricketers in India along with their annual income and net worth.
Top 10 Most Richest Cricketers in India
10.Rahul Dravid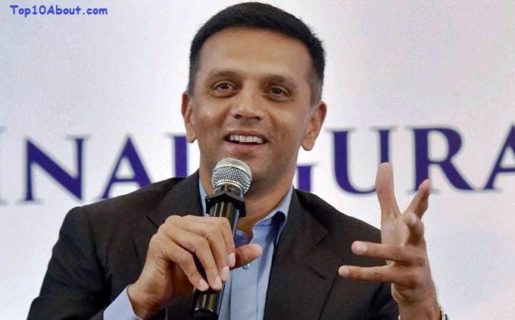 Rahul Dravid who is well known as the wall for Indian people is a famous cricketer.  His awesome batting skill and sharp fielding skills are always a great inspiration for many young cricketers. Most of the young cricketers want to learn the batting skill from this legend. He has a wonderful cricketing career and he is also one of the highest run scorers in Indian cricket history. He is also known as one of the richest cricketers of the India and comes at number 10th position in our list of richest cricketers in India.
9. Yusuf Pathan
Yusuf Pathan comes at 9th position in the list of richest cricketers in India. He is well known for his explosive batting skill and one of the specialists in T20 cricket format.  He is recently playing for Kolkata Knight Riders in Indian Premier League. His extraordinary batting skill makes him very popular and many fans for him. He is also one of the highest paid Indian cricketers of India and no doubt he deserves the position in our list.
8. Sourav Ganguly
Sourav Ganguly is very popular for his aggressive captainship for Indian cricket time. He is the former captain of India who brings a lot of change in Indian cricket team and gave many chances to young talents. He is still known as one of the most successful captains for Indian cricket team and most popular Indian cricketers of all time. He comes at the 8th position in our list of India's richest cricketers.
7. Virender Sehwag
Who don't known about this cricket personality? He is the best opener for India cricket time and well known for his explosive and positive cricketing thoughts. He has played a lot of matches and plays the important role to give India victory. Even he is got retire from Indian cricket team but still he comes at number 7th position in our list of most earning cricketers in India. His early income is estimated around 5.8 million dollars which make him not only the one of the richest Indian cricketer but also one of the richest cricketer in the world.
6. Gautam Gambhir
This lefthander opener is very popular for his stylish cricketing shots. He is technically very sound and one of the best openers for Indian cricket team.  Indian cricket team won the world cup 2011 and there is a big hand of this player in the final match. His yearly income is around 6 million dollars and comes at 6th position in the list of richest cricketers of India.
5. Yuvraj Singh
Yuvraj Singh comes at number 5th position who is well known for his destructive batting skills. I think most of you know about his six sixes against the English bowler Stuart Broad in T20 world cup. He is a very popular cricketer in India and most of the people are the diehard fan of this stylish and vintage batsman all-rounder. There is no doubt about his ability in cricket and he is also one of the highest income cricketers in India. He is a fighter also because recently he got recovery from cancer and again started playing for India.
4. Rohit Sharma
He is one of the Indian international richest cricketers and very famous for his highest individual score in international one-day format which is 264. After Sachin Tendulkar, he is one cricketer who broke many records in international cricket history. His amazing batting skill makes him very famous and cricket lovers just like this player. He is the only player in the world who has a unique record of two double centuries in international one-day cricket format.
3. Sachin Tendulkar
Sachin Tendulkar who is known as the god of cricket comes at number 3rd position in the richest cricketers in India. There is no doubt little master is a great cricketer and many cricketers make him as their role model. He has many records in cricket history in his long 20 years carrier. The net capital of this cricketer is around 18 million dollars.
2. Virat Kohli
Virat Kohli the current Indian cricket team captain who is very popular for his continuous success in his cricketing career. In recent days, he is the most popular cricketer of India and he had a huge fan following all over the world. He is a world-class batsman who is known as the run machine and most of the cricket experts also say him that he is the modern great cricketer. He has an annual income of 24.9 million dollars and comes at number 2nd position in most richest cricketers.
1. MS Dhoni
MS Dhoni is known as the most richest cricket player in India. He is a very talented cricketer and known as one of the successful Indian cricket team captains who won T20 world cup, International 50 over world cup and champion trophy. He has a great cricketing mind and lightening speed skills behind the stump. His annual income is around 29 million dollars and secured the top position in the list.