Dating is basically a mating process in which two couples meets with each other to establish a relation of more than just a friend. Dating is the next stage after of when two people become friend and wish to turn that friendship into love. But different peoples have different nature, different thoughts and different choices.
You cannot judge on the first date how the person sitting in front of you is going to react to your opinions and choices. If you really like him or her then you must be aware of these impressive tips that are going to attract that person towards you since the first date.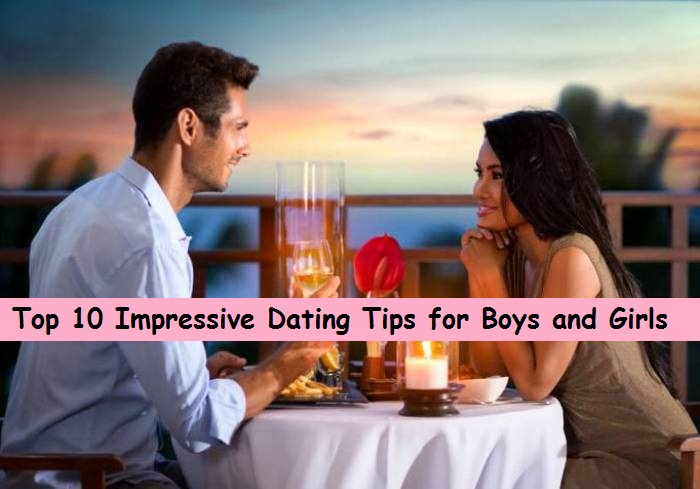 No matter what you are a girl or boy these impressive dating tips are really meant for you whenever you will go for Date with your love one?
Top 10 Impressive Dating Tips for Boys and Girls
Smile
This is one of the most important and impressive dating tips for boys and girls. No matter how you are looking on your first date if you are wearing your beautiful and charming smile the person in front of you is definitely going to get impressed by you. Everyone likes to see happy faces. Maybe you are a tough guy and smiling is going to be your added advantage. If you are a girl and nervous then a smile can make you feel a bit comfortable. No matter what you are a girl, boy having smile on the face is going to help you. You are also going to get positive result from the other side.
You Can Also Read-
Mind your body language
This is one of the most important impressive dating tips, because the person is going to judge about you from your body language, the way you are talking and other things. Make sure that you do not look nervous, folded your legs closed for girls and legs not wide spread for boys, rest you might have understood. Do not hesitate or loose eye contact when you are specking to your partner. Do not put hands on your face this will look like you are hiding something.
Listen to his /her
This is also one of the best impressive dating tips for boys and girls. You cannot just keep on asking things and make the other person mad. You might know that women like that men should listen to them when they are speaking. Not only women's but also anyone would like to be heard. So make sure that you are not only talking but listening as well. This will make an impression that you are smart enough and know when to speak.
Show him the signs
This is also one of most perceptive and important dating tips. If you like him make sure that, you are showing him that you are interested too. This will make him feel better that his efforts are not being wasted and he/she will be closer to you making your relationship strong.
Ask Questions
It is obvious that you will ask questions. However, make sure that you are not asking too much questions. Do not ask useless questions like you are having pets; their names etc. impress the other person with your smart and funny talk. Ask them questions in different way and make sure that they feel that you are interested in you. Choose your questions wisely.
Be Flattering
When you are flattering, you are unique and energetic. Tell the girl in front of you that she is beautiful and attractive. Women can also be flattery sometimes if the person in front of her is tough to break. Flattering can be done in a beautiful way so that others get easily impressed by the way you talk and want to listen to you again and again.
You Can Also Read-
Talk but Do Not Reveal
This is the thing which you should not to do in your date and important dating tips .Make sure that you are talking but do not reveal yourself. Boys like mystery in women's. Make sure you do not get carried way.
Make Him Feel Like a Man
If you want to impress a person then make him feel like a man. Sit back and give him time to pamper you. If you need something then tell him about your needs to ask waiter and get it for you. There is no doubt you can do it yourself but making a man believe that you need him he is going to feel comfortable and better. Give him chance to provide you with protection.
Wear Beautiful Dresses
This is best and impressive dating tips for boys and girls. If the person likes you, he is going to impress by your first look if you are nicely dressed. Make sure that you are dressed girlish on your first day. Wear soft fabrics and pick attire. You can choose red, black and anything in which you look beautiful or handsome.
The Goodbye Kiss
Last but not least part of dating tips, at the end of the date, both boys and girls have to face this awkward moment. However, if you really like each other this is going to be your first kiss and it needs to be special. Also, make sure that this is going to be one thing by which you are going to impress the person in front of you.