Who doesn't want to explore new places? I think most of the people definitely say yes to it. Peoples have a dream to travel best places in the world. If you want to go for a trip for your holiday then UAE is always a better option for you. This is one of the tremendous places where you can enjoy your holiday in a better way. You can find various tourist attractions in UAE which are just breathtaking. Here in this article, you can get top ten best places to visit in UAE. If you ever visit United Arab Emirates then never forget to visit these exciting places at all.
Top 10 Best Places to Visit in UAE
10. Wild Wadi Water Park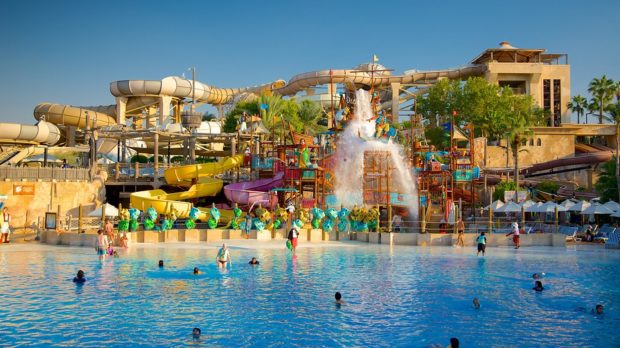 One of the best places to visit in UAE for tourists. Wild Wadi Water Park is a renowned water park which is situated in front of the real beauty of Dubai which is Burj Al Arab. This is a tremendous place which offers 30 rides including 17 water riding for a family. It has also 3 pools and people usually spend up to 1.5 hours in this water park. The beauty of this place is quite hypnotizing and you can enjoy this place very much. It is an outdoor water park in Dubai, UAE which is located in the area of Jumeirah. This water park is operated by Jumeirah International.
9. Dubai Marina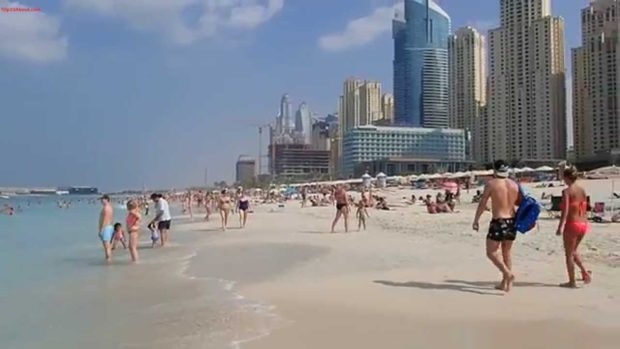 Dubai Marina is one of the newer tourist attractions of UAE. It was established in 2003 and still the development is in progress. After completion of this artificial canal city, more than 120,000 peoples can be accommodated in residential towers and villas. You can enjoy the backdrop of stunning buildings of JBR and you can also boat ride in this marina. You can find the Dubai marina Yacht club here which is quite famous. This is a stunning place to visit with your family for your holiday.
8. Ski Dubai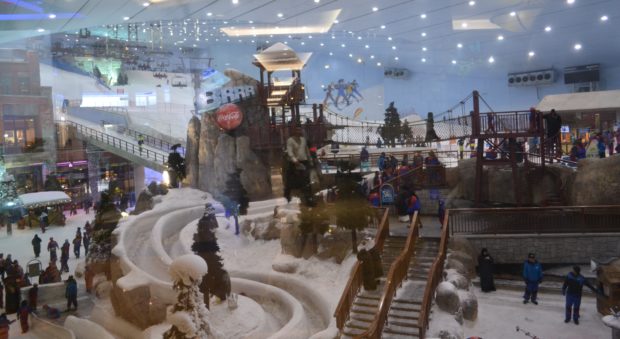 Another one of the most popular and best places to visit in UAE where a huge number of tourists visit every year. This is the indoor ski resort which is present in the Middle East with the area of 22,500 square meters. The beautiful show setting of this resort always offers you a great opportunity to enjoy skiing. This is a beautiful place for all age of people. You can get your ski, winter cloth, and snowboard equipment by the sky Dubai.
7. Deserts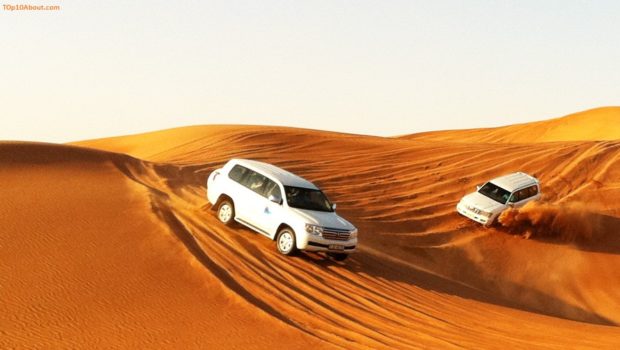 You can find several deserts in UAE which are just amazing and always a great visiting place. You can enjoy your safari trip in these deserts. Here you can get various luxurious vehicles like range rover, Land rover for the desert trip. Desert visit is always a thrilling experience but quite memorable for anyone. So if you are going for a UAE trip never forget to do a desert trip. This will make your UAE trip unforgettable for lifetime.
6. Palm Island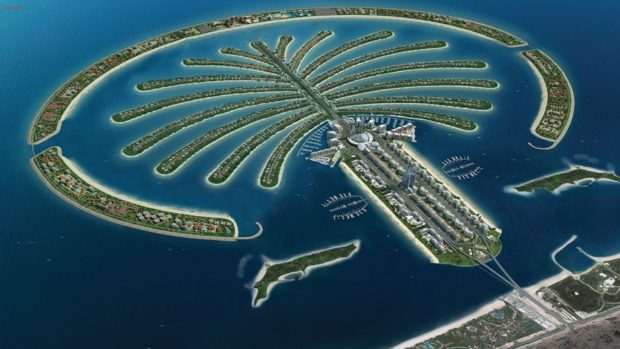 Palm Jumeirah is the real beauty of UAE. This is one of the best places to visit in UAE to enjoy your holiday. Palma Island is the most amazing inspirational holiday destination of UAE. You can enjoy the sunset view, gardens, and pools on this island. You can find different night clubs, bars, and restaurants in this place.
5. Global Village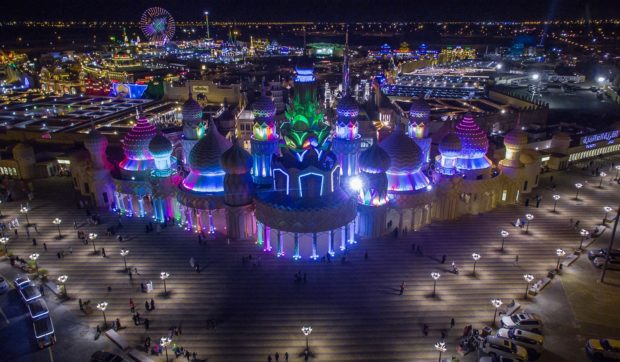 If you are a cultural lover then the Global village is the best place for you in UAE to visit. You can get cultural entertainment in this place and you can also enjoy the international shopping experience in this area. Here you can enjoy some tasty cuisine and mesmerizing handicrafts. This village is open normally in the month of November to March in every year.
4. Atlantis Hotel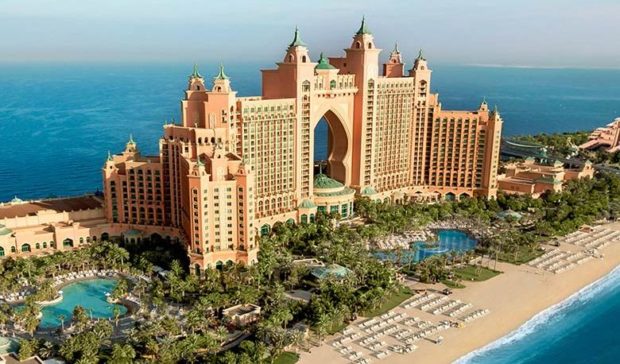 Atlantis Hotel is a royal resort which is present in Dubai. This is quite popular all over the world. You can enjoy verities of cuisine in this hotel. Water park, unique marine habitats, pristine white beaches are some outstanding things you can get here. Overall, a beautiful place of UAE to enjoy your holiday.
3. Dubai Fountains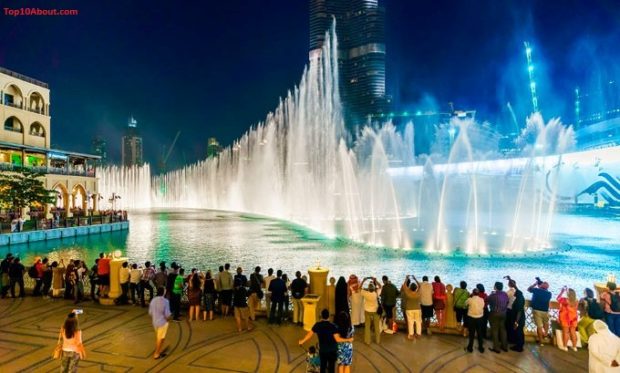 Dubai Fountains is known as the world's tallest dancing fountain and the beauty of this fountain is just amazing. This is present at the base of Burj Khalifa and always the center of attraction of many visitors. You can enjoy the fountain show regular in this place.
2. Burj Al Arab
Burj Al Arab is one top visiting place which is present in UAE. This is the only 7-star hotel which is outstanding in look. The height of this hotel is 321 meter and known as the fourth tallest hotel in the world. This the iconic trademark of Dubai. This hotel is just near to the beach and one of the most beautiful places to enjoy in UAE.
1. Burj Khalifa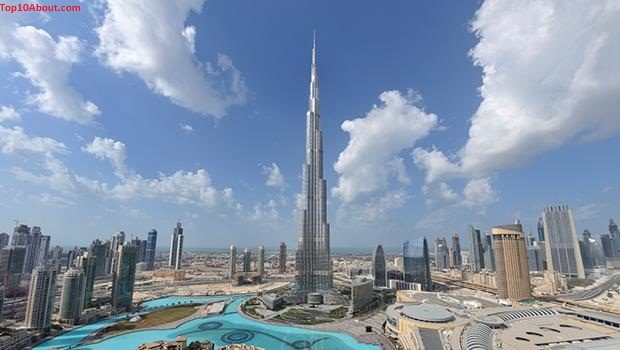 Burj Khalifa is the top visiting place in UAE which is present in Dubai. It is also at 1st position in the list of top 10 best places to visit in Dubai. Every year millions of tourist visit this place of UAE from all across the world. This is known as world's tallest tower 829.9m and a great example of the advanced engineering. At the ground level of Burj Khalifa you can get the Dubai mall. This is a beautiful tower and the main attraction of UAE for all of the time. So never forget to visit this tower in your Dubai trip. The Burj Khalifa tower including 163 floors that costs 1.5 billion USD.
These are top 10 visiting places in UAE United Arab Emirates. So, don't miss these places in you UAE trip if you want to make your trip more wonderful.